TDmonthly's Toy Fair 2008 Highlights

Tuesday, February 19, 2008

Check out Top 10 Hobby Products and read about how "green" toys are making a splash this year.



Toy of the Day: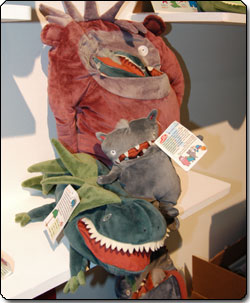 Food Chain Friends by PINT SIZE PRODUCTIONS
MSRP: $50
Age: 4 and up
These creatures hail from a small green planet called Daro that is similar to the state of earth some two million years ago. "It's a complicated relationship," as the five friends eat one another, from the smallest to largest. Two series, Alpha and Beta, are available. Launch date: May 2008.
---

Find Julie!

Find TDmonthly's Julie L. Jones on the showroom floor and get noticed!

RETAILERS: Give her a business card and your impression of the show and you may be quoted in TDmonthly's Toy Fair Highlights!

MANUFACTURERS: Give her your business card and find out how you can get a FREE VALUE LISTING with ToyDirectory.

Read TDmonthly's Toy Fair Highlights each day to find out where Julie will be. Julie is wrapping up her tour of the lower level and moving on to the upper level in the afternoon!
---
TDmonthly's Toy Fair Top 10: Hobby and R/C
Automobiles Race With Bots
High-flyin' and fast-racing toys easily grab attention at Toy Fair, as do sleek die-cast and innovative robotics. Here are TDmonthly's top picks in these categories...READ MORE
---
Toy Fair Daily Reports

Green Takes Over
Earth-Friendly Themes and Materials Color Show Floor

The grass is greener at Toy Fair 2008, perhaps more than it's ever been. That's no surprise, though, considering eco-minded efforts for everything from clothing and food to cars and furniture. How is "green" shading toys at this year's show?...READ MORE

TDmonthly Visits Toy Fair Booths
See pictures of some of the booths that TDmonthly visited at Toy Fair 2008! Exhibitors — Are your pictures up? Find Julie and get your pictures taken! (If you're a member of ToyDirectory your picture will be linked to your profile page!)...SEE PICTURES
---

Exhibitor Tip of the Day:
"All qualified leads should be followed-up on within days of the show's closing." — Charles W. Allen, The C.W. Allen Group
---

Retailer Tip of the Day:
"You've got to find those products that fit in with who you are. You can't go to one company, buy everything and then [be] done." — Christine O'Conner, owner of Wonder Works, Charleston, S.C.
---