Yu-Gi-Oh!, Lord Of The Rings, and Spongebob In the Starting Lineup for Sports Line Distributors this Season
By Scott Ferguson
April 1, 2003


Denny Anderson, Account Supervisor for Sports Line Distributors, has invested time and an attentive ear in maintaining relationships with retailers. He took a moment to give ToyDirectory his view of the booming toy licensing industry.
ToyDirectory: What new trading and collectible products are being offered by Sports Line this year?
Yu-Gi-Oh! Labyrinth booster
Denny Anderson: In the sports card world, we have new baseball, basketball, football, hockey, NASCAR and non-sports cards regularly. Over the next 60 days, over 50 new Bobbing Head products will be released. The Yu-Gi-Oh! Labyrinth booster was released February 27th. The new Joey & Pegasus starter decks were released March 14th. In April, we are releasing a Sports Line exclusive, The Funko Pez Bride and Groom for ten dollars. On April 15th, we will be marketing the brand new Upper Deck SpongeBob Game (starters and boosters). To see the pre-orders mount for this product alone is so exciting because it demonstrates the health of the collectibles market. Lord of the Rings just released Helms Deep starters and boosters on March 12.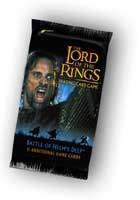 Lord Of the Rings The Battle of Helm's Deep
TDM: What do you see as the biggest trends affecting this year's product categories?
DA: Bigger sales in all categories by our customers, with more new product releases in 2003 overall than ever before. At least one of the major card manufacturers plans to release fewer football products in 2003. This is the beginning of a "less is more" trend in the trading card industry. With a controlled production run, fewer cards drive up the demand for product. Another exciting trend is NASCAR collectibles. Not readily available in years past despite its following, today we see significant growth in the demand for quality NASCAR wall clocks, four-color imprinted collector license plates, die-cast 1:64 racing cars and 8 x 10 photographs of the top drivers.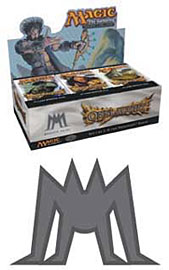 Magic Onslaught and Magic Legions Decks

In the world of gaming, retailers are attuned to today's gamers multi-game orientation. Trying products like Yu-Gi-Oh! is not a risk; the market is already there. Also, there are increased sales with the Magic Onslaught and Magic Legions theme decks and boosters. All year there will be more exciting releases. The Bobbing Head business has undergone incredible growth in recent months. Just looking at a website such as letsgetwacky.com proves what an incredible following this collectible category has.
TDM: How do you and your sales reps approach retailer relationships?
Rusty Wallace NASCAR Bobble Dobble
DA: To really be of value to a retail customer today, you have to interact with them. Engaging in active listening on the phone is crucial. You have to find out what their fears are, figure out what motivates their customers, and even offer tips on how to effectively display products. Retailers are discovering that their sales are coming from more than just one kind of collectible. End caps or wings with "Sports Line products" that impact more than one category of product are common now. At Sports Line, we speak in terms of "programs" of solid hitters, which appeal to the entire gaming market. Our retailers want to know what the most driven products are with the best profit potential. We have 15 highly trained and committed sales people who share that information with customers. I have found that too many retailers know very little about their customers or what they like because some will admit to me that they have never asked customers questions about product demand. Now they do informal market research with their customers routinely, and the information is invaluable for making sound buying decisions when they order.
For example, in many locations, Pokemon cards are still popular with gamers. However, if a store buyer makes up his mind in advance that the Pokemon phenomenon is over, the store will fail to make any sales with that product. There may well be missed opportunities for product sales, with the customer going elsewhere. We understand that every retailer needs to be related to as an individual. The essence of proper category management hinges on meeting the needs of each customer and not lumping them together by a sales representative. Compromising the personal touch is so common in business today. Verbal contact is crucial. I spend time with people just starting out in their business, as well as veterans. I find it exciting to see the role we fill in guiding customers to new opportunities that generate impressive profits. That gives my fellow sales representatives and me at Sports Line a great deal of satisfaction.

Want to see a showcase of toys? Click Here...

Send comments about this article to: comms@toydirectory.com

Return to ToyDirectory Monthly front page


Top Licensed Toys Sellers: 2002's Hottest Properties and Where They Made the Biggest Splash

Interview: Read an Interview with Lucasfilm's President of Licensing, Howard Roffman

Trains Product Spotlight: The Fast Track for Model Train Technology

Trains Industry Overview: Model Kits for the Computer Generation

Construction Toys : Building New Markets

Product Summary: Construction Toys Stack Up

Cool Company: When Worlds Collide Neurosmith Tunes into Learning

Real Retailer: Model Expo

ToyDirectory Mom: Even Tough Guys Like Toys