"Cool Companies" is a monthly feature where we recount the odd beginnings, interesting permutations, or otherwise unique and noteworthy circumstances of a toy or hobby manufacturer. If you think you know of a Cool Company that you'd like to see featured here, please contact comments@toydirectory.com.



When Worlds Collide: Neurosmith Tunes into Learning
By Kevin Skaggs
April 1, 2003

Neurosmith's Musini Toy
In 1997, as a team of educational software developers were plugging away at computer programs for children, the scientific world was coming to new conclusions about the ways in which young children learn and experience the world around them. Neurosmith was born when the team of software developers took this cognitive data and applied it to the development of interactive toys.
"When research revealed that toddlers learn best by touching, tasting, moving, and exploring the world around them, the founders of Neurosmith sought to combine the technology that powers a computer with the proper interface for toddlers," said Neurosmith's Millie Wang.
Musini
Neurosmith's toys are based on research citing music's beneficial effects on children during the early years of development. Interacting with music exercises the areas of the brain that perform spatial-temporal tasks and prepares children for such later-life challenges as geometry and physics. "Exposure to music affects the way children's brains are organized and helps them learn non-musical tasks such as solving mathematical equations and complex puzzles," said Cecelia Riddell, an early childhood music specialist.
Neurosmith's award-winning Musini comes alive with a touch or the tap of a toe and responds with music. For kids ages 3 years and up, Musini allows them to select the musical style the toy plays back by using the "Style Dial," a knob that chooses musical genres ranging from classical to jazz. "Musini encourages personal expression and creativity and allows children to explore various musical styles, instruments, tempos and structures," said Wang. "It cultivates a deeper understanding and appreciation for music, and best of all, helps children exercise when they don't even realize it."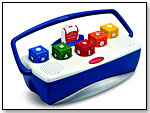 Music Blocks' Maestro
Neurosmith premiered with the release of the award-winning Music Blocks. "Since music making helps develop language and math skills, Neurosmith introduced Music Blocks--a toy that allows children to mix and match blocks to create unique musical compositions," said Wang. "It's a great spin on a classic that continues to be the best seller for the company." Designed for kids ages 2 and up, Music Blocks enables children to make music by combining a set of 5 blocks. Using musical cartridges to select a composer and by mixing and matching the blocks, children can create an assortment of classical music compositions - more than three million unique compositions are available.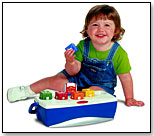 Music Blocks' Maestro
Music Blocks has sold well at Ambassador Toys in San Francisco, with many parents visiting the store to request it. "The parents who have come in and purchased the Music Blocks have wanted their children to be brought up with classical music rather than just "Ring Around the Rosy" and other nursery rhymes," said Justin Coote, an employee at Ambassador. "The Parents thought it would be educational to have their younger children listen to Mozart and Bach."
Neurosmith has won recognition from the toy industry, both for their innovation and their educational value. Parents Magazine awarded Neurosmith's Music Blocks a place on the "Best Toys of the Year" list while Babyzone tapped Musini for an "Amazing Toy" award. Information on Neurosmith and their toys can be found at http://www.neurosmith.com. On their site, be sure to take some virtual product demos.

Writer's Bio: Kevin Skaggs is a San Francisco-based writer whose work has appeared in Wired and Harvard Review.

Want to see a showcase of toys? Click Here...

Send comments about this article to: comms@toydirectory.com

Return to ToyDirectory Monthly front page


Top Licensed Toys Sellers: 2002's Hottest Properties and Where They Made the Biggest Splash

Interview: Read an Interview with Lucasfilm's President of Licensing, Howard Roffman

Trains Product Spotlight: The Fast Track for Model Train Technology

Trains Industry Overview: Model Kits for the Computer Generation

Construction Toys : Building New Markets

Product Summary: Construction Toys Stack Up

Cool Company: When Worlds Collide Neurosmith Tunes into Learning

Real Retailer: Model Expo

ToyDirectory Mom: Even Tough Guys Like Toys