Gel Pens and Holographic Paper:
School Supplies Find the Fun Quotient
By Karen Mendez Smith
April 1, 2003


Every year the back-to-school list gets bigger and bigger, and the books get heavier and heavier. Come September, supplying kids with some fun new school products can remind them that education isn't all drudgery.
Zebra Pen Airfit Retractable Refillable Gel Pen
The Write Stuff

Pens and pencils are pretty ordinary stuff, aren't they? Not if you've got the Air Jordan of writing utensils, a Zebra Pen Airfit Retractable Refillable Gel Pen with innovative air-filled grip ($3.99). They also come in ballpoint and mechanical pencil styles. Or maybe a 40th Anniversary Baseball Bat Imprintable Pen from Hanover Pens, priced by quantity, is more your style--just the thing for fund-raisers, sports banquets, or any baseball fan.
Holographic Card Stock
Poster Child

It used to be that school projects came in one color. Now, neon poster board is king and only $0.99 a 10 ct. sheet from Hygloss Products, Inc. Check out its out-of-this-world holographic and mirror papers, too. From wiggle eyes to durable 2.5" x 2.5" Craft Stencils, $4.99, in any shape imaginable, they're sure to help give that project extra credit.
Quiz Kid
It's Elementary

See and Say Flash Cards, $5.99, from The Learning Journey, Intl. bring young minds up to speed. Budding diplomats ages 3-6 will find the Quiz Kid a real foreign aid at $19.99. This talking unit responds to 215 questions in both Spanish and English, and it's designed to be developmentally-sound.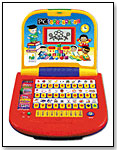 PC Schoolhouse Electronic Laptop
Preschool PC

Preschoolers can check their busy schedules on their PC Schoolhouse Electronic Laptop, also from The Learning Journey, Intl., with 6 learning activities and colorful graphics, $49.99. School wannabes and future travelers ages 0-3 will find the bilingual Smart Language Center, $37.99, gives a leg up on learning English and Spanish, too.
Pencil me in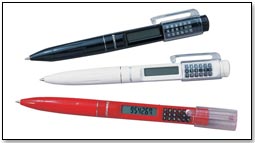 Staedtler Calculator Pen
With big, bold digits, The Learning Journey Intl.'s Pencil Box Calculator, $4.99, is sure to appeal to kids ages 6 and up. Staedtler, U.S.A., home to design and drafting supplies, blasts off with their Calculator Pen, $6.99. And lastly, all students will count their lucky stars to find Staedtler's 4-piece School Kit, $2.99, among their school essentials this year.


Writer's Bio: Karen Mendez Smith has been involved in children's media for over twenty years as a literary agent, writer, and creator of animated television and film. Co-founder of Satori Organics and M/Path Press, she is a parent to eight children and five incredible grandchildren (and counting).

Children's Literature Showcase

Want to see a showcase of toys? Click Here...

Send comments about this article to: comms@toydirectory.com

Return to ToyDirectory Monthly front page


Top Licensed Toys Sellers: 2002's Hottest Properties and Where They Made the Biggest Splash

Interview: Read an Interview with Lucasfilm's President of Licensing, Howard Roffman

Trains Product Spotlight: The Fast Track for Model Train Technology

Trains Industry Overview: Model Kits for the Computer Generation

Construction Toys : Building New Markets

Product Summary: Construction Toys Stack Up

Cool Company: When Worlds Collide Neurosmith Tunes into Learning

Real Retailer: Model Expo

ToyDirectory Mom: Even Tough Guys Like Toys