Barbie Dealt a New Hand:
USPC and Mattel Team Up to Present New Sets of Playing Cards
By Jeremy Loudenback
April 1, 2003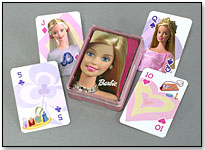 Barbie Mini Cards
In a continuing effort to reach out to the sizable girls market, the United States Playing Card company will premiere a new set of playing card products designed around one of the largest properties for girls, Mattel's Barbie.

With such brands as Bee, Bicycle, Aviator and Hoyle, the United States Playing Card (USPC) company is the nation's leading producer of playing cards. USPC's recent forays into the world of licensing have included Spiderman, Hasbro's Candyland and Transformers, and Mattel's Hot Wheels. USPC's George White says the Barbie license is instantly attractive both for its enduring appeal and its dedicated population of collectors.

Barbie Tin Cards
"We felt we had a hole in our girls market," said the USPC's George White. "Our licensing strategy has always been to go after the number one license in each market, and we've worked closely with Mattel to reproduce the essence of Barbie [for our cards]."

The Barbie-themed cards will include a keepsake tin containing two decks of playing cards featuring Barbie and her coterie of friends. The Barbie characters will appear on both the faces and backs of the cards garbed in their traditional styles as well as more modern attire. Scheduled to ship at the start of April, the cards will appear in mass markets and are projected to retail for $6 to $7. In mid-April, the USPC will introduce a set of Mini Cards in a small pink case that will also feature Barbie's trademark pink and lavender colors. Approximate retail price will be $2 to $3.

For more information about the USPC, visit them on the web at http://www.toydirectory.com/monthly/TOYFAIRPREVIEW/USPCC/index.asp.

Want to see a showcase of toys? Click Here...

Send comments about this article to: comms@toydirectory.com

Return to ToyDirectory Monthly front page


Top Licensed Toys Sellers: 2002's Hottest Properties and Where They Made the Biggest Splash

Interview: Read an Interview with Lucasfilm's President of Licensing, Howard Roffman

Trains Product Spotlight: The Fast Track for Model Train Technology

Trains Industry Overview: Model Kits for the Computer Generation

Construction Toys : Building New Markets

Product Summary: Construction Toys Stack Up

Cool Company: When Worlds Collide Neurosmith Tunes into Learning

Real Retailer: Model Expo

ToyDirectory Mom: Even Tough Guys Like Toys