"Cool Companies" is a monthly feature where we recount the odd beginnings, interesting permutations, or otherwise unique and noteworthy circumstances of a toy or hobby manufacturer. If you think you know of a Cool Company that you'd like to see featured here, please contact comments@toydirectory.com.


The Real Stuff: Action Products Find Inspiration in Today's Heroes
By Julie Duffy
May 1, 2003

Company Name: Action Products International Inc,
Company Location: 390 North Orange Ave. #2185
Orlando, FL 32801
Company Web Address: www.apii.com
Telephone: 1-800-77ACTION
Email: sales@apii.com
Founded: 1977 by Judith Kaplan (current company director)
CEO & Chairman of the Board: Ronald S. Kaplan
Action Products Inc. got its start in the educational toy market in 1977 as a distributor to museums and took the leap into manufacturing soon afterwards. Being familiar with the needs of specialty stores, API decided to make use of its experience with educational toys to create a unique line of products appealing to both kids and parents.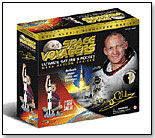 Space Voyager™
Real Life Heroes
Action Products created the Space Voyager™ toys based on America's history-making space program and recently earned the endorsement of one of its best-known pioneers, Buzz Aldrin, whose Apollo mission was the first spacecraft to land on the moon. Aldrin's signature and image grace boxes of the Buzz Aldrin Signature Series, which recreates the imposing Saturn V Rocket that carried the Apollo crew into space at 1/144th scale.

DropZone Extreme™
With the DropZone Extreme™ line of imaginative real-world action figures, the company proves that action does not have to equal violence. The line features parachuting heroes like forest firefighter Hot Seat Harry and the adventurous Free Fallin' Fiona, a female medic.
Meeting the Needs of Retailers
While all types of retail outlets carry Action Products' educational toys, the company takes pride in meeting the needs of the specialty market. API Marketing Director Greg Zesinger points out that most action figures are based on fantasy or violence, two categories that don't fit with educational or specialty markets.
"The Space Voyagers line has always been based on the real-life heroic role models of the space program," Zesinger said. "Our Space Voyagers action figures help specialty stores enter the billion dollar action figure market, but with a theme their customers can feel good about."
Action Products is making plans for increased development of in-store, point of purchase and shelf displays, as well as mobiles and in-store demonstrators, to be augmented with Internet chats and personal appearances by celebrity endorsers.

Jay Jay the Jet Plane
Jay Jay Takes Off
Taking off from Action Products' base in Florida is the Jay Jay the Jet Plane line, based on the PBS series of the same name. Launched in late 2002, the line features wooden planes and buildings similar to popular wooden railroad sets, but in an airport environment. The toys are aimed at the pre-school market and are already doing so well that Zesinger says he expects Jay Jay to be the company's most successful line yet.
After 26 years in the business as a distributor and now a manufacturer, Action Products proves that toys can be educational, non-violent and still hold an action-craving kid's attention.

Writer's Bio: Julie Duffy is a freelance writer and new mother to a future toy connoisseur.