"Real Retailer" is a monthly feature where we discuss industry strategies, trends, happenings, or just about anything relevant with toy and hobby retailers across the country. If you have something interesting to say and would like to be featured here, by all means tell us! Please contact press@toydirectory.com

Real Retailer
By Kevin Skaggs
May 1, 2003





Store Name: Ambassador Toys
Store Location: 186 West Portal Avenue,
San Francisco, CA 94127;
1981 Union Street, San Francisco, CA 94123
Store Web Address: ambassadortoys.citysearch.com
Store Owner: Linda Kapnick


It really is a small world at Ambassador Toys in San Francisco. Walking into this unique store, you soon find yourself wandering the globe, with colorful banners flying overhead designating each section of the store as its own continent. Looking for Hello Kitty? Walk over to the Asia section. Want to find a plush stuffed lion? It'll be in Africa.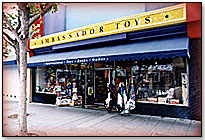 Ambassador Toys Storefront

Linda Kapnick, the store's owner and manager, opened the first of what would become two 3,000 square-foot Ambassador stores five years ago. By opening a store with an international environment, Kapnick says she combined two of her first loves: international studies and children's toys. "Toys are like ambassadors to the world," says Kapnick. "We're trying to teach international cultures with books, music and games from all over the world. And, very importantly, we want to make this a fun place to go."

If it's Kite Day in Japan, carp kites can be found in her stores. Come Chinese New Year, you can count on it being celebrated at Ambassador. Kapnick says that with today's greater awareness of cultural diversity, selling toys with an international theme is getting easier all the time—whether it's Lego's Asian Dragon Set or the Manhattan Groovy Girls, who, with their variety of ethnicities, fly off Ambassador's shelves.
Inside Ambassador Toys Store
With its engaging and unhurried environment, Kapnick sees many of the same customers coming in each day, if only to take temporary refuge in a creative, comfortable place with their children. "There's a need for young mothers to find a place to get together and talk to each other because they don't necessarily live in the same place," says Kapnick. "The secondary part of this job has been that we've supplied that kind of a place. If I had known the need for that before I started, I would have created an environment that's even more mom friendly with more places to sit."

It wasn't as if Kapnick didn't plan her business thoroughly before she started. She took ten years studying the industry and getting a business degree, finally pulling together a business plan before approaching her first store's property owners in 1997. It was a tight year for real estate with dot-coms booming in the Bay Area, but with her intensive preparation, she was able to show the owners and her retail designers exactly how she planned to make her international concept succeed.
Two years ago, when another space became available in a tony neighborhood of San Francisco, Kapnick grabbed it, knowing that volume (and the vendor discounts that come with it) is key in being successful as an independent retailer.
Kapnick's choice of retail niche, her planning, and her willingness to take chances on strengthening her business have paid off. She claims not to be over the hump financially just yet, but her two stores are popular with customers and are gaining industry-wide recognition. Ambassador was nominated for a 2002 T.O.T.Y. Award for Retailer of the Year/Under 25 Locations. FAO Schwarz may have won the prize, but there's always next (Chinese) year.



Writer's Bio: Kevin Skaggs is a San Francisco-based writer whose work has appeared in Wired and Harvard Review.