Military Bears™ are Here to Help
By Tim Connolly
May 1, 2003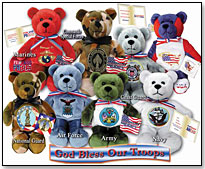 HolyBears® Military Bears™
Though they've been available for four years, HolyBears® Military Bears™ line is receiving renewed enthusiasm from plush buyers as America's armed forces remain foremost in the country's thoughts. With bears representing Army, Navy, Air Force, Marines, Coast Guard, Special Forces, National Guard and even the Commander in Chief, these plush 9" beanbag bears are helping to raise funds for schools, churches and military organizations, as well as keeping up the spirits of troops abroad. Each bear has the emblem of the particular service branch embroidered on its chest and the respective force's motto on its left footpad.
Another popular series is HolyBears' Patriotic/State Bears, each displaying an embroidered state image on its chest with a tag made to mount the appropriate new state quarter. At the 2003 American International Toy Fair, HolyBears® was awarded "Editors Choice Award" from Positive Image News.
"We have almost two-hundred different styles of bears [in total]," said HolyBears® Partner Eric Carroll. "We do a lot of custom bears: everything from large organizations like the American Heart Association to local sports teams."
With a suggested retail of $8.50, the Military and Patriotic/State Bear lines can be found in specialty stores, gift stores and even your local post office. The bears can also be ordered from the company's website at holybears.com.