The rise of anime´s popularity has Western fans alert for new releases and American animators and filmmakers more interested in emulating their Japanese counterparts.

According to Adam Arnold, co-creator of the online magazine Animefringe, ?For years, animated series and movies in the U.S. have been taking on the characteristics of their Japanese counterparts, and current offerings such as ´Teen Titans´ and ´Kim Possible´ share a lot of the standard anime conventions when it comes to character designs and pacing.?

East Meets West on the Big Screen
This trend is generating intriguing and exciting collaborations.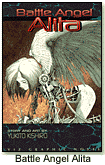 James Cameron, director of "The Titanic" and "The Terminator," will be directing the live-action anime "Battle Angel Alita." Alita follows the story of an amnesiac cyborg supersoldier who awakens in a dystopian universe and rediscovers her humanity. Rumors have it that the protagonist will be completely computer animated.

Also in the works is Hayao Miyazaki´s "Howl´s Moving Castle," an anime based upon the British novelist Diana Wynne Jones? work. Pete Docter, director of Pixar´s "Monsters, Inc.," will head the American production of the movie.
Anime for the Television
The little screen is also anxiously awaiting the release of some hot anime from Japan. "Bleach" tells the story of a 15-year-old protagonist who can see ghosts. In his adventures, he teams up with a god of death to hunt fallen spirits after being given the god?s powers.

Continuing with the theme of strange events and mysticism, the anime "Beck" focuses on a young boy whose life changes forever after he saves a dog. In "Mai Hime," protagonist Mai and her brother encounter two girls with supernatural powers on their way to school. Mai discovers her own powers as a result.

For more information on anime and manga, please take a look at For Fans, Anime is a Way of Life