According to Fred DaMert, founder of

DaMert Company

, business is all about figurative hats. In 1973, DaMert was making prisms as Christmas gifts when he bent one into an arc and, recognizing a marketable product, put on his creative hat.
After he had solved production problems and the product, dubbed Spectra-Arc, was ready for the public, it was time to put on the sales hat. With his head covered, DaMert wandered into The Nature Company, at the time just one store with six employees, and pitched his product.

The store gave selling it a try and, encouraged by a few local sales, DaMert jumped in his car to drive the product cross-country. He stopped at every museum shop along the way, finally ending at the Smithsonian. The success of his cross-country road trip made DaMert ask himself, ?What else is out there?? and the DaMert Company was born.

Piecing It Together

DaMert Company began developing new products and distributing existing products. As DaMert?s reputation grew, the company founder ? this time wearing his developer hat ? began helping other inventors turn a good idea into a marketable product.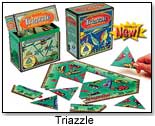 Ideally, DaMert wanted to ?create a thematically refreshable platform? ? that is, to develop a line of products instead of one single product. He found that platform with the Triazzle, a puzzle consisting of triangular pieces that have, according to Creator Dan Gilbert, ?graphic elements that cross over its three edges onto the adjacent pieces or onto the frame that contains the entire puzzle.?

Gilbert, an artist, created a puzzle prototype with frog graphics for the National Aquarium at Baltimore?s Poison Arrow Frog exhibit in the mid-1980?s. Because of financial restraints, the Froggle was never produced. Several years later, when Bill Hanlon, a product developer for DaMert, asked Gilbert if he had any interesting ideas, Gilbert showed him the Froggle prototype.

Although DaMert had never produced a puzzle, he saw great potential in the Froggle. DaMert and Gilbert collaborated to expand the idea behind the puzzle into a line of products. Froggle became Triazzle, initially a release of three puzzles ? Insects, Frogs and Space ? and has since developed into over 100 products with over 5 million puzzles sold.

The Next Stage

Since selling the company to Toysmith three years ago, DaMert has happily relinquished his least favorite hat, that of sales guy. But he?s still out there searching for DaMert products.

?When I meet inventors I can describe exactly what I want. I just don?t know what it is,? says DaMert, trying to explain how he can instantly know if an idea can fit into the DaMert Company.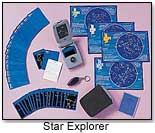 Because many of DaMert?s first accounts were museum shops, the business evolved into one featuring products that balance fun and education. That balance is obvious in the popular DaMert kit Star Explorer, which includes information about stars, the myths that surround them and a handheld device to locate them. ?It has that wow element ? the word I love to hear ? but also an educational component to it.?

The secret to DaMert?s success with wearing so many hats can be found in his answer to a simple question. When asked what his favorite product was, DaMert pondered for a moment and then laughed, admitting he couldn?t choose.

?The secret is to be honestly enthusiastic about everything,? he says.