Article Tools:








Our Top Ten Toys of 2003
From a new toy that makes kids part of the video game action to fashion-savvy dolls with celebrity panache, 2003 brought some much needed excitement to a rebounding toy industry. We polled our staff to come up with a top-ten list, presented here in no particular order.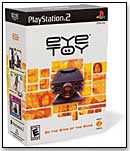 EyeToy by Sony

1.) EyeToy by Sony ($49, ages 5 and up). New to U.S. retail shelves, the EyeToy is already a top-seller in the U.K., and consists of a motion-sensitive camera that sits atop your TV and plugs into the Playstation 2. The camera captures kids onscreen—interacting with games like "Wishy Washy," where the object is to move your hands to wipe away soap film on a window (the TV screen); or "Kung Foo," where players swat away charging ninjas. The games do not possess stunning graphics but are fun for young children—a selling point for parents worried about the effects of video violence in many of today's games.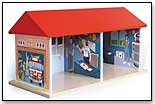 Art House by Storyboard

2.) Art House by Storyboard ($199). Suitable for ages 4-11, Art House comes with durable transparent walls that open to allow kids to insert and remove hand-colored designs of their own, creating different architectural looks. Themes such as a Firehouse (complete with fire fighter) and Country Cottage come with coloring book-style walls. Other styles include a traditional Japanese home and a Viking Longhouse. Art House won "Best Vacation Toy of 2003" from Dr. Toy.

State Birds by Wild Republic

3.) State Birds by Wild Republic ($6.99) Building on their successful Audubon™ Birds line, Wild Republic brought out its U.S.A. State Birds Collection featuring colorful plush designs and real bird calls recorded by the Cornell Lab of Ornithology. The State Birds collection includes all 28 birds representing the 50 states, as well as the national bird himself, the Bald Eagle. Visit their website at wildrepublic.com and listen to the amazing birdcalls yourself.

Mister T in Your Pocket by Emanation

4.) Mister T in Your Pocket by Emanation (ToyDirectory) ($10). Try not to laugh when pushing Mr. T's buttons—I dare you, sucka. Featuring the real voice of T himself, this inexpensive toy is a one-of-kind stocking stuffer sure to make the recipient the life of any holiday party.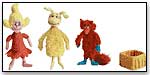 Dr. Seuss Finger Puppet Sets by Manhattan Toy

5.) Dr. Seuss Finger Puppet Sets by Manhattan Toy (ToyDirectory) ($25.00; ages 3 and up). The Cat In The Hat, Green Eggs and Ham, Horton Hears a Who! Generations have grown up with these stories, and now Manhattan Toy has created finger puppet sets for each. All the sets contain four puppet characters from the book; Cat in the Hat comes with the Cat himself, as well as Thing 1 and Thing 2 and the Fish. Parents will no doubt enjoy playing with these puppets as much as their children do.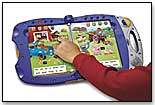 Powertouch Learning System by Fisher Price

6.) Powertouch Learning System by Fisher Price ($49.99; ages 3-8). They might have gotten the idea from Leapfrog, but Fisher Price took it a step further to create an interactive reading/counting toy that's truly intuitive. The "finger-touch" system eliminates the need for a stylus, and "auto-page detection" makes sure a child is always getting the right response. Comes with a Sesame Street book storybook and Bonus School Skills workbook, with more titles available—including favorites like Dora the Explorer, I Spy, and the Bernstein Bears.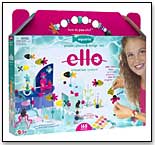 Ello Creation System Aquaria by Mattel

7.) Ello Creation System Aquaria by Mattel ($19.99; ages 5-7). Finally girls have a construction toy of their own. Rather than building skyscrapers or spaceships, Ello Aquaria lets girls ages 5-10 create undersea creatures and aquatic worlds. There are no instructions, so everything a girl builds comes from her own imagination. Pieces are held together by slotted, square, and spherical "bolts," allowing creations to be disassembled for use in new projects. Other Ello kits allow girls to create jewelry, storage bins, picture frames, dolls, toy furniture, desk diversions and even people. Reusable vinyl stickers add the finishing touch.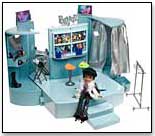 Bratz Formal Funk Runway Disco by MGA Entertainment

8.) Bratz Formal Funk Runway Disco by MGA Entertainment (ToyDirectory) ($99.97; ages 6-up). The price might seem a little steep for a doll set, but we're talking about Bratz after all, the dolls every Tween girl in America (and beyond) can't seem to get enough of. This set features the newest Bratz girl, Nevra, and has 5 "funkadelic" themes (Does George Clinton know?), featuring more than 67 accessories. A Makeup Counter, Disco Floor with flashing lights and a Smoothie Lounge complete the Runway Set, where Nevra can strut like a supermodel before heading for the Dressing Room to hang out with the other Bratz.

Supermag by Plastwood

9.) Supermag by Plastwood (ToyDirectory) ($9.99; ages 3 and up). Another Dr. Toy Award winner, Supermag is billed as "the world's strongest magnetic building system." If you've ever played with a set, it's not hard to believe. The pieces are plastic coated steel rods with North and South-polarized magnets at either end. One TDmonthly staffer has kept a set on his desk for a month, daring anyone to topple his magnificent creation. It takes some work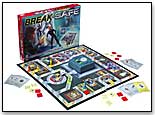 Break the Safe by Mattel

10.) Break the Safe by Mattel ($24.99; ages 8 and up). Praised by players for its emphasis on teamwork, Break the Safe gives players 30 minutes and a set of specialized tools—such as an "ice suit" to neutralize heat sensors—to unlock an evildoer's safe and save the world. The 30-minute time limit should fit well with today's busy families. As Phil Jackson, vice president of games marketing for Mattel, put it: "Break the Safe provides families with an opportunity to have fun, communicate, and work together toward a common goal. It also teaches the kids that whether they win or lose, their family is always on their side." Not many toys can make that claim.

Catalog Request Form
THIS BANNER IS AN AD:
---
---


Advertisement: