Article Tools:








Day 1 - TDmonthly's Live Retailer Reporter Coverage of American International Toy Fair 2014
Retailers and our staff reporters are giving us the scoop on all things Toy Fair!
SEE OUR FULL RETAILER REPORTER COVERAGE HERE

SEE 2014 TOY FAIR VIDEOS HERE

2014 American International Toy Fair opened this morning at the Javits Center in New York City, and our retailer reporters are already chiming in with some of their favorite moments at the show. (Follow our coverage LIVE on Twitter!)

Fairhaven Toy Garden was intrigued by Splendor, a game from Asmodee.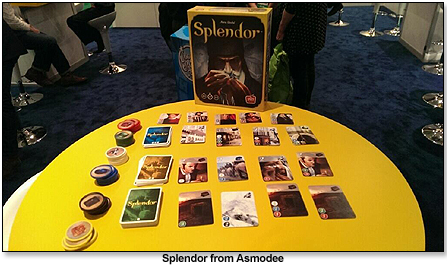 They also reported that "UPSIDE DOWN GAMES is good fit for us!" They make Yoga-themed games for kids that are educational and encourage physically activity. You can see their products at Booth# 6259.

Games from Wiggles 3D, Booth# 1788, were also catching retailers' eyes.

"Eye Know looks like a game we could do well with, great price point," Dancing Bear Toys told us, and "RANDOMonium looks like fun party game too!"

Toys on the Park had their eyes on this Mesh "Come Fly With Me" Tent from Pacific Play Tents, Booth# 1573. Not only is it see-through, letting parents keep a better eye on their kids' safety - it's only $39.95 wholesale.


Dancing Bear Toys was also a fan. "Pacific Play Tents' new teepee is beautiful! All tent poles are color coded [for easy assembly] and connector pieces are glued on."

Both stores were similarly intrigued by the Zeenie Dolls eco warriors at Booth# 1057. "Zeenie Dolls are articulated play fashionista dolls that allow for play while teaching about the environment," Dancing Bear told us.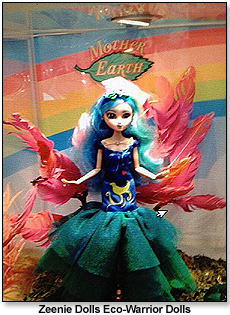 Our reporter stopped by Yamie Chess, Booth# 5954, and met Jennifer Shahade, 2-time US Women's Chess champ.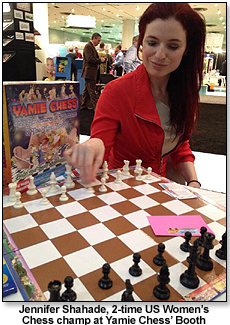 Dollhouse & Toy Store was impressed with the offerings at Douglas Cuddle Toys, Booth# 373. "Douglas Cuddle Toys has a great woolly mammoth that adds a unique touch to their plush line," they reported, and, "If Clifford, the big red dog is coming to visit your store, they have all the styles you need."

They were similarly impressed with the new toys at Adora Dolls, Booth# 1051. "Adora Dolls, as usual, has done a great job on toddler dolls. Cute faces, different hair and eye color combos" are what really set these dolls apart. "Their outfits are cuter than ever," they told TDmonthly.

Kidstop Toys was finding a lot of cool new products at this years' Toy Fair.

Their faves included ZipStix from Hog Wild, Color a Cape from Creative Education, the Solar Recycler from OWI, and bath time doll Nici Wonderland from NEAT-OH!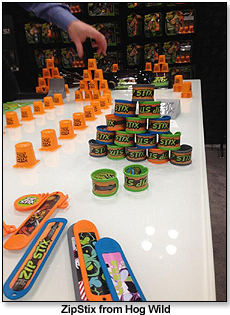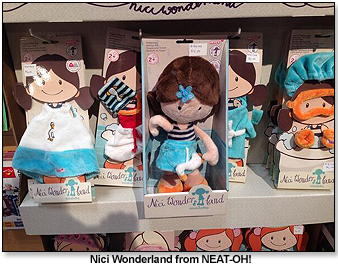 Kaleidoscope Toys had their eyes on Science and Music toys the first day of the show. At Thames & Kosmos, Booth# 2079, the "New innovative line of GEEK & CO addresses the nerd in all of us!"

They were also intrigued by the Charge science kit from Norman & Globus, which teaches kids to build a Van de Graaf generator. You can check it out at Booth #2631.

On the music front, Kaleidoscope told us about the new Schoenhut Alligator Piano with organ sound (Booth# 1737). The product is cute, and as usual with Schoenhut, it's also musically correct.

Dancing Bear also was a fan of Schoenhut's toys. These toy pianos "sound pretty close to the real thing! I appreciate instruments that have musical quality," they reported. But Schoenhut doesn't just do pianos - they also have an "Awesome drum set!"

Kaleidoscope Toys also told us that Hohner had added a few new items to the Green Tones musical toy line.

Kidstop Toys was tickled by Cloud b's cuddly Foxes.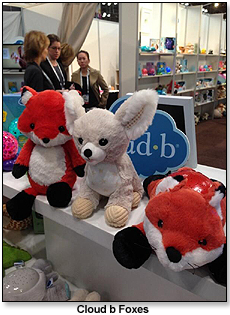 Meanwhile, Timbuk Toys was impressed by new company Marked Private, a social invite service that is safe - and fun - for kids to use. You can learn more at Booth# 6443

They were also impressed by Games Workshop. "Games Workshop is a great combo of model building, painting and game playing themed after licensed movies and games," they shared with our followers on Twitter. You can visit Games Workshop at Booth# 6349.

Meanwhile, our reporters on the ground were capturing photos of some of the new product at the show.

On the Park toys was impressed by all three of Kettler's new offerings, like these scooters, at Booth# 1703...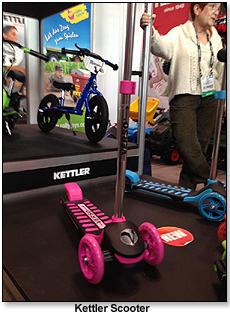 ...as well as their Racers and four-wheeled Uber-Zoomers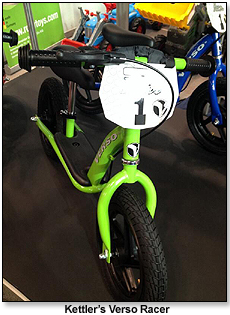 They "are quality and priced competitively. [We] like idea that all three can be purchased from one supplier," On the Park reported.

This morning, one of our reporters caught one of the cute and colorful Raggs characters at Schoenhut, Booth# 1737


Stay tuned for more of our LIVE coverage of the 2014 American International Toy Fair!
Catalog Request Form
THIS BANNER IS AN AD:
---
---


Advertisement: