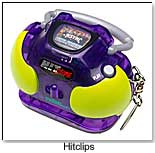 A line of stylish, wearable Micro Music systems that play postage stamp-sized, interchangeable clips, Hitclips by Hasbro´s Tiger Electronics feature 60-second, micro-mix cuts of today's most popular songs handy enough to listen on the go. Wildly popular with Tweens and teens alike, the Hitclips line is getting a new look and sound: colorful, trendy players boast innovative styles, better sound quality and round Micro Music Discs that plat twice the music of the original clips.
The Multiplayer ($14.99; ages 5 and up) comes complete with an adjustable belt clip, ear bud and standard headphone jack so music lovers can listen and share their music when they're on the go. The Multiplayer also includes a display stand and built-in external speaker. In addition, this super-cool system is packaged with a Hitclips Micro Music Disc exclusive to the Multiplayer. The Multiplayer will be available Fall 2004.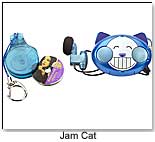 The fun and funky Hitclips Themed Player Assortment ($9.99; ages 5 and up) is a hip way for Tweens to express their individuality while listening to their favorite Hitclips Micro Music Discs. Hitclips fans can choose from various designs, including the pretty Boom Bloom, sassy Jam Cat, be-dazzling Beaders or trendy Punk Funk player. Each stylin´ player comes with a Micro Music Disc, ear bud and color coordinated fashion accessory, such as neck cord, wrist strap or keychain.