Color & Eat Cookie/Foodoodler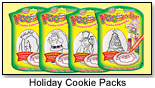 Take decorating cookies to a new dimension with the Holiday Cookie PackColor & Eat Cookie/Foodoodler. This set comes with three Foodoodler food-coloring markers and Christmas designs to put on your cookies! The markers contain food dye that can be used to color and decorate cheery designs of Santa and snowmen! It is a fun way to doodle while you eat! by
Squire Boone Village/Earth Exploration Co.
As seen on the Food Network, Kaboom Rocks by Squire Boone Village/Earth Exploration Co. are colorful and carbonated candy nuggets. Place them in your mouth and feel it "Kaboom!" as it pops and sizzles on your tongue, creating an unusual sensation. It comes in two bursting flavors in an authentic unbreakable and reusable test tube. Let the party in your mouth begin!
Carousel Div. Ford Gum and Machine Co.
Coming in 2005 to celebrate Valentine's Day is the Hip-Hearts Gumball Machine by Ford Gum and Machine Co. Each 10-inch tall machine has a spiral chute gum dispenser and is decorated with colorful Valentine patterns. The included white, pink, and red gumballs have cute Valentine messages on each one for every potential valentine who drops by! $7.99.
Magic Gumball Internationa
l
Never say "Doh!" again when you use The Simpsons Coin Bank by Magic Gumball International. This gumball machine features Homer at work, trying to save money with you! Place your loose coin change in the coin bank and reward yourself with a juicy gumball by simply turning the handle! When you accumulate enough coins, you can buy yourself something nice!
Kandy Kastle
Practice catching food in your mouth with the Candy Tosser by Kandy Kastle. This action packed candy toy features a device to put your yummy candy into and with the flick of your thumb, tosses a piece of candy into the air for you to catch! Toss candy from all directions and you will surely be a pro food catcher!
A & A Global Industries, Inc.
Pucker up your lips and wrinkle your nose when you eat the World's Biggest Sour Candy Necklace by A & A Global Industries, Inc. This colorful candy necklace is so sour, you might permanently adopt a sour face if you eat too much at one time. Take the risk and you will love this necklace until its bitter end!