All Things Equal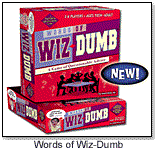 From the makers of the popular board game Loaded Questions , All Things Equal comes out with a new installment, sure to entertain at any game night. Words of Wiz-Dumb is a game where the players give advice and you have to guess who said what, based on what you know about each player. It tests your knowledge about other people!
Momentum (4) Fun
Winner of the 2004 National Parenting Center Seal of Approval award, StakXchange by Momentum (4) Fun will introduce you to the ins and outs of the stock market exchange. By buying and selling commodities, the goal is to be the wealthiest player in the end. Teach your kids and yourself about the risks of futures trading! Ages 8 and up. $34.95.
Stock Rush, Inc.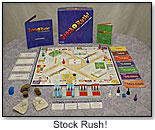 Spend a week on Wall Street with Stock Rush by Stock Rush, Inc. This game will teach you all the real-world basic principles of trading using "passive learning" strategies. With passive learning, you quickly master the Stock Market by simply playing the game. Trade your stocks, commodities, and franchises to become the richest player and win the game! Ages 8 to Adult. $39.99.
Rumba Games Inc. (ToyDirectory)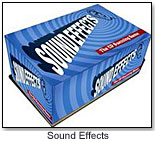 Can you identify the sound of a mosquito or someone brushing their teeth without any visuals? With Sound Effects by Rumba Games Inc., you have to perk up your ears to distinguish between over 80 random sounds in a couple of seconds. Decide on the difficulty level and the amount of time each player can hear the sound, to challenge your listening skills! Ages 4 and up. $9.95.
Uberplay Entertainment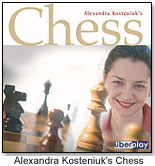 Learn to play like a chess champion with Alexandra Kosteniuk's Chess by Uberplay Entertainment. Alexandra is a World Champion chess player who wants to impart her chess secrets to you. This special edition set comes with a chessboard, playing pieces, and a strategy book that will help you think like a champion player! Ages 10 and up.
USAOPOLY Inc.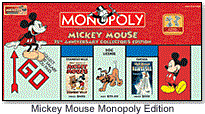 Celebrate the 75th anniversary of Mickey Mouse, a beloved character to all! A commemorative edition of Mickey Mouse Edition Monopoly by USAOPOLY Inc. contains new pewter tokens of the whole gang! Move Pluto across Go and receive special Mickey Mouse money! With movie poster title deeds, movie reel houses, and Disney vault hotels, this is a definite collector's item! $35.95.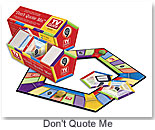 Wiggles 3D (ToyDirectory)
Wiggles 3D, winners of Creative Child's Magazine Seal of Excellence, teamed up with TV Guide to create Don't Quote Me – TV Guide Edition, which debuted in March 2004. "Working with the TV Guide team on this initiative has ensured we have captured favorite memories, both old and new, from television and movies," stated Don Reid, President of Wiggles 3D. The Don't Quote Me – TV Guide Edition covers the past 50 years in entertainment, featuring five categories: Drama, Comedy, News/Talk/Sports, Stay Tuned, and Movies. Players choose a category and are given a quote to guess the show or the character that said it. There are hints and multiple choice answers to help, as well as fun background details. (Ages 14+; $29.95)