Kapla
"Through building, one builds character" states Tom van der Bruggen, inventor of Kapla. A previous winner of the Parent's Choice Award and Dr. Toy's Top 10 Most Creative Toys, Kapla produces wooden building planks that stimulate the imagination and artistic side of everyone. Made of high-quality marine pine, children can build large bridges, skyscrapers, castles, and more using the Kapla 200 Building Set. This set comes with 200 planks and an illustrative booklet. It can be used in the classroom to foster discussion and at home as a bonding activity with the family. Kapla is praised by teachers and parents since it "helps to develop that child's manipulative skills, sense of balance, concentration ability and creative spirit." Wooden planks are also available in various colors. For ages three and up. $64.95.
LIKEaBIKE USA
A popular German ride-on toy is now available in the U.S. LIKEaBIKE by LIKEaBIKE USA is a wooden ride-on that is a cross between a bicycle and a scooter. Made of birch wood and stainless steel, there are no pedals on the LIKEaBIKE, allowing a child to move forward and stop by using his feet. This teaches children how to balance themselves on a bike, which will come in handy when they upgrade to a regular two-wheeler. The company claims that children will not have to use training wheels at all after mastering the LIKEaBIKE. LIKEaBIKE comes with an adjustable seat, to fit with the growing size of a child. For ages 2 to 5. $279.
Whirlwood Magical Wands
Harry Potter fans will love the line of wooden wands by Whirlwood Magical Wands (ToyDirectory). Whirlwood has produced an entire line of unique wands for every prominent character in Harry Potter. Fans will be able to purchase replica wands of Harry, Ron, Hermione, Dumbledore, and even Lord Voldemort. The Harry Potter wand is described as an "unusual combination, holly and phoenix feather…nice and supple." The wand is 15 and a half inches long, comes with a velvet sleeve, Whirlwood card, and a handmade Wand box. $49.

Meadow View Imports
"Toys are the tools of creative play and with the right toys, a child can have not only an entertaining, but an enriching experience." says Margarate Ostheimer, of Ostheimer Handcrafted Wooden Toys. Ostheimer wooden toys are distributed in the US by Meadow View Imports. (ToyDirectory)Each toy is hand-painted and can be used to stimulate a child's imagination. New additions to the Medieval Collection are Lady-in-Waiting, Noblemen, Court Jester, Black Riding Knight, and more. There are even wooden Castle sets, to serve as settings for the toys. A wonderful product for children to use during fantasy role-play on their own or with other children.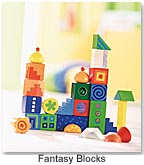 HABA

New this year from HABA is the Fantasy Blocks, 26 brightly colored wooden blocks that can be "piled" up to form interesting objects. Due to its "optical effects," these blocks attract youngsters, leading them to explore their creativity through building. Each block forms a unique shape when combined with different pieces. There is even a bell piece that plays music. Made of beech wood and acrylic, some of the Fantasy Blocks have a foil coat of cool designs. These blocks can also be used with other HABA blocks. For ages 1 and up. $35.