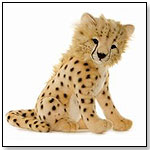 This 12.75" tall sitting Cheetah Cub is a realistically handmade addition to Hansa's high-quality line of stuffed animals. Sewn inside-out to minimize seams, the Cheetah Cub is a wild animal representing the African Safari region for Hansa. It comes with a hang tang that includes everything you wanted to know about the Cheetah Cub and its wildlife characteristics. An average of 42 separate parts go into every Hansa plush animal, so that no detail goes missing in this snapshot of nature.
— Priscilla S. Moore, owner of Mr. Fub's Party "Toys and More" in Yellow Springs, Ohio,
told TDmonthly that Hansa Animals will be popular among young girls during the peak selling season.