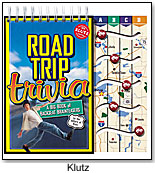 Klutz, creator of innovative kid´s activity products, keeps kids entertained with inspired takes on classic arts and crafts themes like Spool Knit Jewelry, Twirled Paper and The Klutz Book of Paper Airplanes, journal-keeping with Me and My Friends; to backseat boredom-busters with Road Trip Trivia and the shockingly colorful Rainbow Hair Styles.
TDmonthly Review:
What Is It?
Twirled Paper is an arts and crafts kit containing spaghetti-thin paper strips that can be twirled into coils and glued together to make cute animals, flowers, insects and more.  It comes with everything you need to twirl your way into a land of paper characters; including glue, plastic eyes, a twirling stick and a ?how-to? book.
What We Thought
Twirled Paper is definitely a project for the artistic child. The twirling takes a great deal of concentration and time. Those who are content to quietly sit and create will find satisfaction in this kit.
Why They?ll Want It
This handy self-contained kit can provide silent amusement for the mature child. Constructing characters is challenging and rewarding. Children can be proud of their concentrated efforts through an artistic final product.