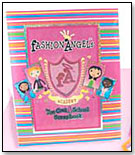 Scrap booking for tweens is all about school and best friends. The Too Cool 4 School Scrapbook is the perfect tool to keep track of friends across four years of school. Using the enclosed supplies, each friend is highlighted on an individual information card that includes a picture and an area to add fun facts about that friend. The beautifully designed 3-ring binder also contains school year report cards summarizing the four years covered in this scrapbook. This scrapbook won an iParenting Media Award for 2005.
— Scrapbook kits are among the top-selling craft kits for tweens at Teri's Toy Box in Seattle, said owner Teri Soelter.
— Scrapbooking is one of the favorite crafts girls like to do together, said Katie Culotta of Victoria's Toy Station in Baton Rouge, La.
— The Fashion Angel's Too Cool for School Scrapbook was already sold out at the Learning Express in Las Vegas, said owner Sarah Kim.
TDmonthly Review:
What Is It?
A glossy cardboard scrapbook decorated with the Fashion Angels girls comes with everything a little girl needs to begin her scrapbooking career. Pockets in the front let her store photos that she can later cut up to make trading cards, or add to other scrapbooking pages while keeping track of the year?s events. Protected by plastic snap pockets are trading card forms in different colors and forms; kids can insert their best friends? pictures, fold the card, glue it, then fill out the form that keeps track of the girl?s name and important ?stats,? such as grade, favorite colors and favorite bands. Funny bright stickers are included, so that the photos can be decorated with mustaches, silly hats, flowers, labels and more. There are four report card and autograph pages so girls can keep track of their social progress through four years of school and fun. It comes with a pen and a glue stick. There are also our protective sleeves where they can store their trading cards permanently.
What We Thought
This is a great way for kids to start documenting the important moments in their lives. They?ll have fun making trading cards of their friends and gathering autographs at the end of the school year. There?s plenty of space in the scrapbook to add extra pages, too, so kids can continue to be creative after they?ve made their cards and filled out their first year?s school report. The trading card frames are nicely varied, so you can really pick the right one for each friend. The cards fold over easily so that it doesn?t take much dexterity to make a really super-looking card. The stickers peel off easily and have a lot of variety. There are even word balloon stickers, so kids can make their friends say funny things.
Why They?ll Want It
Scrapbooking is all the rage. This set will appeal to little girls because it?s filled with fun activities that are easy to do. The instructions are clear and inspiring. The stickers are silly, colorful and have girl-important labels such as ?Big Crush,? ?Drama Queen? and ?Whatever.? If one girl gets this, her friends will want one, too, so they can make cards of each other, trade them, and compare their notes and decorations. Girls and their friends will feel like little stars once they?ve become a hot trading card! It?ll also be fun for them to fill out their year?s report card, since it asks them to think about what their biggest accomplishment was and what they need to work on for the next year. The best thing is, this is a craft activity that they can do all by themselves, without supervision, making it a real Girl Power item.


The Bead Shop´s ToyDirectory Listing
-- Alison Marek, 8/19/05

ToyDirectory Product ID#: 4164
(added 8/15/2005)

Advertisement: