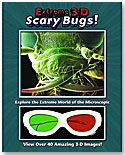 Children get an extreme close-up of all kinds of bugs in this extraordinary, 48-page, educational book. Kids will love the extreme creepiness of looking at the microscopic details of everything from ants and bees to dragonflies, milipedes, and more. Each spread features awesome 3-D photographs that kids can check out with the included 3-D glasses, and plenty of fun, fascinating facts like where ants go to the bathroom.
TDmonthly Review:
What Is It?
This is a cool book on the world of the ultra-tiny, full of electron microscope pictures of bees and ants and bugs of all sorts. They look monstrous at these magnifications and are very cool. But the real bonus is the pair of 3-D glasses that come with the book which add to these pictures, dare we say it, a whole extra dimension! Written by Shar Levine and Elaine Humphre, and illustrated (what illustrations there are) by Leslie Johnson.
What We Thought
My six-year-old can?t put it down, and neither can his two friends. They?re playing tug-of-war with the 3-D glasses as I write. The coolest picture for these guys was the millipede ? it looked like the scariest dragon ever to romp through mythology, but it?s real! We all talked about the bugs, then went outside to find a few live ones. The kids took the glasses? you can never be 3-D enough.
Why They?ll Want It
What can we say? It?s gross, fun, has 3-D glasses, and it?s educational. What?s not to like about it? Losing the glasses could put a crimp in the book in the future, but there must be ways to get an extra pair or two. Two 3-D thumbs up.
--TDmonthly Staff, 10/18/05