Children's Books

New Boy Books For Fall
By Karen Mendez Smith
August 2003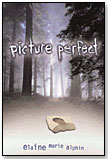 Picture Perfect
Big Boys
A novel young men-to-be will find worth picking up is SHADOW OF TRUTH by S.L. Rottman, the story of a boy dealing with his brotherís incarceration (Peachtree). In PICTURE PERFECT (Lerner) by Elaine Marie Alphin, a boyís friend goes missing. The high-tech mystery of BRAINBOY AND THE DEATHMASTER (HarperCollins/Geringer) by Tor Siedler will entice the computer-savvy. PREP (Dutton), a debut novel by Jake Coburn set in a NYC prep school, will also make the list of must-reads.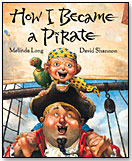 HOW I BECAME A PIRATE
Little Boys
Young adventurers will gravitate to AMERICAN BOY: ADVENTURES OF YOUNG MARK TWAIN, a picture book biography by Don Brown (Houghton-Mifflin). From Harcourt comes the story of a boy who gets homesick on the high seas, HOW I BECAME A PIRATE by Melinda Long with illustrations by David Shannon. They will also run to read THE RACE CAR ALPHABET by Brian Floca (S&S/Atheneum/Jackson).
And what boy could resist the charms of CAPTAIN UNDERPANTS AND THE BIG BAD BATTLE OF THE BIONIC BOOGER BOY PART 1 AND 2 by that master of boydom, Dave Pilkey? Also sure to make the charts is Dialís JIMMY BOA AND THE BUNGEE JUMP SLAM DUNK, a basketball/dancing adventure by Trinka Hakes Noble with art by Stephen Kellogg. Even the littlest will appreciate BIG BOY BED (Clarion) by Eve Bunting

Tween Boys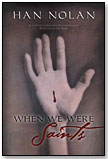 When We Were Saints
Middle-graders have much to choose from this fall, starting with SPORTS ILLUSTRATED FOR KIDS: YEAR IN SPORTS by the staff of SIFK Magazine. Milkweed Editionís THE TROUBLE WITH JEREMY CHANCE by George Harrar, set at the end of WWII, will appeal to serious readers.
Even poetry has a chance with TROY THOMPSONíS EXCELLENT POETRY BOOK (Kane/Miller), a fictional 6th-grade-boyís journal in verse by Gary Crew. A new novel from Jack Gantos, JACK ADRIFT: FOURTH GRADE WITHOUT A CLUE (Farrar) is sure to please, and WHEN WE WERE SAINTS by Han Nolan (Harcourt), in which a boy is told he is a saint, will intrigue as well.
Writer's Bio: Karen Mendez Smith has been involved in children's media for over twenty years as a literary agent, writer, and creator of animated television and film. Co-founder of Satori Organics and M/Path Press, she is a parent to eight children and five incredible grandchildren (and counting).

---
---