Design Inspiration

Teaching the ABCs of Video Game Design
By Jeremy Loudenback
August 2003



Video game designer has replaced web designer and film director as one of today's most desirable jobs. With video game sales rapidly expanding in proportion to the industry's range of jaw-dropping graphics, the pixel-based medium is at an all-time high, making seasoned designers like Tom Sloper men in demand.

With nearly 25 years in the video game industry, Sloper has parlayed his experiences as a designer, developer and consultant into several teaching positions, where he helps the next wave of designers bring their imaginations to life on the computer screen. Sloper has designed games for several different companies, including giants Atari and Activision. All total, he has created and/or developed dozens of titles that have sold more than 5.5 million units. Sloper has also recently contributed his expertise to a pair of books about the gaming industry: Game Design Perspectives and Secrets of the Game Business.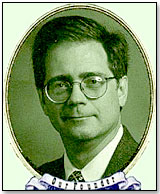 Tom Sloper
Unlike many of his students at the Academy of Game Entertainment Technology and California State University—Dominguez Hills, Sloper never set out to become a video game designer. The first job he landed upon arriving in Los Angeles in 1979 was a position at Western Technologies, a seminal "toy think tank" and the maker of the much-celebrated Vectrex gaming system. Sloper had originally hoped to find work building sets in the film business but was soon lending his technical talents to designing the LCDs of Vectrex's proto-Game Boy handheld electronics and early game cartridges.

In the early 1980s, most gaming designers doubled as programmers, but Sloper's gaming instincts outweighed his lack of programming experience.

"I had a very good game sense because when I was a kid, we used to play a lot of a board games and card games around the kitchen table," Sloper says. "For the most part, when you look at the early 1980s when I made these games [for Vectrex], game designers were usually the programmers themselves -- they made their own graphics, they had their own ideas, they did it all. [The first games that I designed] my friend could program them; he just needed to know what to do. I learned that I had to explain the games in great detail."

Today's designers, ironically enough, find themselves returning to Sloper's original design prerogatives.

"Game designers today are the guys that define how the game is going to work," he says. "He's not the same guy as the programmer or the artist."

Sloper counts Shanghai, a variation of mahjong he developed and designed for Activision, as one of his greatest successes. According to Sloper, the game was instrumental in adding to his understanding of game play.
"You know you've done a good job when people e-mail you, 'I sat down to fiddle around with the game and the next thing I knew, it was three o'clock in the morning,'" Sloper says. "Simple games with simple strategies like Shanghai let you relax and open up your thoughts."

The simple nature of new games designed for cell phones and other portable devices may not match the complexity of the latest PlayStation 2 title, but these games may be nearly as influential, according to Sloper.
"We're seeing games that go back to an early kind of simplicity," Sloper says. "You really have to think about the user now [when designing]. People are using these portable games while they're waiting [in line] or after they're done checking their e-mail."

The popularity of cell-phone games defies the conventional wisdom that hard-core gamers are the only audience worth courting.

"A hardcore gamer is going to play the latest GTA [Grand Theft Auto] adventure," he says. "But those aren't necessarily the people we're making our cell phone games for. This is a completely different audience. While we're seeing a huge increase in complexity and depth, we're also seeing a revitalization of simplicity and pure game play."

Sloper thinks success for today's designers may depend more upon understanding the psychology of game players than on high-speed graphics.

"It surprises a lot of aspiring game designers to realize how much of the fun of a game depends on the user interface and the intuitive ease of just going into the game and getting to the thing you want and fiddling with it -- making the whole process transparent," he says.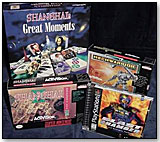 Shanghai
"Games are all about limitations," Sloper continues. "A game is a set of limitations that you can have fun in. That's what game design is all about, too. Most of the real life of a video game designer is not sitting around coming up with ideas; it's about getting an assignment and then taking that assignment and turning that into something fun for other people."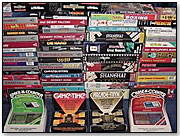 Games designed by Tom Sloper
When students approach Sloper with ambitions of designing a video game, he says many are caught up in the spectacle of the latest PlayStation title and overlook the fundamentals of being a video game designer.
"People ask me all the time, 'What software should I get to do game design?' I tell them Microsoft word and Microsoft Paint, which probably comes with your computer," says Sloper. "That's all you need. A designer is basically someone who's communicating an idea through writing and pictures. Some designers -- if they don't have the graphical abilities -- as long as they have access to an artist who's good enough to draw in order to illustrate what they want, they'll be able to get their idea across."
---
---