---
Readiness Programs School Kids Earlier
This article is a work in progress and will be updated as June draws near.


Thereīs been a big push over the past five years for kids to not only prepare for going back to school, but to pre-prepare for heading back to school. Many new products have been hitting the market with the goal of getting kids "ready" for their formal K-12 education by introducing them to the fundamentals of how to learn early on.
Retailers would do well to recognize that the term "back to school" now incorporates children of a wider age group than once considered. While preschools have been around for over 30 years, and "readiness" programs implemented by state governments have been in effect for the past five, this powerhouse niche continues to pick up steam.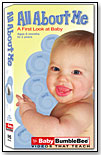 This introduces infants and toddlers to their own bodies! This delightful video features kids, songs and fun. More than 20 body parts are reviewed, including face, mouth, eyes, ears,  elbows, knees, fingers and toes. This exploration of the human body is tailored to the littlest learners and presents a number of original songs a child will love to sing along with. A cast of children and babies ensures that children will be captivated.

ToyDirectory Product ID#: 2022

(added 12/22/2004)

.

AD
---




MSRP: $15.00

Age Range: 3 and up





Made with the sturdiest of materials, this beautifully illustrated puzzle challenges children to match each mother animal to its young. The well-crafted puzzles have self-correcting pieces that encourage little ones to keep guessing until they get the pieces right. Launch date: 2005.

ToyDirectory Product ID#: 3358

(added 4/14/2005)

.

AD
---





MSRP: $89.99

Age Range: 2 and up





MagiCook Kitchen lets young chefs develop their imaginations and practice their culinary skills. The latest technology enables the kitchen to recognize what´s cooking and responds to youngsters with hundreds of unique voice responses.

ToyDirectory Product ID#: 2594

(added 10/7/2004)

.

AD
---





MSRP: $18.99

Age Range: 3 and up





Introduce children to the alphabet through flash cards, music and activity sheets. This new learning kit is proven effective for building basic skills and reinforcing learning programs. The set includes 52 colorful two-sided cards, activity cards, a music CD and 32 work sheets printable from the CD.

ToyDirectory Product ID#: 317

(added 9/1/2004)

.

AD
---






This manipulative building toy offers creative challenge to the aspiring young engineers and scientists in your family. The open-ended design of WEDGITS stimulates childrenīs perception and reasoning skills as they experience different ways to stack, nest and align these rhombus and octahedron shaped toys.

ToyDirectory Product ID#: 1754

(added 12/9/2004)

.

AD
---







This one-of-a-kind center allows parents and teachers to create a garden, butterfly house, ladybug habitat, or whatever science project they dream up to help introduce nature to little ones. The center is 28" tall and has a 5" diameter screw-on cap that provides easy access. It comes in a blue frame, with a Mega-Tray, vent plug, and super plug. By removing the dome, the center can be turned into a sand and water center.

ToyDirectory Product ID#: 2614

(added 9/7/2004)

.

AD
---
Catalog Request Form
THIS BANNER IS AN AD:
---
---