Children grow up so quickly these days. Perhaps it's due to the head start they get in today's electronic age. Products designed to give children an edge are all the rage among parents, educators and even kids themselves. Some of the newest electronic learning gadgets, geared for going back to school, actually provide 'round the clock learning, creativity and fun for little minds.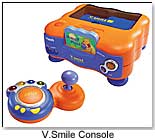 VTech continues to advance its line of electronic learning toys with the launch of its V.Smile TV Learning System ($59.99). V.Smile works similar to a video game, connecting directly to the television. Characters from Disney, Scooby-Doo and The Care Bears will guide children through various activities that develop language and math skills, while also helping them with letters, shapes and other developmental activities. Ten interactive Smartridges unlock games that children navigate with an oversized joystick and jumbo buttons.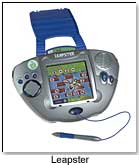 Winner of this year's "Toy Industry Association: Most Innovative Toy of the Year Award", and "Most Educational Toy of the Year Award" is the Leapster Multimedia Learning System ($79.99) from LeapFrog Enterprises. Children 4-8 years engage both sides of their brains by developing academic and creative skills in four interactive ways:
1) The Educational Game Player teaches reading, math and analytical skills imperative to getting off to a good start in the classroom.
2) Children can make their imagination a reality in the Digital Art Studio, with lessons that help them unlock the artist within.
3) The Electronic Book Reader promotes literacy and develops reading comprehension while instilling the value of reading.
4) The Interactive Video Player lets children play and participate in videos, designed to enforce reading and math skills.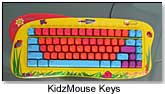 KidzMouse Inc. recently unveiled KidzMouse Keys ($39.95) and KidzMouse Ears ($29.95 large; $24.95 small). KidzMouse Keys is a colorful keyboard with keys, tailored specifically for little fingers to simplify typing, and make it faster and more fun for children. There are 67 color-coded keys as opposed to the standard 104 on a keyboard. Two keyboards can hook up to the same computer so parents don't have to un-plug their regular keyboard.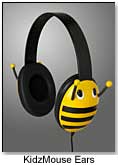 KidzMouse Ears come in two headset sizes, suitable for use in classrooms or at home. Each headset is colorful and can match up with the same designs as the KidzMouse mice line. Volume controls can be set by parents or adults and headphones are "plug in and play".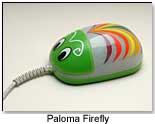 Another new critter from Kidz Mouse is the Paloma Firefly ($24.95), which lights up and sparkles like a firefly when used.
And especially for Tweens, a Scroll Wheel Mouse ($29.95; ages 9-12) has been added to the mouse line. As with all KidzMouse mice, the Scroll Wheel and Paloma Firefly mouse are optical for smooth performance and high accuracy. All products are Mac and PC compatible.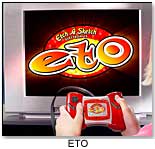 Ohio Art stretches the canvas of its classic Etch a Sketch onto the television screen with ETO ($34.99). Children can now create against the backdrop of their big screen T.V. with three different play modes:
1) My Ideas allows kids to paint and draw using a variety of tools, including 100 clip art images.
2) Art Sparks features even more clip art with sound effects and animation.
3) With Create a Game, children can create games and mazes and also use different backgrounds.