---
Back-to-School for Babies?
Article Synopsis

Even babies use educational and skill-based toys.
School-readiness practices have intensified over the years.
Toys introduce children to reading and language skills.
At one time, the term "going back to school" referred only to children 5 and older. These days, between schools, parents and government-sponsored programs, children are getting "ready" for school literally from day one.

At Cover to Cover in Columbus, Ohio, store owner Sally Oddi has seen school readiness practices intensify over time. To improve reading readiness, it's up to parents to provide the language that goes with the book, says Oddi, rather than simply handing a toddler a picture book. She sells out of board books by Byron Barton, like "Machines at Work."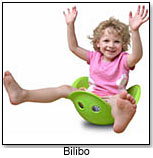 For Ryan Hamilton of Kids on Third in Lakeside, Ohio, the number one seller is the bilibo, a motor-skills toy for young children so popular that he ships it as far away as the Canary Islands. The bilibo is a Swiss-designed plastic shell that rocks, stacks, twirls and nests and is limited only by the child's imagination.

Retail sales director Dodie Gunawardhana of United Art and Education, says the company does well with the Hot Dots line from Educational Insights (ToyDirectory). Hot Dots pens and flash cards offer a self-correcting feature, rewarding right answers with fun sounds and wrong answers with a "boing."

Kathy Bultman, a former teacher and owner of Rocking Horse Toys in Petoskey, Michigan, says that MightyMind, a tangram-like play-alone game from Leisure Learning Products (retail $15, ages 3 and up), is a favorite at her store. The toy has increasing levels of difficulty.

Manufacturers, meanwhile, are working hard to make the grade. Judi Rush of School-Rite (ToyDirectory) says that their product, a handwriting template, was chosen for the National Head Start program after the company went to a National Association for the Education of Young Children (NAEYC) conference. Al DiBuono of Kidzup Productions Inc. (ToyDirectory) researches state education Web sites to figure out what schools need, and therefore, what retailers can sell.

What follows are a number of popular products in the early learning category.









.

AD
---






.

AD
---






.

AD
---






.

AD
---






This 12-point adjustable activity center with five stages of play converts from a motion-activity kick gym for infants to a pre-school play table. Electronic sounds, lights and music keep little ones engaged. The gym helps develop motor skills and teaches cause and effect.

.

AD
---






This computer program and flash card set teaches children how to be safe in dangerous situations. Whether their primary language is English, Spanish or French, children will enjoy using this CD ROM and activity set to role-play various scenarios that kids may encounter. This important educational product has been recognized as the 2004 Hot Award Winner from iParenting, voted #1 in 2004 by Homeschool.com, received the 2002 Parents' Choice Gold Award and the 2001 Best Pick Award from Choosing Children's Software magazine.

.

AD
---






This educational set helps children to learn the alphabet and solve math problems. The set includes one plastic base unit, 12 color-coded disks, an instruction card and a lid that screws on tight to keep loose pieces from getting lost between uses. The cards provide a self-correcting aid for children; after matching the colored disks with the correct picture on the card, the card is flipped over to reveal the correct placement of colors.

.

AD
---






.

AD
---






Introduce children to the alphabet through flash cards, music and activity sheets. This new learning kit is proven effective for building basic skills and reinforcing learning programs. The set includes 52 colorful two-sided cards, activity cards, a music CD and 32 work sheets printable from the CD.

.

AD
---






This colorful 8" cube with easy-care washable and dryer-safe 100% cotton material teaches kids how to lace, snap, Velcro, button, zip and buckle. It prepares them for dressing themselves.

.

AD
---






The newest bilingual 16" plush doll to join the Language Littles family says more than 25 words and phrases in English and Korean. The sound module, securely tucked into the middle of the doll, operates on three AA batteries. This stylishly dressed yet huggable doll can introduce herself, talk about her favorite activities, and say, "I love you" in both languages. - Aire Norell

.

AD
---






This manipulative building toy offers creative challenge to the aspiring young engineers and scientists in your family. The open-ended design of WEDGITS stimulates children´s perception and reasoning skills as they experience different ways to stack, nest and align these rhombus and octahedron shaped toys.

.

AD
---






.

AD
---






.

AD
---






Award-winning Scramble Squares® brain teaser puzzles are at least as popular with adults, seniors, teenagers and college students as they are with children. Although each Scramble Squares® puzzle has only nine 4" by 4" pieces, if they´re fitted together in just the right way, a number of antique automobiles will be revealed.

.

AD
---
THIS BANNER IS AN AD:
---
---