---
Fresh Exhibits Add "Funk" to Toy Fair
Top-10 Toys From New Booths Interact With Lights, Laughs and More
Some of the most exciting products at Toy Fair included those from exhibitors who not only had new toys, but were fairly new themselves. Read on to see what

TD

monthly Magazine discovered from first-time exhibitors at the show.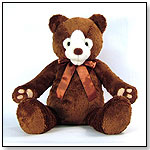 MSRP: $300.00

Age Range: 5 to 10Launch Date: September 2007Gender: Boys And Girls





The large brown plush bear responds to a wireless wand that is used for interaction and decision-making. A child simply holds the wand, which detects speed and the positioning of the hand, to activate the bear. The teddy bear dances to music and laughs when his stomach is tickled. The product is based on platform technology to later support learning games and an interactive storybook through software. "Mino is the first robotic toy developed with this technology. [It's] a robotic bear that actually plays with you, and learns with you as time progresses," Rhoel Abraham, product manager for the specialty division at Kittrich, told TDmonthly. Launch date: September 2007.

ToyDirectory Product ID#: 11606

(added 2/23/2007)

.

AD
---




MSRP: $30.00

Age Range: 1 and upSKU or Item #: CHI000Launch Date: February 2007Gender: Boys And Girls





ChuChi is a portable, huggable, throw-able, lovable, plushie night light and ambient mood light — perfect for anyone afraid of the dark or for children who get lonely at night when their parents aren't around. The plush's glowing heartbeat changes over time to offer peace and solace for anyone trying to fall asleep. One simply has to squeeze ChuChi's right arm or leg to turn it on, and then squeeze again to switch between night-light and soothing heartbeat settings. ChuChi turns off after five minutes. "ChuChi brings the night light into the 21st century both in form and function," Yury Gitman of Banana Design Lab told TDmonthly. Launch date: February 2007.

ToyDirectory Product ID#: 11544

(added 2/21/2007)

.

AD
---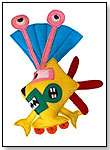 Yellow Diamond is a fortune-telling gypsy woman who travels at high speeds with rollerblade wheels and tail feathers. Other monstas respect her and make long pilgrimages to find her in order to have their futures foretold. She expects payment in diamonds, and her idol is Elizabeth Taylor. Yellow Diamond is one of several handmade monstas that hatched from eggs discovered by a missionary boy named Leroy after a volcanic eruption in Papua New Guinea. "She is familiar and foreign simultaneously. The two seemingly opposite cultures of Papua New Guinea and Hanna Barbera initially appear to have nothing in common, until you see them successfully reflected in Yellow Diamond's character," Monsta Funk told TDmonthly. Launch date: January 2008.

ToyDirectory Product ID#: 11590

(added 2/23/2007)

.

AD
---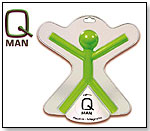 Standing about 5.5" tall, these flexible rubber characters feature magnetic hands and feet that can also easily connect to each other. The following colors are available: white, black, orange, lime, clear, red transparent, pink, olive green, purple, slate blue, yellow and blue. Camouflage is available at a slightly higher price. The company requires a wholesale minimum of at least six pieces per color ordered. The Q-Man's "unique design and flexibility gives it multiple uses," Frank Frisari of NuOp told TDmonthly.

ToyDirectory Product ID#: 11559

(added 2/21/2007)

.

AD
---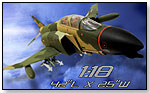 This 1:18 scale model plane is trendy, fun and complicated, according to Jason Foringer, president of manufacturing for Admiral Toys.

ToyDirectory Product ID#: 11704

(added 2/28/2007)

.

AD
---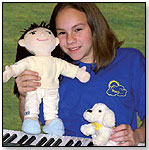 MSRP: $35.00

Age Range: 3 and upLaunch Date: September 2007Gender: Boys And Girls





This soft, cuddly doll is ideal for children with physical challenges and can be fun and educational for all kids. Wendy is a precocious little girl who uses the Braille alphabet to read and also loves to play music. Her seeing-eye dog is named Liam. Wendy's friend Kyle happens to be deaf, but that doesn't stop him from playing baseball at the park and showing his teammates sign language. "Play can become a powerful vehicle for summoning courage, regaining strength and building confidence," Founder Laurie DesRosier of Kids With Possibilities told TDmonthly. "These dolls and products have come to market to inspire, motivate and celebrate uniqueness. Books will accompany the dolls, too." Launch date: September 2007.

ToyDirectory Product ID#: 11661

(added 2/27/2007)

.

AD
---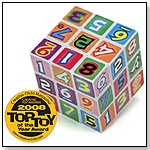 This colorful numbered cube challenges players to play Sudoku on all six sides of the cube as well as with horizontal and vertical lines going around, for a total of 18 puzzles. Also plays as traditional color cube, comes with a 48 page booklet of how to play, how to solve, history of Sudoku and 50 new 2 dimensional puzzles.

ToyDirectory Product ID#: 11705

(added 2/28/2007)

.

AD
---
Catalog Request Form

Writer's Bio:
Julie L. Jones has written articles for both newspapers and magazines. Before joining the staff of TDmonthly Magazine, she worked as a communications writer and provided editorial support for a market research company.
Read more articles by this author
THIS BANNER IS AN AD:
---
---