---
How to Be Irresistible and Unforgettable, Part II: Become Essential
Do the Work for Customers and They'll Come Back for More
BECOME ESSENTIAL
It's not only toy-store owners who have no time. The more you do for your customers, the more they won't want to live without you.



Know It All

"The only thing that separates us from other stores is customer service. ... Knowledge is one [component]," said Kate Tanner, owner since 1999 of Kidstop in Scottsdale, Ariz.

"People depend on us to say what is good for a 3-year-old," agreed Buddy Wood, owner since 1968 of Le Jouet in Metairie, La. "And customers don't have to walk 500 feet to find help. The big-box stores [e.g., Toys 'R' Us, Target and Wal-Mart] couldn't do that without raising their prices."



Wrap Everything

Long-term storeowners willingly spend tens of thousands of dollars a year providing free gift wrap and wrapping services to their clientele. "It helps a lot for moms who are on the go," said Diana Glasier, owner of Green Caboose and the online Diana Toy Store (Fig.3.21) in Stroudsburg, Pa.

Offer Drive-Bys



Customers can call Aunt Jean's with requests for last-minute gifts. Employees will pick out a card and toy, wrap it, and have it ready for the customer to purchase and get to the party on time.

Ship It

Natalie Reese, manager of Angel's Toy Barn in Greensburg, Pa., said her store offers a shipping service "so grandmothers can ship gifts anywhere in colorful wrapping. We also have a gift registry for kids to pick out what they would like. This eliminates the guesswork. When customers use the gift registry, they get 10 percent off their purchase."

Give Them What They Want

Wood of Le Jouet carries Hasbro, Mattel and other big-box items in addition to specialty toys.

"If someone comes in asking for a Barbie doll, why are you not going to have it?" Wood asked TDmonthly.

"As a rule of thumb, if three customers have requested [an item] over a week or two, we'll try to bring it in," said Diana Gisolfu, co-owner of Sisters Kids in Springfield, Mass.

To gauge interest in a particular product, "the manager will poll people as they check out," said Julie Frost, co-owner of Giggles for Kids in Suwanee, Ga.

Offer a Range of Prices

The Toy Store carries items such as Manhattan Toy's Groovy Girls and the Only Hearts Club dolls so kids can spend their own allowances. Boys favor the $5 Papo knights from Hotaling Imports (Fig 3.25) , multiple retailers have told TDmonthly.

DISTINGUISH YOURSELF

You carry great toys and you give great service, but so does the specialty toy store across town. How do you differentiate yourself even further, so that customers travel to your store, not theirs?

"Consider the 4Ps of branding: Promise, Positioning, Personality and Perception," said Beth Flom, managing partner and co-founder of Flag + Company. "The deliberate blending of these elements during the creation of your brand … will establish your distinct market presence."

Look at your marketing from the customer's point of view, Flom advises. Ascertain what they expect from you, and what you plan to offer.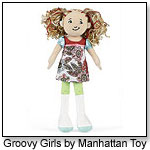 "What can parents count on no matter which of your products they purchase for their children?" asked Flom. "The answer is your brand promise. It's what keeps buyers coming back."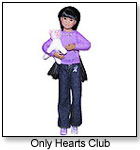 When positioning your store, "you identify not only what you do, but who you do it for and how you do it better," Flom continued.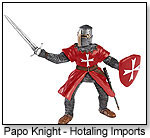 Personality is all about influencing how your customers feel about you, she said. "Try pairing human attributes with your brand to create an original and consistent feel. … Building marketing campaigns and visual representations around a personality creates a strong and memorable emotional impact that stays with the consumer."

Finally, controlling customer perception ensures that you're remembered the way you want to be, Flom concluded. "Take the reins before you are forced to counter market perceptions and potential inaccuracies," she advised. "Proactively establish your brand and promote it in everything from packaging to company voicemails. Consistent representation will dominate perception."

TELL THEM WHAT YOU DO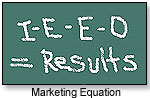 To "cut through the clutter" of other innumerable promotional messages, Charles W. Allen of the C.W. Allen Group recommends an "interrupt, engage, educate, offer" strategy (I-E-E-O = results, Fig. 3.26) from Rich Harshaw's Monopolize Your Marketplace system. Though he uses these principles to create a booth that draws traffic at trade shows, you can apply them to your storefront and products, too.



"[My car wrap] has been a very good investment. I don't have to take out a check every month and buy advertising. I just have to go someplace." — Jeff Gurlock, The Lollipop Shop

Interrupt. "The No. 1 job of marketing is always to get the attention of the target market," Allen says. Your storefront should immediately grab the attention of passersby and communicate what you provide: fun, education, excitement, etc. "This is accomplished by hitting their hot buttons, which trigger activators. Nobody cares what the name of your company is or what your logo is until they know what you can do for them."

Engage. "Once captivated, hold the attention span long enough to promise forthcoming information that will help facilitate decision making," Allen continued.

Educate: "Identify important issues of which prospects need to be aware." Some examples might be the higher quality and safety levels of your toys. "Then, quickly demonstrate how you stack up against those issues."

Offer: "Give prospects a low-risk way to take the next step in the buying process," Allen concluded. "Put more information in their hands and allow them to feel in total control of the decision."

EXPLOIT YOUR COMMUNITY

Reach the Unconverted



"The No. 1 job of marketing is always to get the attention of the target market." — Charles W. Allen

Networking with current customers via newsletters is only one aspect of building a solid base, experts say. Just 23 percent of 30 retailers surveyed by TDmonthly send out monthly press releases. Neglecting regular press releases to the local paper "is a missed opportunity!" said Lisa Orman, president of Kidstuff PR. "Toy-store owners definitely are local experts in their communities."
Be Generous

Donating to local charities and schools is also an excellent way to build local buzz. The Wooden Horse in Los Gatos, Calif., works with teachers and students in conjunction with "National TV Turn Off Week." Each fall, the store also stages a Spooky Story Contest to encourage students to write creatively.

Spy on Competitors

Customer diversity experts Rich Kizer and Georganne Bender say retailers should scour local newspapers to predict when competitors are most likely to have sales and events. By anticipating competitors' next moves and beating them to the punch, retailers can "stealthily" advertise a sale that is likely to be even better than the ones competitors will have.

By signing up for a membership on competitors' websites, retailers can be privy to special promotions, sales and events. "If you go out and sign up for everybody's website, you'll know what they're doing," Kizer said.

Turn Dead Trends Into Cool Events

Toy-store owners can jump-start dying trends by hosting events and sales related to those trends. For instance, if remote-controlled car sales have slowed, host a remote-controlled race and feature such items on sale. Or stage a best Webkinz video competition if that fad has died down in your neighborhood. [See Sidebars 3.2 How to Stage Events and 3.3 How to Hire a Star.]

USE GUERILLA TACTICS

Jim McCafferty, president and CEO of JMP Creative, a promotional marketing company, and Jonathan Margolis, a partner and co-founder of the Michael Alan Group, which uses nontraditional "guerilla" marketing, had the following tips:

Brainstorm Better

Get inspired by non-toy retail sites, such as bakeries, craft fairs and circuses.
Bring unique stimuli to your staff brainstorm session, such as products, gadgets, materials and images.
Have a high-energy, creative person keep the session moving and on target.
"Keep the good ideas and later you can skip the crazy," advised McCafferty. "Keep in mind, sometimes the crazy can be an amazing idea in disguise."
Get the Word Out


Promote your website aggressively and demonstrate the toy online
Use pass-along features that let people share your image's products and videos.
Place wacky video clips and links on blogs and video-sharing sites to get other people who love your products to help spread the word.

Spread Viruses

According to Debra Aho Williamson, senior analyst for eMarketer: "A strong viral ad concept, such as a video planted on YouTube that teens can view and share with others, can be very powerful." Just visiting tween- and teen-favored sites and blogs can help get you in the youth mindset and anticipate what your customers might want next.

BE UBIQUITOUS

At least half of 56 retailers surveyed by TDmonthly believe that branding helps build customer loyalty and acts as a subtle form of inexpensive advertising. (Sidebar 3.4 Ten Places to Stamp Your Message)

Go Logo Loco



Kim Smith of Red Wagon Toy Co. (Fig. 3.27) in Woodstock, Vt., uses her logo on every item she can. "I have hangers printed with the logo because I do clothing also," she shared with TDmonthly. "I do as many items as I can with my own hang-tag, and I make sure items go out of here with bags with our name on them. Our receipts have our logo, business cards have the phone and website, and all gifts are packaged with my logo on them."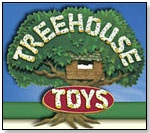 "We do gift wrapping and glue a lizard on top; that's a marketing tool for us," said Harriet Story, owner of Leaping Lizards! in Mineral Point, Wis.

Keep Them in Touch

By maintaining a detailed database of customers and their purchases, Kathleen Tutone, owner of Treehouse Toys (Fig.3.28) in Portland, Maine, and Portsmouth, N.H., has devised a number of branding techniques to keep customers returning. She invites tourists to visit the store's website to shop for items not available in their hometowns, thus guaranteeing repeat customers. And if they can't find the website, they need look no further than their very own shopping bags, which are emblazoned with her logo and URL.

Stay in Their Wallets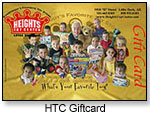 For local customers, Tutone has created a "loyalty card program," which allows children to accrue points with each purchase they make, and then redeem them for in-store discounts. "We find that it's great advertising because the kids show each other their little credit cards, and their parents spread the word," Tutone said. Bonner of Heights Toy Center has used a card system successfully, too. (Fig. 3.29)

Stop Traffic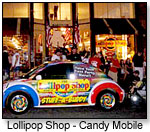 Three years ago, Jeff and Candy Gurlock, owners since 2001 of the Lollipop Shop in Jonesborough and Kiawah Island, S.C., "wrapped" their cars, a Volkswagen Beetle (Fig. 3.30) and a Dodge Magnum, into "Candy Mobiles" for a one-time cost of $2,500. The cars attract attention and help people recognize the brand.

"That has been a very good investment," Jeff told TDmonthly. "I don't have to take out a check every month and buy advertising. I just have to go someplace."

Narrow Your Focus

Ensure your marketing has a specific call to action — a reason to get people into your store! "Right now the most successful specialty retailers are doing lots and lots of small events," said Doug Fleener, president and managing partner of Dynamic Experiences Group, a Lexington, Mass.-based retail consulting firm, who also advises retailers to segment groups of customers and motivate them to come to the store for a targeted event

We've been working with one manufacturer that has been helping its retailers be more successful in this economy, and that includes doing events. There has been a 12-percent difference in [sales] performance from those retailers who are participating in this program and those who aren't," he told TDmonthly.

Sell Your Mascot

You can even remind customers of the great experience they had in your store by offering exclusive toys emblazoned with the store's name.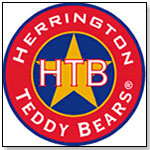 While working at The Cheesecake Factory in December 1984, Chris Herrington tried to catch the attention of a co-worker by making her a teddy bear wearing a T-shirt emblazoned with the bakery's logo. The bears caught on, and soon the newly formed Herrington Bear Company (Fig. 3.31) was promoting other growing companies, such as Giorgio's and Hard Rock Café. Today, many of the early bears are collector's items, too.

Though a teddy bear might not turn your business into a multi-million-dollar operation like Herrington Bear, imaginative branding will go a long way toward keeping you in the public's consciousness … and enticing them back to your store.

KEEP TRACK OF EVERYTHING

Don't rely on memory or optimism to evaluate how successful an advertising campaign or event has been, warned Adeena Mignona, author of "Cute Little Store" and "Cute Little Store 2."

Number It

Every promotion or marketing event should be tracked to determine its effectiveness. At her retail store, every advertisement, coupon and flyer was tagged with a code number.

"We tracked how many were coming in from newspaper ads versus return store coupons," she said. "Track this against the time of year, too. For example, newspaper ads for your business may catch interest in the winter but not the summer."

Time It

Know the amount of effort in terms of time and dollars that goes into planning and executing a promotion, recommended Mignona, and be able to estimate the return. Handing out coupons for a return visit to customers already in the store is little effort. Planning a monthly event is much more.

Knowing when to hold an event is important, too. "See if there is anything else going on in your area that would be competition and attempt to attract your same customer base," she recommended. "

"Originally we were trying to do one pretty sizable kid event each month," echoed Sherrie Antes, co-owner of School Crossing & Toy Station in Colorado Springs, Colo. "[We] tried a sport thing in May one year, and then an outdoor event, and neither one of those worked because of its being summer vacation and people had lots of choices."

Likewise, there may be opportunities to leverage others' events (such as when the store next door that sells kid's clothing is holding a sale).

End It

"We held a very successful event at my store every month for more than a year," Mignona continued. "For a while, it packed my store, but eventually, it tapered off and I realized we were spending too much effort and resources to hold the event for the sales it generated."

Finally, make sure you take every event and marketing plan, successful or not, as a valuable learning experience!

Writer's Bio:
ALISON MAREK is an award-winning writer, director and cartoonist whose work has been published by Fairchild Publications and DC Comics (Piranha Press), broadcast on Showtime and other cable networks, and viewed worldwide in film festivals. See her short films and print work on www.alisonmarek.com. Watch her nefarious villains in the web series www.MuggsMovers.com. Get inspired by her cartoons "Daily ARFFirmations to Unleash Your Inner Fido" at www.ARFFirmations.com. Phew! And then ...
Read more articles by this author
THIS BANNER IS AN AD:
---
---