---
Disney and Warner – who is winning?
Disney and Warner – who is winning?
In September 2009, just after the acquisition of Marvel by Disney, I suggested that this acquisition was a defensive move from the side of Disney because they saw Time Warner encroaching upon their territory. I said that

"Disney has been watching the ongoing transformation of Warner, its main competitor in the children's entertainment field, with increasing concern. By shedding first its cable business, and now getting rid of the AOL stone around its neck [which happened on 12/9/2009], Warner is focusing more and more on content – films for theaters and TV, Video products, licenses and consumer products. This puts them squarely into the road which Disney is also traveling."

So, where are the two companies now, 16 months later?

First, the overall sales picture:




Media: Income from Cable, TV, Broadcasting
Parks and Resorts – self explanatory
Studio: Movies, Home Entertainment, DVDs
Consumer: License Income [Marvel, Disney etc]
Interactive: Video Games, Mobile Phone Japan, Club Penguin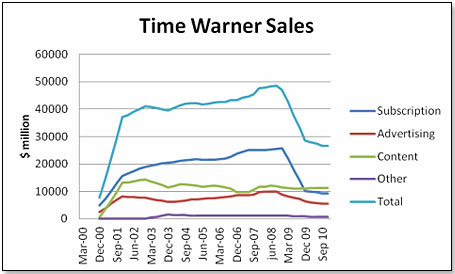 Subscription: Income from Magazines, Networks and Cable [HBO, Turner, Nickelodeon, Time, Sports Illustrated, People]
Advertising: Income mainly from Magazines – Time, Sports Illustrated, People
Content: Filmed Entertainment, Consumer Products, Licensing

In 2008, the companies had sales which were virtually identical. However, since then Warner shed Time Warner Cable and AOL and its sales by end of 2009 had dropped by 40% and by end of 2010 another 7%. In the same time span, Disney grew by 7%. The end result is that Disney now has a sales volume which is 45% above that of Warner.
How are the individual segments faring for both companies?

Cable and Magazines

Time Warner owns CNN, the CW (a joint venture with CBS), HBO, Cartoon Network, TBS, TNT, Moviefone, and more than 150 magazines including Time, Sports Illustrated, Fortune, Marie Claire and People.

The Walt Disney Company owns the ABC Television Network, cable networks including ESPN, the Disney Channel, SOAPnet, A&E and Lifetime and 277 radio stations, music and book publishing companies,

A comparison of each company's tv audience is interesting:

Household Rating in 1000 comparing the second week of January 2011 with the same week in 2010:


| | | | |
| --- | --- | --- | --- |
| DISNEY Channels | 2nd Week 2011 Households '000 | 2nd Week 2010 Households '000 | % +/- |
| DSNY | 1416 | 1356 | + 4.4 |
| ESPN | 1139 | 765 | +48.9 |
| AEN | 788 | 740 | + 6.5 |
| HIST | 683 | 583 | + 7.2 |
| FAM | 494 | 541 | - 8.8 |
| LIF | 470 | 564 | - 16.7 |
| TOTAL | 4990 | 4549 | + 9.7 |
WARNER
Channels
Week 1/10/11
Households '000
Week 1/10/10
Households '000
% +/-
NICK
1819
1730
+5.1
NAN
1347
1380
- 2.4
TNT
1077
1118
- 3.7
ADSM
953
969
- 1.7
TOON
772
846
- 8.8
TBSC
712
744
- 4.3
TOTAL
7252
7407
- 2.1

The Warner table above does not include the dues-paying audience of HBO. There the numbers paint a similar negative picture. From a high of 29.1 million in the first quarter of 2009, the numbers declined to 28.6 million by middle of last year. Since then, the subscriber base continued to go south.

While Warner still has an immense lead in terms of numbers, the trend lines seem fairly clear and argue for a slow but steady shift in market dominance in favor of Disney. In fact, in overall terms, Disney has already overtaken Warner in the media category.

Theme Parks

Warner has no presence in this category but it is an important part of Disney's corporate effort and hence deserves a closer look.

Disney has twelve locations –seven in the United States [Florida five and California two], three in Asia [Tokyo two and Hong Kong one] and two in Europe [both in Paris]. This is how the five performed until end of 2009: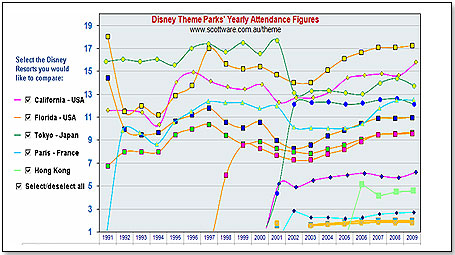 Looking at the detail, the two Californian locations are performing pretty well and so are the five Californian ones; the three Asian locations are flat, and Paris is up. Overall, the category has been flat for now two years. However, theme park attendance is closely tied to overall tourism metrics and these are likely to improve in 2011 at least as far as the North American locations are concerned. Travel forecasters say 2011 will be a year for slow growth and recovery, after a rough few years. "Southern California will be at or about stabile levels of occupancy. Tourism in South Florida is expected to rebound at a faster pace in 2011 after slim gains in 2010", industry experts predict.

However, there is a cloud on the horizon. Universal opened middle of last year a theme park of their own devoted to Harry Potter in Orlando, Flor., 17 miles from Disney's park, and it is doing extremely well. Some observers suggest that it will catch up to Disney's Florida parks in terms of visitor numbers sometime this year. I would hence expect at least their Florida presence to have a rough time over the next few years.

Subscriptions and Advertising

Disney is not engaged in these activities to any significant degree but they are an important part of Warner's endeavor. For them, the category has been dropping since middle of 2008. This is a direct function of magazine newsstand sales and these have been in accelerating decline thought to have hit a minus 6.9% number last year.

The move from print to digital news dissemination seems unstoppable and unless Warner manages to shift ad revenue from paper to digital, this category will continue to swim in very choppy waters.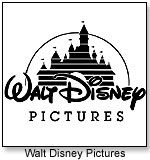 Movies and License Income

These two are closely interlinked for both companies. Successful movies tend to lead to successful licensing income. Hence we are looking at Warner's Content category and both Disney's Studio and Consumer Products. This has for the two companies been a difficult row to hoe – in the case of Warner, the company's performance has been flat since middle of 2008; as for Disney, the two categories combined had a sharp decline in early 2009 and have been slowly been climbing back up since then to a level which is not so far away from their high of $10,840 million in late 2008.

First looking at film box office performance, Warner clearly did very well:. This is how box office sales compared between the major studios in 2010:


Studio
U.S Domestic Sales
[$million]
International Sales
[$million]
Total Ticket Sales
[$million]
Time Warner
1880
2930
4810
Fox
1480
2900
4380
Disney
1460
2300
3760
Paramount
1710
1980
3690
Sony
1280
1380
2660
Universal
885
1200
2005

Warner also clocked in as a close #2 in DVD sales after Disney. Out of the top 50 DVDs in terms of sales Dollars, the major studios participated as follows:


Studio
DVD Sales
[$million]
Time Warner
503
Fox
319
Disney
527
Paramount
313
Sony
308
Universal
242

So how does the movie palette look like for 2011 for the two companies?

First, Warner:


MovieWeb
Rating
Film Title
Release Date
Producer
Earlier Film
Version Date
Earlier Film
Box Office
$ million
4.5
Harry Potter, Deathly Hollows 2
7/15/11
Warner
2010
903
3.3
Red Riding Hood
3/11/11
Warner
None
None
5.0
Sucker Punch
[Rated R]
3/25/11
Warner
None
None
4.6
Hangover Part 2
5/26/11
Warner
2009
467
4.8
Green Lantern
6/17/11
Warner
None
None
5.0
Sherlock Holmes 2
12/16/11
Warner
2009
524
Note that the Ranking schedule is from Movieweb, with 5.0 being the best.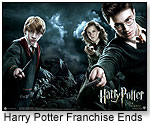 However, the author of the Harry Potter book series, Ms. J. K. Rowling, has already said that Deathly Hollows is her last. There will hence be no further Harry Potter films following the Deathly Hollows 2 this year and one of Warner's major money spinners has gone west with no replacement on the horizon. This is a major setback to Warner who have a great number of license properties but only one other of a similar caliber – Batman. All the other properties are either adult-oriented and hence not prime licensing material or they are children-focused but of second-tier quality – ThunderCats, Scooby Doo, Red Riding Hood etc.

Secondly, Disney. Note that Marvel and DreamWorks are owned by them:


MovieWeb
Rating
Film Title

Release Date
Producer
Earlier Film
Version Date
Earlier Film
Box Office
$ million
2.8
I am Number 4
2/19/11
DreamWorks
None
None
4.9
Thor
5/6/11
Paramount Marvel
None
None
4.8
Pirates of the Caribbean – Tides
5/20/11
Disney
2007
960
4.7
Kung Fu Panda
5/26/11
DreamWorks
2008
631
4.4
X-Men First Class
6/3/11
20th Century
Marvel
2009
373
4.6
Cars II
6/24/11
Disney
2006
461
4.9
Captain America
7/22/11
Paramount
Marvel
None
None
4.1
Red Steel
10/7/11
Disney
None
None
3.8
Shrek PussNBoots
11/4/11
DreamWorks
2010
747
N/A
The Muppets
11/23/11
Pixar
1999
22
4.0
The Adventures of TinTin
12/23/11
DreamWorks
None
None

In addition, Disney has also in 2011 carry-over benefits from their incredibly successful three 2010 movies Alice, Tangled and Toy Story 3.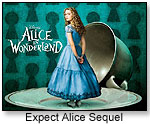 Clearly, Disney and its associates have a more potent movie offering than Warner in 2011 and all predictions are that Disney, not Warner, will lead the pack in terms of box office Dollars this year. As there is a clear correlation between ticker sales and subsequent DVD sales, I predict that again in this instance Disney will win in 2011.

This also means that Disney will in all probability beat Warner in the Consumer Products and the Licensing sectors and get their Consumer business on an upwards track. Disney has now buttoned up the five largest toy companies – Hasbro with all Marvel properties, Mattel and Jakks with all Disney and DreamWorks license, and Lego for all of the above.

Disney's most successful consumer product franchise is without a doubt its Princess line. It has been fantastically successful. Its sales via its many licensees amounted to well over $5 billion at retail and its growth is expected to continue without any obvious breathing pause throughout 2011.

Moreover, Disney is now also ready to back to the hilt what they see as their core consumer franchises for what, for them, was somewhat of a neglected demographic - boys. The firm's core strategy towards this group is to focus on newer brands targeting it specifically and these will include the Marvel franchises, Tron and the Disney Channel, plus the Disney XD hit Phineas and Ferb.

Internet/Interactive

While the category has been problematic for Disney and been declining for Warner it is for both equally disappointing given the very small sales generated. This prompted Warner to beef up its online presence by buying Turbine – a online video game developer – and has brought about very decisive and swift action from the side of Disney.

"As part of setting a strategic direction for future success in the digital media space, the Disney Interactive Media Group today began a restructuring process," announced Disney on January 25, 2011. This restructuring process is likely to lead to the axing of half of the Division's 700 employees.

Disney has for a while struggled with the use of its properties in the video game space. They had a series of spectacular failures in 2010 – The Pirates, Tron Evolution and Split Second all were failures in terms of sales. Epic Mickey sold 1.5 million copies and was hence a modest success but fell far short of expectations.

To turn things around, they have now recruited Adam Sussman, Vice President at Electronic Arts Mobile and before that General Manager at THQ. He is undoubtedly a highly qualified executive and capable of putting Disney into a better place in its online game endeavors. .

To come back to the question asked at the onset of this article - Disney and Warner – who is winning? – it seems clear that at least for the next few years, Disney has the upper hand. Warner, while they have struggled mightily to reorient their business, are facing structural and competitive problems which will take an awfully long time to overcome.

Writer's Bio:
Lutz Muller is a Swiss who has lived on five continents. In the United States, he was the CEO for four manufacturing companies, including two in the toy industry. Since 2002, he has provided competitive intelligence on the toy and video game market to manufacturers and financial institutions coast-to-coast. He gets his information from his retailer panel, from big-box buyers and his many friends in the industry. If anything happens, he is usually the first to know. Read more on his website at www.klosterstrading.com.
Read more articles by this author
THIS BANNER IS AN AD:
---
---