---
Disney – is Infinity leading the way?
Disney is the largest media conglomerate in the world and its avowed goal is to be a major player in every sphere of endeavor in which it operates. The company is engaged in four distinct Segments and is dominant in three of them. The question is – what about the fourth?

Before we go there, let us first look at how Disney's business evolved over the past seven years and how it is likely to go, all things remaining equal, over the next two: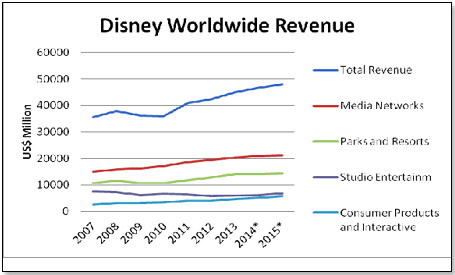 Let us now look at the four Segments in detail:

1. Media Networks
This is Disney's largest Segment, representing about 40% of its total business. It includes broadcast and cable television networks, television production operations, television distribution, domestic television stations and radio networks and stations. The businesses in the Media Networks Segment generate revenue from fees charged to cable, satellite and telecommunications service providers (Multi-channel Video Programming Distributors or MVPDs) and television stations affiliated with our domestic broadcast television network, from the sale to advertisers of time in programs for commercial announcements and from other sources such as the sale and distribution of television programming.

All predictions are that TV is in decline and this will impact this Segment in no uncertain manner. According to an article published by the Business Insider on November 24, 2013, "We're at the beginning of a major historical shift from watching TV to watching video — including TV shows and movies — on the internet or on mobile devices. Nearly 5 million cable TV subscribers have gone elsewhere in the last five years …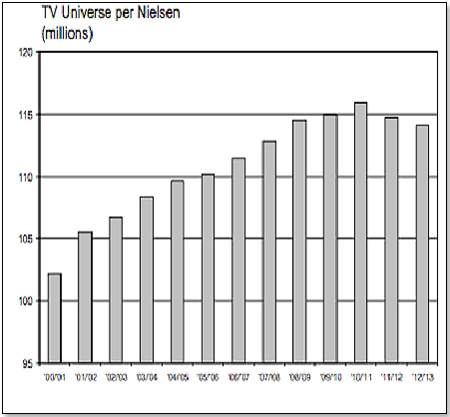 …. and Facebook and Google are about to overtake all of TV In audience size."

In summary, this appears to be a seismic shift in the TV space worldwide and it will negatively affect Disney's largest Segment. While there will be some marginal growth over the next few years, the long term outlook is not encouraging.

2. Parks and Resorts
This is Disney's second largest Segment. It includes the Walt Disney World Resort in Florida, the Disneyland Resort in California, Aulani, a Disney Resort & Spa in Hawaii, the Disney Vacation Club, the Disney Cruise Line and Adventures by Disney. Disney manages and has effective ownership interests of 51% in Disneyland Paris, 48% in Hong Kong Disneyland Resort and 43% in Shanghai Disney Resort. The Company also licenses the operations of the Tokyo Disney Resort in Japan. Revenue is predominantly generated through the sale of admissions to theme parks; sales of food, beverage and merchandise; charges for room nights at hotels; sales of cruise vacation packages; and sales and rentals of vacation club properties. Incidentally, the Shanghai Disney Resort will open in December 2015 after more than a decade in the making. It will be its largest behind Orlando's Walt Disney World and its first in Mainland China.

Incidentally, Disney's Cruise Line business is relatively small potatoes in this Segment. The company had a mere 2.5% market share in passengers and generated an estimated $900 million in 2013 – less than 5% of the Segment's total.

The projection for the Parks and Resorts Segment is flat for the next two years and somewhat uncertain after that. It all hinges on the success of the Shanghai theme park and how this will play with the Mainland Chinese consumer. If it is a replay of the Hong Kong Disneyland history then we are in for a bumpy ride – it took, after all, seven years before it turned a profit.

3. Studio Entertainment
The Studio Entertainment Segment produces and acquires live-action and animated motion pictures, direct-to-video content, musical recordings and live stage plays.

It generates revenue from the distribution of films in the theatrical, home entertainment and television markets. The Company distributes produced and acquired films in the theatrical, home entertainment and television markets primarily under the Walt Disney Pictures, Pixar, Marvel, Touchstone and Lucasfilm banners.
There is little doubt that this Segment will do well over the next two years if box office expectations are anything to go by. The company had six movies out in 2013 and is expected to launch twelve in 2014 and nine in 2015. More importantly, slate quality is very strong in 2014 and even stronger in 2015 when such heavies as the Avengers, the Pirates and Star Wars will be hitting the big screen.

This is how the U.S. box office for Disney movies is projected for the years 2013 to 2015: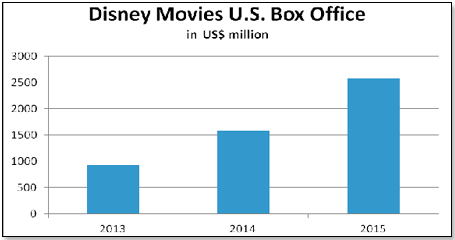 While this looks pretty good, the longer-term outlook is less promising. Credit Suisse featured an article in their Financialist publication of October 28, 2013, which said that

"The movie business has a serious problem. Even though 2013's U.S. box office revenues are on par so far with 2012 – about $8.66 billion so far this year compared to about $8.65 billion at this time last year – the long-term outlook is gloomy. Whether it's video-over-the-Internet that's headed for the television or simply the world available on a tablet, the decades-old tradition of "going to the movies," is under fire from all fronts. And it's showing: Movie theatre attendance peaked at 1.6 billion in 2002 and only reached 1.36 billion last year, according to the Motion Picture Association of America. So what's Hollywood going to do? Can it script itself a happy ending? Truth be told, it's even worse than that. The hero of the last instalment of this story—DVDs—is now a victim. People are also buying fewer physical copies of movies these days, putting additional pressure on studio earnings. An industry organization called the Digital Entertainment Group went so far as to stop keeping track of DVD sales as a discrete category in 2010, when they fell to $14 billion from a high of $20.2 billion in 2006. Even when lumped together with Blu-Ray, it's still getting uglier by the year. Sales of the two combined dropped to about $8.5 billion in 2012, 5.4 percent lower than in 2011."

Like a great many industries, the movie business is undergoing fundamental technological changes and these will not be limited to the U.S. alone. Undoubtedly, Disney is aware of this but there is nothing they can do to stem this particular tide over the longer-term.

4. Consumer Products and Interactive
The Consumer Products part of this fourth Segment is basically doing three things: Merchandise Licensing, Publishing and Retail. The first, Merchandise Licensing, earns fees for licenses granted to third parties who then produce products and sell them to retailers – mainly toys, apparel, home décor and furnishings, stationery, health and beauty, food, footwear and consumer electronics. These licenses are based on characters from its film, television and other properties such as Mickey and Minnie; the Marvel properties including Spider-Man, The Avengers and Iron Man; Disney Princess; Cars; Star Wars; Winnie the Pooh; Monsters University and Toy Story plus all Lucas properties. The second, Publishing, licenses and publishes children's book, magazine, comic books and learning products in print and digital formats, based on Disney, Marvel and Lucas characters. The third, Retail, focuses on marketing products based on Disney, Marvel and Lucas brands through own Disney stores – 214 in North America, 88 in Europe and 46 in Japan – and internet sites. .
The Interactive Segment is mainly active in the licensing or publication of video console games including now also Infinity, the hybrid of video game technology and toys launched in in August 2013.

This is how the sales of this fourth Segment evolved over the years: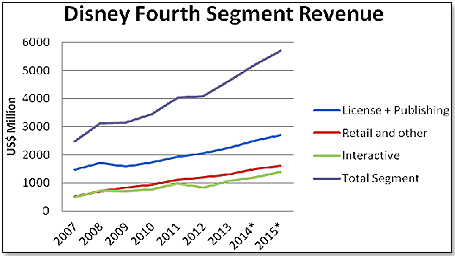 Looking at the larger picture it becomes clear that the Fourth Segment is by far and away the fastest growing one at 130% over the nine-year period under review. The other three Segments show between them a paltry 30% for the same period. Moreover, all three Segments are facing major growth problems over the next ten or so years and the Fourth Segment is too small to make a difference. Or is it?

The way Disney management handled the Infinity project this year is interesting and possibly indicative of their future intentions. For the first time, Disney did not farm out a major consumer goods opportunity to their stable of licensees – they went and did the job themselves soup to nuts. They manufactured the product, they developed the supply chain, they promoted and advertised and went directly to the most demanding retailers in the world – Wal-Mart, Target, ToysRUs, and Amazon. More so, they used for their toy figures such icons as Rapunzel, Toy Story, Lone Ranger, Wreck-It Ralph and others – all properties for which they already had toy licensees such as Mattel, Neca, Thinkway and others.

First indications are that Disney has managed Infinity very well. They went up against the incredibly successful and strongly established Skylanders of Activision and put in a very respectable competitive performance. The buyers think that they recorded sales in the U.S. in the neighborhood of $200 million in 2013 compared to Skylanders estimated $300 million,

Just how successful Infinity has been so far is best demonstrated by consumer interest in it. The comparison is between the Skylanders since their first release, Disney's Infinity and Spiderman as a control, all in the United States: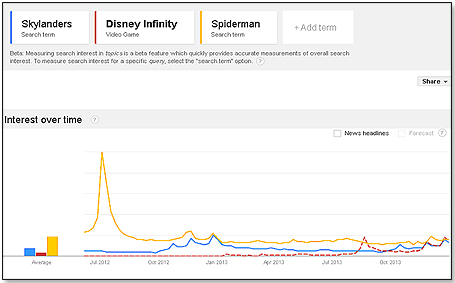 My friends at the large retailers believe that they are looking at a test program. If Infinity is successful (and all indications are that it will be], they expect further roll-outs and there are two directions Disney can go. They can go the cautious route and simply expand the Infinity program to include other toy brands such as Star-Wars, the Avengers and others. This would have the benefit of not upsetting the applecart with their current licensees such as Hasbro and Mattel. The other direction would be for Disney to begin capitalizing on their increasingly established relationships with the major retailers by slowly taking over expiring licenses for toy products now sold by the major toy companies. Here the math is very straight forward – rather than pocketing an estimated 10% in royalties the company would convert this to wholesale sales and increase its top line overnight tenfold.

Whichever way Disney is going to go, the overriding imperative is to ensure continued top-line growth over the next decade. The only Segment now offering this opportunity is the Fourth Segment. The next twelve months will tell us whether they will go further down the Infinity road. If they do, the implications for the toy market and the leading toy manufacturers will be immense.

Writer's Bio:
Lutz Muller is a Swiss who has lived on five continents. In the United States, he was the CEO for four manufacturing companies, including two in the toy industry. Since 2002, he has provided competitive intelligence on the toy and video game market to manufacturers and financial institutions coast-to-coast. He gets his information from his retailer panel, from big-box buyers and his many friends in the industry. If anything happens, he is usually the first to know. Read more on his website at www.klosterstrading.com.
Read more articles by this author
THIS BANNER IS AN AD:
---
---