---
Figpickels Knows How to Make Their Holidays Bright
Relentless Creativity and Marketing Pay Off Big
Last Christmas was the most profitable in the 8-year history of Figpickels Toy Emporium, thanks in part to their phenomenal publicizing of a TDmonthly Charity Giveaway. (LINK to 5286) This holiday season, the economy caused them to set their expectations considerably lower.

'We were expecting to be down 20%, but it was only only 6%," said co-owner Brett Sommers. "It was a huge victory."

That victory was won because of the tremendous amount of work that Brett, his co-owner/wife Susan and their family put in to make sure their holiday events attracted a significant portion of the 60,000 people who pass by their store on the way to holiday tour boats that cruise Coer D'Alene, Idaho's picturesque river.

Watch this video to see how Brett and Susan maximized the opportunity given to them by TDmonthly and donors Schoenhut Piano Company, Gymnic (Toy Marketing International), Hohner and HABA USA by creating a memorable Holiday Event to reward their customers for supporting specialty toys and local businesses.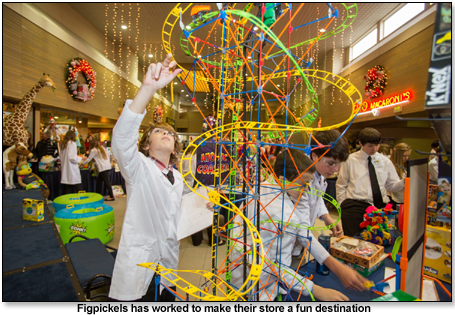 A Destination Store

Although Coer D'Alene boasts the world's tallest living Christmas tree and decorates the town and river with millions of lights, that is not sufficient to ensure that the holidays would be bright for one specialty toy store. Brett and Susan engineered a number of events – including a kid-powered Board of Directors Toy Testing (link to 5456)in November that they held in partnership with Spokane's local KXLY (meet the kids on video) and a TDmonthly Giveaway on December 22 – to excite their regular customers and the holiday tourists.

"We are a regional store," stressed Brett. "We do not rely on local customers. We actively market to southern Canada, Boise, Seattle and the tri-cities. Everyone comes here because there are no toy stores [in their towns]. All of Spokane comes over because they have no toy store. "

Creating a Hit

Brett's background as a Broadway musician gave him the insight to know that great products aren't enough to draw a great crowd: You have to put on a show.

"When people come in, it's like we have a Garden of Eden. There are grass and trees: It's over-the-top. That's what people love."

The Sommers have 30 life-sized trees inside their store and each costs $3,500, he told TDmonthly. "If you want to play, you have to pay."

That kind of commitment results in events that are unique, exciting, time-consuming and extremely photogenic.

The result?

"Tens of thousands of people came to our store [for the holidays], " Brett told TDmonthly. "I can send you the number of receipts we have and it's just crazy."

Figpickels is now such a fixture in the region that "if we didn't do advertising for 5 years, if we didn't do another event, we'd still come home free," stated Brett.

Still, he counts his lucky stars: "The rest of our town is in a world of hurt. They didn't do well. I think a lot of them are going to close."

No Christmas for Santa

While other independent store owners may envy Figpickel's profitability, they may not have the energy to replicate those kinds of results. During the holiday season, the store stays open from 9 am to 8 pm, 7 days a week, for 6 weeks.

"When we get home, we are completely beat," acknowledged Brett. "People who own a successful toy store do not have Christmas. On December 25, all we do is sleep."

Preparing for the Post-Xmas Blitz

After that one day of rest, it's back to work. Customers love Figpickels' Gift Certificates and swarm to the store as soon as Christmas is over to cash them in.

"We had a huge day today," Brett told TDmonthly on December 27, 2013. "It was packed. They were buying everything. We were up 78% over last year today because it never stopped."

Brett says that selling gift certificates can give a store tens of thousands of dollars with which to start the first quarter of the year.

"But you've got to stock up so that you have enough left over [after Christmas] for the next 3 to 4 weeks to give people what they want when they come in with their gift certificates," warned Brett. Cleaned-out shelves will lead to disappointment and a breach of trust.

Anticipating Trends and Searching for "Finds"

No matter how entertaining the show, though, if the toys aren't what the people want, they won't keep coming back. Another way that Brett and Susan lure customers is by anticipating and pushing trends.

"Living Sand was a huge hit this year," he said. "We sold hundreds of them."

He also noted that "everything old is new again." He sold "hundreds" of the retro toy Spirograph and continued to have them in stock while the rest of the country's retailers ran out. Unlike online stores, which jacked up the price to $50 when demand surged, he said, Figpickels held steady at the MSRP of $29.

"We are down to 8 Spirographs," he stated.

Brett and Susan eschew traditional trade shows like New York's Toy Fair and head instead toward local gift shows. He's been disappointed by the lack of innovation and new products at Toy Fair, he says, and finds quirky toys and gifts through less traveled roads.

"We have way more things than just for kids," he said, including what he called BugArt – artwork crafted by a local artisans out of insects.

It All Begins With Research

Despite their creativity, labor and commitment, the Sommers know that none of their success would have been possible if they hadn't thoroughly researched their market and demographics before deciding to open their store.

"We did a year of research," stressed Brett. " Here's where most new store owners go wrong: they're not willing to do the research first before leaping into the lake, so they end up paralyzed when they hit a rock. We asked ourselves, What's going on? Who is competing with us? Is there money in this town? What is the age group? You need to know your demographic – grandmas, grandpas. It takes months to go through the data and find out what you need to do. If everyone did that, 70% would say, 'Oops, this isn't going to work."'

Huge Investment, Huge Dividends

Brett admitted that running a store as successful as Figpickels takes its toll.

"It's very, very difficult to put on one of these events," he commented. "It takes lots of money and lots of personal time, but then you have parents who tell you that being a toy tester changed their kid's life forever. I have letters from parents telling us 'You have changed this community more than anyone we know.'"

On the day we called him, he said, "I heard at least 8 times today from people who stopped me and said 'the toys you suggested for Xmas were a hit – for my niece, my nephew, my Grandkids.' We get them the right toy."

And that, in the end, is what it's all about.

Writer's Bio:
ALISON MAREK is an award-winning writer, director and cartoonist whose work has been published by Fairchild Publications and DC Comics (Piranha Press), broadcast on Showtime and other cable networks, and viewed worldwide in film festivals. See her short films and print work on www.alisonmarek.com. Watch her nefarious villains in the web series www.MuggsMovers.com. Get inspired by her cartoons "Daily ARFFirmations to Unleash Your Inner Fido" at www.ARFFirmations.com. Phew! And then ...
Read more articles by this author
THIS BANNER IS AN AD:
---
---