---
2014 Hot or Not? Retailers Weigh In
With additional reporting by Chris Lundy and Brenda Ruggiero

The new year is here, so TDmonthly Magazine asked specialty toy retailers which toys they think are going to be HOT in 2014 - and which are not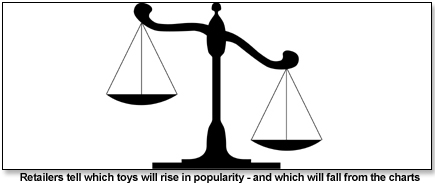 HOT

Made in the USA

Several retailers said domestically manufactured toys were selling well. "Made in the USA toys are still going strong for us. There are more companies coming on board," Dan Marshall, co-owner of Peapods Natural Toys & Baby Care in St. Paul, Minn., explained.

Tye Steinbach, owner of Thinker Toys in Portland, Ore., agreed, and told TDmonthly that "There's a large emphasis on great and sustainable products, and if you can combine them with 'Made in the USA,' you have a home run."

Classic Toys

"The staples will continue to be the staples: Lego, Melissa and Doug, games and art supplies," Mary Walsh-Martel, owner of Magical Child in Greenfield, Ma., told TDmonthly.

Barb Stine, owner of Toys on the Square in Hershey, Pa., is similarly optimistic about sales of a variety of traditional toys. "All building and designing toys are going to continue to be popular because they are creative, open ended and improve tactile, motor skills and logical thinking. Games have really made a comeback," she said.

Interactive Science and Electronics

"Science stuff is huge...The ones that look more sophisticated trend well: 4M, Elenco, Thames and Kosmos," according to Mike Snyder, owner and manager of Cville's Hobbies, Games and Toys in Charlottesville, Va..

"I think electronics are going to be popular, as kids continue to see parents with iPads, phones, etc., they will want more sophisticated items that mimic the real thing," postulated Kim Emigh from Growing Tree Toys in State College, Pa..

Nathan McKelvey, manager of Toy Castle, LLC in Jonesboro, Ark, agrees. "People keep asking for electronic stuff...It hasn't really hit here yet, but I imagine it will soon."


Maybe NOT

Several retailers we interviewed said that while toys like Rainbow Loom are flying off the shelves, it won't last.

"Obviously, the rubber band and eraser crazes are behind us. Rainbow Looms are also going to be gone as a trend," Mary Porter Green, owner of Curiosity Zone in Ashburn, Va., predicted.

Isaac Gurock, head of operations at Magic Beans in Brookline, Mass., agreed. "It's a huge craze but my guess is it will die down," he told TDmonthly.

Though sales of Rainbow Loom might drop off, one retailer was still optimistic. "I'm sure that as Rainbow Looms continue to slow, the arts and crafts sections of most stores will see a rejuvenation," Joe Berardoni, owner of Puns Toys in Bryn Mawr, Pa., speculated.

Writer's Bio:
Justina Huddleston graduated Magna Cum Laude from Emerson College with a BA in Writing, Literature, and Publishing in 2009. After graduating she was the on-site director of the Boston Children's Museum gift store for a year, selling educational, developmental, and creative activity toys that tied in with the museum's exhibits. Justina also interned at children's book publisher Candlewick Press before moving from Boston to Los Angeles, where she is now Editorial Director of
TDmonthly Magazine
.
Read more articles by this author
THIS BANNER IS AN AD:
---
---