---
The Preschool Toy Category in the United States
According to NPD, Infant and Preschool toys were at $3.66 billion and with a 16.8% share of the total of the largest Toy category last year. They are also with a minus figure of -4.19% near the top in terms of sales declines, at least in Dollar terms.

Typically, four companies are thought to be the leaders in the field – Fisher Price of Mattel, Leapfrog, VTech and Hasbro – and to account for nearly three-quarters of all toys sold. The largest by far is Fisher Price, as shown in the chart below: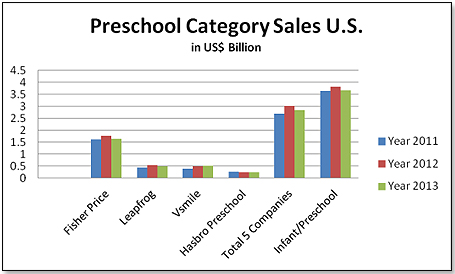 Source NPD and SEC filings

However, when you drill down further, a funny picture emerges. Sales of toys bought for preschoolers did not decline last year; they in fact increased in units by about 2% to 4% in 2014 if the sell-through numbers of my retailer panel are anything to go by. So why this striking difference?

The main reason seems to be that, given the current very tough economics confronting consumers, parents of little children are faced by two unpalatable choices – either cut back on toys or cut back on necessities such as food, heat, and medicines. They squared the circle by moving down the price ladder – they bought more toys but at much lower prices. They realized that for a toddler it is not very important whether a toy costs $10 or $50 or whether it is a particular brand. So they substituted and bought three toys of $10 and saved $20 in the process.

How this played out at the biggest three toy retailers is interesting. The charts below show how things stood at the end of last year and they give the picture for the top seven participants at ToysRUs, Wal-Mart and Target. What the sell-through data of my Retailer Panel measured was not the sales of typical infant and preschool toys but rather of all the toys bought for children aged between two and four years old.

First, ToysRUs.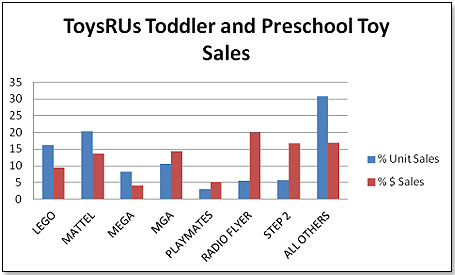 Source Klosters Retailer Panel

With the exception of Mattel, none of the typical Preschool Toy manufacturers are amongst the top seven companies. In the case of Mattel, where according to NPD you would be looking for a Dollar market share well north of 50%, you have a share of only 13% in Dollars and 20% in units. This suggests two things – one is that the majority of traditional Fisher Price consumers opted for other brands and the second is that those that stayed with the brand went for lower-priced products. Hasbro, Leapfrog and VTech never made it into the top seven and are included in the All Others group where units significantly outstrip Dollar shares.

Then Wal-Mart: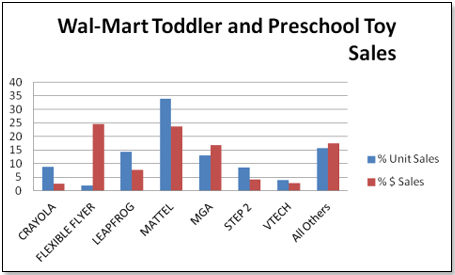 Source Klosters Retailer Panel

Again here, Hasbro did not make the top seven but is included in the All Others category. The other three majors – Mattel, Leapfrog and Vtech – all saw their unit market share rise to well north of their Dollar share which again suggests price migration by consumers. In the specific case of Mattel, the company's share in Dollar terms was again less than half of their NPD percentage whereas their unit share was much closer to their normal participation.

And, finally, Target: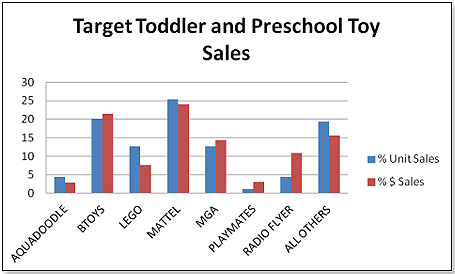 Source Klosters Retailer Panel



Again here, the picture is pretty consistent with that of the other two retailers.

However, what is really new and interesting is that the Infant and Preschool toy space is now seriously contested by companies you do not usually associate with the age group. Both Lego and Mega are strongly represented even though their product profile typically belongs into the 5 years to 8 years group. A similar situation exists for MGA and Playmates whose major products – fashion dolls and action figures – are targeted at Tweens. And then there are a host of other companies that are rarely seen as serious competition to the heavyweights such as Mattel's Fisher Price – Aquadoodle, BToys, Flexible Flyer, Radio Flyer and Step 2. They have all a couple of characteristics in common – great value, good quality, and low price points.

So, what does this tell us? One is that consumers are resourceful and will opt for non-traditional choices in tough times. The other is that there seems to be a disconnect between what parents on one side and manufacturers on the other consider suitable toys for the little ones. And thirdly that the large manufacturers do not have a sinecure on the shelves of the Wal-Marts of this world but better watch out for the hungry little guy who just may be sneaking up on them.

Writer's Bio:
Lutz Muller is a Swiss who has lived on five continents. In the United States, he was the CEO for four manufacturing companies, including two in the toy industry. Since 2002, he has provided competitive intelligence on the toy and video game market to manufacturers and financial institutions coast-to-coast. He gets his information from his retailer panel, from big-box buyers and his many friends in the industry. If anything happens, he is usually the first to know. Read more on his website at www.klosterstrading.com.
Read more articles by this author
THIS BANNER IS AN AD:
---
---