---
Are Your Employees Putting Your Retail Brand At Risk?
GAP stated in a conference call recently that "About 70% of shoppers across its three chains (Gap, Old Navy, Banana Republic) walk out of the store without buying anything."

To address this, it said, GAP will now be offering "order-in-store" for out-of-stocks.

A customer goes into an average of just 3 shops during a visit to a mall. That means they are 33% inclined to buy when they walk through your doors.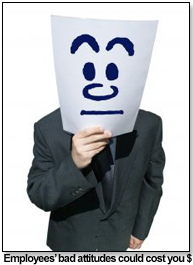 If your store staff isn't closing a sale 33% of the time, look at what they are bringing – or taking away – from your customers' desires to purchase.

As a retail expert, I'm often asked about what keeps retailers up at night. Right now it would be that there are fewer people coming in the doors, conversion rates are down, there's a relentless push to lower quality to achieve price points and …oh yeah, Millennial shoppers don't have the inclination or money to spend on what were once must-have clothes.

In fact, they'd rather browse than buy.

Look no further than Abercrombie for an example.

Last June this was a brand that had prided itself on not having sales; now they've done a complete reversal.

In the most recent quarter, Abercrombie's U.S. sales declined by 13% and same-store sales declined by 15%. It would seem that the teen retailer is losing their teen appeal.

So it seems GAP and Abercrombie are struggling to figure out how to appeal to the changing teen demographic.

But what about the Baby Boomer shoppers like me?

Best Buy

I wanted to buy a new LG LED TV and I went to Best Buy knowing they had it.

The young salesman dutifully answered my Where is it?, How much is it today?, Is there anything comparable? questions. He then pulled out a clipboard and asked, "Are there any windows in the room you are going to have it in?"

I thought, wow, this is great, he'll use one of my retail selling techniques to help me solve my problem. I replied, "There are two. Will that affect my choice?"

"I just have to write your response on this form so I can show I asked it," he replied without answering my question.

Geez, I thought.

Fine, I purchased the set. I got it home and all my favorite movies looked like cheesy Star Trek episodes from the 60's. I brought it back and a different salesman said, "Yeah, a lot of people don't like the soap opera effect. You probably want one of the new plasma TVs which for some older customers works better."

"Fine, show me." I replied. "Well, they're expensive and we can't carry them in this location; you'd have to go to Connecticut."

Sale? Lost.

Not because of price or it being out-of-stock but because the salesman didn't commit to selling what he could.
He didn't close the sale.

He didn't offer me an alternative.

He let me walk.

With that refund, I went to the appliances section to check out a new washer and dryer. After waiting 10 minutes, a guy came over and dutifully answered my questions about the permanent press cycles. "I don't make any commission on this so you can trust me," he said. "Doesn't matter if you buy it from me today or someone else, I'm paid just the same."

He too had his clipboard and wrote permanent press on the form. "You can ask for anyone and they can help you."

Oh I see, they're not into selling it, as long as they have proof they are trying to sell it.

I went back later to try to buy them. After waiting another 10 minutes watching five couples open refrigerator doors, look at signs on dishwashers, point at washer features, look for a salesperson and then leave, I asked the greeter, who was eating an open bag of Chex Mix spread out on her small station, to find someone for me. Another five minutes passed and I asked another register clerk, "Are they coming?" "Yes, we told 'em." I didn't wait; I left.

Now I know you're asking, Why didn't I just go someplace else? All the independents are gone in my area.

The point of the story is that Best Buy had plenty of traffic but their employees didn't commit to making a sale.

One more story…

I went into a watch store and as I walked in, I noticed their two young sales women looking at their iPads.

Neither one of them noticed me.

I stopped at the Panerai watch display case. A personable young woman came over and asked, "May I show you one of the watches?"

"Sure," I said. At that moment one of the other women walked over and said to her, "I'll handle it" and she came over to the case.

"Which one are you interested in?" she asked.

"That one. I've never heard of Panerai."

"They were made for the Italian navy in WWI," she stated. As I put the watch down, I said that the band seemed kind of flimsy. "It was made for the Italian navy in WWI; I'm sure it's sturdy." With that, she put the watch back in the case and walked away.

If you read my recent posts on my shopping experience at Nordstrom and Radio Shack, you know there is a lot going on at the customer level that most brands simply aren't acknowledging...and it comes down to how little retail salespeople really want to make a sale.

Your Store Might Be In Trouble If Your Employees:

1) Are making customers wait without acknowledgement. Customers waiting used to be the rallying cry of retail. When employees leave customers waiting and unnoticed, those customers leave, taking their money with them. That's a lot of money, goodwill, and word of mouth walking out your door…lots of it.

2) Are covering their butt. When the paperwork becomes more important than the customer i.e. those Best Buy clipboards, employees are working to satisfy the system, and leave their customers cold and disconnected.

3) Are dismissive. When your employees are perfunctory, they often destroy the possibility of a relationship. I'm looking at you, watch woman…

Want to create a healthy brand?

You build a great retail brand from the customer interaction up. Look at Container Store, Lululemon, even Starbucks.

An unsupervised employee will take the easy way…away from the customer who pays their salary.

An unmotivated employee will go through the motions…because they have to.

It's not about promotions, everyday low price or omnichannel. Otherwise Sears, Kmart and JCP would probably be on most every shopper's list.

A healthy brand is about people.
And if you can't manage the people correctly, you can't move the merchandise.

In Sum

Look, customers are kicking back at retailers after years of neglect. They're tired of waiting, they're tired of surly employees, they're tired of no one giving a damn on the sales floor.

33% of them came in to buy something from you. If they don't buy, your merchandise has to be sold at huge discounts, your brand shrinks and I have to ask…

How long can your brand survive?

Writer's Bio:
Bob Phibbs is the Retail Doctor®, a best-selling author and speaker who has helped thousands of independent businesses compete. His new book, The Retail Doctor's Guide to Growing Your Business has received praise from both Inc. magazine and USA Today and can be found at your local bookstore or ordered at http://www.retaildoc.com/guide. He and his work have been featured in the New York Times, the Wall Street Journal and Entrepreneur magazine. Questions? Contact Bob at info@retaildoc.com.
This article was reprinted with permission of the author, Bob Phibbs, aka The Retail Doctor®.
Read more articles by this author
THIS BANNER IS AN AD:
---
---