---
Toys in the News: 5-29-2014
SUBMIT your news to TDmonthly.
See previous toy industry news.

Toys in the News is updated Mon-Fri at 9:15 am PST

Reeves International offers shopping spree to one lucky ASTRA attendee! May 29, 2014 — One lucky winner may win a $1,000 shopping spree from Reeves International when it debuts its mid-year releases to retailers at the American Specialty Toy Retailer Association (ASTRA) Marketplace and Academy! One Breyer® Golden Ticket can be found in one of the complimentary ASTRA Tote Bags provided to all retailers attending the show.

Hasbro To Return Substantial Value, Dividends As Growth Returns. May 29, 2014 — Hasbro has aggressive growth strategies in place, and the company's toy characters have been featured in movies and TV shows...

'Frozen' characters are Disney's hottest ticket. May 29, 2014 — Six months after the premiere of "Frozen," Disney's Oscar-winning, blockbuster animated film, an adoring public just...

New game consoles fuel GameStop's profit in first quarter. May 28, 2014 — Despite posting increases in the last few quarters, GameStop was seeing shares drop because its numbers...

JAKKS Pacific Partners with SKECHERS to Launch Twinkle Toes Toys and Other Products Inspired by the Global Lifestyle Footwear. May 27, 2014 — U.S. toy manufacturer JAKKS Pacific, Inc. (Nasdaq: JAKK) announced a long-term licensing agreement with SKECHERS USA, Inc...

Donald Levine, Hasbro exec who helped create GI Joe, dies at 86. May 27, 2014 — Donald Levine, the Hasbro executive credited as the father of G.I. Joe for developing the world's first action figure, has died...

Firm Hopes 3D Printing Will Make Toy Designers Of Us All. May 27, 2014 — "It is all about personalizing the experience," says Steve Lettieri, founder of IMAGIMOD...

Chasing the Latin American retail consumer. May 27, 2014 — Before there was the Alibaba IPO, there was the MercadoLibre IPO. Founded in 1999 by CEO Marcos Galperin...

Why Do British Retailers Have So Much Trouble in the U.S.? May 27, 2014 — When Primark announced in April that it was planning on opening stores in the U.S...

Activision-Blizzard's Next Billion Dollar Title Won't Cost Gamers a Dime. May 27, 2014 — Activision-Blizzard's (NASDAQ: ATVI ) next megahit may come as a shock to some investors...

Hess toy trucks survive stations' sale. May 23, 2014 — For Christmas this year, the Hess truck's here — even though there won't be any more Hess stations...

Hasbro throws down the (Infinity) Gauntlet at Comic-Con. May 23, 2014 — Hasbro is going galactic with its Comic-Con exclusive action figures this year...

Universal Sets Mattel's 'Monster High' for Oct. 2016 Release. May 23, 2014 — Universal Pictures has dated its "Monster High" movie for Oct. 7, 2016. The live-action adaptation of Mattel's Monster High doll franchise is produced by Josh Schwartz and Stephanie Savage...

Ingenious New Toy Turns Physical Objects Into iPad Games. May 23, 2014 — Tangible Play's Osmo is something special. It feels new and exciting the first time you play around with it, and you're pretty much sold as soon as you experience it...

Toys 'R' Us names MD for Australia. May 23, 2014 — Toys 'R' Us' 34 stores, e-commerce operations and 1,700 employees across Australia will fall into the hands of newly appointed MD Campbell Lennox...

Lakeshore Learning Materials Recalls Bristle Builders for Toddlers Play Sets Due to Choking Hazard. May 23, 2014 — The U.S. Consumer Product Safety Commission has announced a recall of about 2,000 Lakeshore Bristle Builders® for Toddlers, sold at Lakeshore retail stores, Lakeshore Learning Materials' Early Childhood catalog and online at www.lakeshorelearning.com from December 2013 to April 2014 for about $30. The base of the three animal figures can detach, posing a choking hazard to young children. Consumers should immediately take the three animal figures away from children and contact the company to receive a free replacement set of the three animal figures.

Yamie Chess Wins Mom's Choice Award - Gold. May 23, 2014 — Backed by Harvard and MIT math experts, the award-winning math learning toy Yamie Chess has been named a 2014 Mom's Choice Awards' Gold Recipient. It was also School Library Journal's Best Education Pick of 2014.

Carnegie Mellon University Spin-off BirdBrain Technologies Launches Hummingbird Duo. May 23, 2014 — The Hummingbird Robotics Kit was developed as part of Art & Bots, an ongoing research project at Carnegie Mellon University. Compatible with popular maker tools and software like Raspberry Pi, MaKey MaKey, Arduino, and Scratch, Hummingbird introduces students to engineering design, electronics, and programming through an innovative, arts and crafts-based approach that integrates well with the core subjects. Instead of a steep learning curve, learners progress at increasing skill levels where mastering each level allows one to use the Hummingbird in a new and more interesting way. By participating in the Kickstarter campaign, individuals can purchase the forthcoming Hummingbird Duo at a pre-launch price for themselves or provide one to a school of their choice.

Kid Brands, Inc. Announces Suspension of LaJobi Wood Furniture Operations. May 23, 2014 — Kid Brands, Inc. today announced that, in connection with the Company's previously announced review of strategic alternatives, it has decided to suspend the wood furniture operations of its LaJobi business unit...

Propel Equity Partners Acquires Assets Of Summit Products. May 19, 2014 — Propel Equity Partners, a private equity firm focused on investing and creating value in leading consumer brands, has acquired substantially all of the assets of Summit Products LLC. The assets of Summit Products, which include BACKYARD SAFARI®, ZILLIONZ®, COVERT FORCE®, TEST PILOT® and STINK BUGZZZ™ brands, will be incorporated into the ALEX BRANDSTM family of leading toy brands. In a separate transaction, Propel Equity Partners has also acquired CitiBlocs®, a line of high quality, precision cut wood construction blocks. CitiBlocs® will also be incorporated into ALEX BRANDS™. CitiBlocs® builds upon the presence of ALEX BRANDS in the construction category, which already includes IDEAL® Frontier Logs™, Amaze N' Marbles®, Kinderblocks and Fiddlestix®, as well as the ZOOB® line, according to a press release.

Kiesewetter To Receive ASTRA Top Honor. May 19, 2014 — The American Specialty Toy Retailing Association (ASTRA) announced today that toy industry legend Ted Kiesewetter will be honored at Marketplace & Academy with ASTRA's coveted Lifetime Achievement Award. A veteran of nearly forty years in the toy industry, Kiesewetter founded International Playthings, Inc. (IPI), now a division of Epoch Company LTD. His vision led to product lines that have generated countless hours of healthy and fun imaginative play for children, including many iconic classics and several Best Toys for Kids award winners.

RUBIK'S CUBE INVENTION: Google celebrates toy puzzle's 40th anniversary with interactive (and addictive) Doodle. May 19, 2014 — IF YOU ARE among the relatively few who can solve a Rubik's Cube in mere seconds, then you are one of the lucky...

Brick-and-mortar retailers to disrupt the smartphone space. May 19, 2014 — There's been a rumor that UK retail giant Tesco may soon make a smartphone to compete with other brands...

Retailers Walmart, Amazon Rolling Out Same-Day Deliveries. May 19, 2014 — The fight is escalating to deliver packages within hours after an order is placed online...

Hasbro Files for 'ALLSPARK' Trademark, Used for 3D Printing and Creation. May 16, 2014 — You all may recall, back on Valentine's Day we published an article announcing an interesting partnership between, 3D Systems...

Mattel Appoints Tim Kilpin Head of International Division. May 16, 2014 — Mattel, Inc. announced today that company veteran Tim Kilpin has been named Executive Vice President, International...

Toy State buys Nikko to amp up its presence in the toy category of radio-controlled vehicles. May 16, 2014 — Toy State, a Hong Kong-based toy company that's had its US headquarters in Norwood since 2005, said it has acquired...

Top U.S. Retailers to Share Data in Fight on Cybercrime. May 15, 2014 — Some of the nation's largest retailers are banding together in hopes of protecting consumers'...

Retailers exit first quarter with higher inventory. May 15, 2014 — Severe winter weather, which led to weaker sales and traffic trends and some major U.S. retailers, also broadly...

How Disney Will Make 'Frozen' a Billion-Dollar Franchise. May 14, 2014 — Frozen has taken in over $1 billion at the box office and Disney plans to create every possible...

Kids Don't Read Books Because Parents Don't Read Books. May 14, 2014 — There is a cultural narrative about how electronic devices are pulling children away from books...

Hasbro Closes $600 Million Notes Offering. May 14, 2014 — Hasbro, Inc. today announced the closing of a public offering of $300 million...

Retail sales slow, but growth outlook still upbeat. May 14, 2014 — U.S. retail sales braked sharply in April after strong gains in the prior two months...

Weak retail sales data puts a wrinkle on U.S. growth outlook. May 13, 2014 — U.S. retail sales barely rose in April, tempering hopes of a sharp acceleration in economic growth...

Activision Blizzard Inc. Delivers a Strong Quarter. May 13, 2014 — When digital sales hit a record in the video game industry, good things tend to happen as margins expand...

8 Retail Innovations to Expect Soon. May 13, 2014 — The report "Retail Technology Vision 2014" from Accenture contains an incredible prediction: "The next five years will bring more change to retail than the last 100 years."...

Inventors smarten up toys for a new generation. May 12, 2014 — Move over, Elmo. There's a new toy in town. MaKey MaKey isn't fluffy or cute...

U.S. Toy Sales Hop Up At Easter 2014. May 12, 2014 — In the four weeks leading up to Easter 2014, U.S. dollar sales of toys increased 3 percent compared to the four weeks preceding Easter 2013*. This year, Easter toy sales got a boost from the warmer weather provided by the holiday celebration occurring three weeks later than it was last year. The weather factor was also evident in the strong growth performance of outdoor and sports toys in the 4 weeks leading up to Easter 2014, according to The NPD Group, Inc. / Retail Tracking Service.

Famed Hasbro Toy Designer Gayle Middleton Debuts New Line of Plush Baby Monsters. May 12, 2014 — The billion dollar toy creator, who has helped skyrocket sales for My Little Pony and Littlest Pet Shop, reveals her dark side...

The Future of Retail Checkout: No Checkout at All? May 12, 2014 — "People have said when checkout is working really well, it will feel like stealing. You grab a pair of shoes...

Carter Keithley – Toy Industry Association President & CEO – Announces Retirement. May 9, 2014 — Carter Keithley has announced that he will retire as President & CEO of the Toy Industry Association (TIA), effective April 30, 2015, after nearly a decade of leadership with the trade organization, according to a press release.

Adora Announces New Young Designer for the Designed by Kids for Kids Program. May 9, 2014 — Adora has announced that their new 2015 Designed by Kids for Kids designer is Isabella C. of Orlando Florida. This program allows a Young Designer to work with Adora's California design team and create an outfit for one of their 18" Friends dolls. This year, 8-year-old Isabella has designed a Cowgirl outfit. You can see last year's winning design, currently available for purchase, here.

The Top 10 Toys That Kindle Creativity. May 9, 2014 — Can you teach kids to be innovative? You can certainly try, but you...

U.S. retailers benefit from warmer April as sales bounce back. May 9, 2014 — Spring was in full swing for some U.S. retailers, with shoppers spending again...

Amazon expands Sunday delivery. May 8, 2014 — Amazon customers in 15 additional cities are now eligible for Sunday delivery...

Disney Is Winning Over The Youngest Viewers To Build Lifelong Fans. May 8, 2014 — On Tuesday, Walt Disney DIS +2.01% beat earnings expectations by 15 cents per share...

Where Are the Kids' Movies This Summer? May 8, 2014 — Summer months are synonymous with family moviegoing. This year, however, the tide is out on films aimed at young kids...

Mattel Teams Up With Car-Rental Agency to Rent Hot Wheels to Kids. May 8, 2014 — "Are we there yet?" Hot Wheels might have managed to forever banish those four dreaded words...

Top Digital Toy Creator: Why It's Important To Do Your Homework Before Your Build. May 8, 2014 — At PSFK CONFERENCE 2014, Bjorn Jeffery, CEO and Co-Founder of digital toy company Toca Boca spoke to the audience about his journey...

More Signs Emerge Showing That E-Commerce Retail Sales Are Booming. May 8, 2014 — Amazon is quietly building one of the most disruptive businesses online — a business-to-business wholesale...

Who's Schooling Millennial Retailers? May 8, 2014 — If ever there was an industry suffering gut-wrenching disruption it is traditional retailing...

What Retail CEOs Don't Understand. May 7, 2014 — In the past, if your goal in life was to run a retail company, you wanted your biography to open with a scene...

Retailers turn to 'experiences' to draw shoppers. May 7, 2014 — Less than one week after the 45-foot Ferris wheel started turning in the Sioux Falls Scheels store...

Time For Retailers To Re-Evaluate Their Store Footprint — One Size Does Not Fit All. May 7, 2014 — As digitally savvy shoppers continue to drive today's retail environment, companies are being forced...

Hasbro Reveals 2014 Comic-Con Exclusive 'Star Wars' Jabba the Hutt Set, Plus New Yoda Action Figure. May 7, 2014 — The 'Star Wars' films made George Lucas a millionaire, but it was the toys that made him a billionaire...

The Classic Meccano Toy Set Gets A 21st Century Spin. May 7, 2014 — Since he was a child, Dutch designer Tomm Velthuis has been obsessed with Meccano...

We're Gonna Need Some Bigger Bricks. May 7, 2014 — Hello there toy-fans, and welcome to yet another all new weekly edition of your favorite (and only) toy news column...

Tweet products to your Amazon shopping basket. May 7, 2014 — Thanks to a partnership between Amazon and Twitter...

LeapFrog loses $11.5 million in 'exceptionally tough' quarter. May 6, 2014 — Teaching toy maker LeapFrog Enterprises Inc. lost $11.5 million in the March quarter as its sales fell 31 percent...

For Toys 'R' Us, it is Show and Tell Time. May 6, 2014 — For retailer Toys "R" Us the year 2014 could be the most critical in its history...

See How A Toy Factory In Malta Makes Millions Of Plastic Playmobil Men Every Year. May 6, 2014 — Playmobil turns 40 this year. The toy figurines have become iconic since their inception...

Activision plans $500 million date with 'Destiny'. May 6, 2014 — Activision Blizzard Inc intends to spend $500 million developing and promoting "Destiny," potentially breaking...

Target CEO Gregg Steinhafel steps down in wake of huge data breach. May 5, 2014 — Target Chief Executive Gregg Steinhafel is leaving the retailer after a massive data breach during...

Activision CEO Eric Hirshberg talks about the future of Skylanders. May 5, 2014 — Just when you thought the company couldn't come up with any more truly innovative ideas for its collectible toy franchise...

Is a fit band for kids an atrocity, or just a necessary evil in 2014? May 5, 2014 — The device that best defines the style of consumer electronics in 2014 won't be released by Apple or Samsung...

Six Youth Named as Hasbro Community Action Heroes for Exceptional Service, Leadership and Advocacy in their Local and Global Communities. May 5, 2014 — This week, generationOn, the youth enterprise of Points of Light, and branded play company Hasbro, Inc. will honor six inspiring young people as Hasbro Community Action Heroes for their extraordinary achievements in community service...

Orbotix Raises $15.5 M to Develop Next Generation of Toys. May 5, 2014 — Orbotix remains on a roll, announcing today that it has closed a $15.5 million funding round that the company...

US retailers struggle to grab hold in Canadian market. May 5, 2014 — For years, Canadians would cross the border to the U.S. to shop at Target. Exporting its cheap chic there seemed like a no-brainer...

SNORTA Reincarnated as Quack-a-doodle-Moo! May 2, 2014 — The popular game SNORTA, which Out of the Box Publishing sold as part of a package of games to Mattel is back at its parent company. Though Mattel still has the Snorta trademark name, it has discontinued the game and released its rights back to the owner. Out of the Box has snapped it up and come out with a snappy new moniker: Quack-a-doodle-Moo! The game was showcased at Toy Fair, then re-tooled based on retailer feedback. It will officially debut at the ASTRA Marketplace in June.

Toy companies counting on big summer movies. May 2, 2014 — In the toy business, hope springs eternal. After a year of flat sales capped by a...

Activision, Toys "R" Us "Skylanders" partnership has potential. May 2, 2014 — MOST COMPANIES only spot greatness in products after the items have hit retail shelves and/or have amassed...

LeapFrog Unveils LeapBand Activity Tracker. May 2, 2014 — Wearable tech just got a whole lot more kid friendly. LeapFrog Enterprises today announced...

Why America's Essentials Are Getting More Expensive While Its Toys Are Getting Cheap. May 2, 2014 — In the last ten years, what's gotten more expensive? And what's gotten less expensive? Here's a fascinating snapshot...

Everything We Know About 'Disney Infinity 2.0'. May 2, 2014 — Now the dust has settled, somewhat, on the announcement of Disney Infinity 2.0 we can start to see...

Retailers Need Not Fear "Showrooming" As More Young People Drawn To Physical Stores. May 2, 2014 — Despite years of dire predictions that online shopping would distract consumers from brick-and-mortar retailers...

Mattel Completes Acquisition of MEGA Brands. May 1, 2014 — Mattel, Inc. announced today that it has completed the acquisition of MEGA Brands Inc. through a wholly-owned subsidiary of Mattel, Inc....

Disney Research's 3D-printed speakers will soon make toys and games much more noisy and interactive. May 1, 2014 — Disney Research, in its never-ending quest to make our menial existences more magical, can now produce 3D...

For Many, Mobile Technology Increasing Retail Shopping. May 1, 2014 — Although online and smartphone shopping are a clear threat to traditional brick-and-mortar retail stores, more than half of Americans...

Payment Innovation Is Not Enough For Retail. May 1, 2014 — Once a key differentiator, mobile payments are fast becoming a commodity and are widely used by retailers...

Millennials: Double Trouble for Retail. April 30, 2014 — For those of you out there who think the Millennials are the "next big thing" for your business, think again...

Excavating the Video Game Industry's Past. April 30, 2014 — In 1982, Atari controlled eighty per cent of the video-game market. A year later...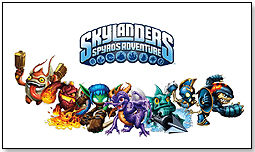 Activision, Toys R Us "Skylanders" partnership has potential. April 30, 2014 — MOST COMPANIES only spot greatness in products after the items have hit retail shelves and/or have amassed a huge...

Warming Up to Retail: 2 Choices. April 30, 2014 — Winter's chill is over. The economy is warming up and consumers' optimism is reflected...

Disney adding Marvel superheroes to 'Infinity' toy-and-game franchise. April 30, 2014 — Disney adding Marvel superheroes to 'Infinity' toy-and-game franchise...

World of Nintendo toy line starting September, includes Mario Kart 8 car kits. April 30, 2014 — Nintendo appears to be releasing a new World of Nintendo toy line starting in September...
THIS BANNER IS AN AD:
---
---