---
Has Jakks Pacific turned around – finally?...Perhaps!
In an article published on August 17 (The U.S. Fashion Doll Market: There Are A Few New Girls On The Block) I said that "All indications are that Jakks is turning the corner and that the new people it has brought into the organization are making a real difference. I believe that it will find ways to overcome these obstacles in the same manner and with the same zest with which it tackled the challenges that it has faced over the past year."

After unremitting sales declines every single year since 2008 it now does appear that Jakks has indeed finally turned the corner. The first nine months of this year showed a sales increase of about 12% or three times the growth rate of the U.S. toy market overall. The outlook for the fourth quarter is even better with an expected sales growth of nearly 50%.

This is their annual performance over the past five years, with 2014 estimated: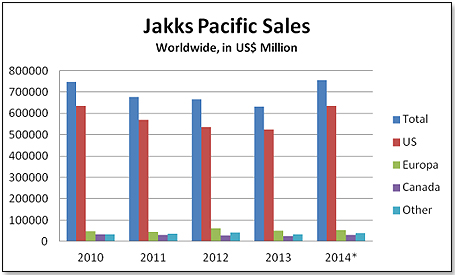 Source: SEC filings

A lot of this growth is undoubtedly due to the phenomenal success of Frozen. Jakks has the secondary license for this movie property for small dolls, Halloween costumes and accessories, and art supplies. The movie broke on 11/22/13 in the U.S. and had its last seating on May 1. During these five months it racked up $400 million in U.S. box office receipts. While this is not a record – adjusted for inflation, The Lion King, Shrek 2, Finding Nemo and Toy Story 3 did even better – the movie sold more toys and related product than any other animated movie in history.

According to the Klosters Retaier Panel, everybody who has any Frozen merchandise to sell continues to chase their tail to keep store shelves stocked and Jakks is no exception.

This success story is reflected in Jakks' shelf space expansion at the three top U.S. toy retailers - Wal-Mart, Target and ToysRUs - between 2010 and today: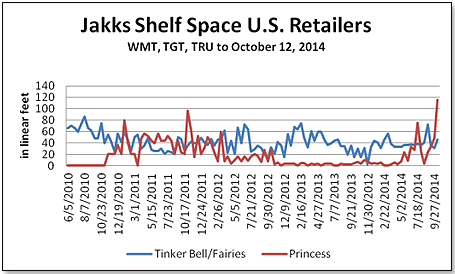 Source: Klosters Retailer Panel

Apart from Frozen, Jakks shares in a number of top licenses and does a good job getting distribution if their presence at ToysRUs is anything to go by – see below.


| | | | | | |
| --- | --- | --- | --- | --- | --- |
| Girls | Brand | Own IP | MasterLicensee | SecondLicense | At ToysRUs? |
| | CabbagePatch Kids | No | Yes | No | Yes |
| | Fairies(Tinker Bell) | No | Yes | No | Yes |
| | Frozen | No | Mattel | Yes | Yes |
| | Princess+Me | No | Yes | No | Yes |
| | Disney Sofia | No | Mattel | Yes | Yes |
| | Oz The Great | No | Yes | No | No |
| | My World | No | Yes | No | Yes |
| | Winx | No | Yes | No | Yes |
Source: Klosters Retailer Panel


| | | | | | |
| --- | --- | --- | --- | --- | --- |
| Boys | Brand | Own IP | Master Licensee | Second Licensee | At ToysRUs? |
| | Black and Decker | No | Yes | No | Yes |
| | DC Universe | No | Hasbro | Yes | No |
| | MXS | No | Yes | No | Yes |
| | Power Trains | No | Yes | No | Yes |
| | Daniel Tiger | No | Yes | No | No |
| | Godzilla | No | Bandai | Yes | Yes |
| | Nintendo Mario | No | Yes | No | Yes |
| | Slug Terra | No | Yes | No | Yes |
| | El Chavo | No | Yes | No | No |
| | Moose Mountain | Yes | No | No | Yes |
| | Power Rangers | No | Bandai | Yes | Yes |
| | Spy Net | Yes | No | No | Yes |
| | Monsuno | Yes | No | No | Yes |
| | Rio 2 | No | Yes | No | Yes |
| | TMNT | No | Playmates | Yes | Yes |
| | Star Wars | No | Hasbro | Yes | Yes |

Source: Klosters Retailer Panel

Jakks have also managed to diversify their U.S. business away from the top three retailers and have gone from a 67% dependency in 2011 to now about 52% which is much healthier given the overall toy market share of 54.5% held by these three retailers: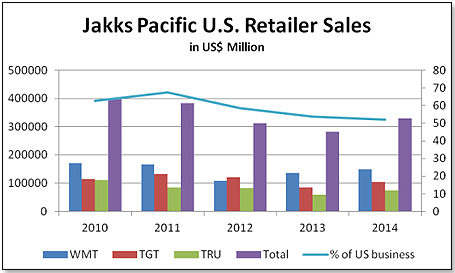 Source: SEC Filings


In summary, 2014 is looking pretty good for Jakks at least as far as their top line sales are concerned. The real question is what awaits the company in the two years to come.

As far as 2015 goes, this also is positive. All indications are that Jakks will continue to hold on to its top licenses – Frozen, Tinker Bell/Fairies, Cabbage Patch and the other Princesses on the Girls side; and StarWars, TMNT, Nintendo and Slug Terra on the Boys side. These will be supported by three big-screen movies – Cinderella on 3/13, Frozen Fever on 4/1 and Star Wars on 12/18. However, the 2015 Frozen movie will be quite different from the 2013 blockbuster – it will be much shorter and will be on much fewer screens. Nevertheless, it will lend strength to the Frozen franchise which otherwise could begin to fade by Spring next year.

As to the year after next, the question often asked is whether the move of Disney Princesses from Mattel to Hasbro will affect Jakks. Probably not for two reasons. One is that Jakks' involvement with these licenses is not in the toy main stream but rather in areas of very large action figures, Disguise Halloween costumes, other apparel and the like. The second is that Disney never puts all its eggs into one basket, however attractive the basket looks like. The latest example for this strategy is Big Hero 6, an animated action figure movie scheduled to break in November. It was widely expected that Hasbro would get the license for the toy range since they already have all the other Disney action figure licenses. However, Disney elected otherwise and appointed Bandai instead. I would hence expect that this strategy will also benefit Jakks and that the company will continue to hold on to a bunch of Disney's primary or secondary licenses, at least for the U.S. market.

The one area where Jakks continues to fall short is in the countries outside North America, representing about 74% of the worldwide toy market. At the end of the third quarter 2014, Jakks had a mere 12% of its sales outside the North American continent which compares to Mattel's 45% and Hasbro's 44%. Jakks' problem is that most of its top licenses have only been granted for the U.S. given the company's weakness elsewhere; and without these strong licenses, its international business is unlikely to ever grow to a much higher percentage than what it is today. This is a major issue clouding Jakks' longterm outlook since the U.S. toy market, where the company has its strength, continues to stagnate whereas the international markets – particularly Latin American, Eastern Europe, Asia and Africa – are projected to grow significantly for the remainder of this decade.

So, the question remains – has Jakks turned the corner? The answer is a qualified "yes" provided that the company continues to make Disney happy. In the absence of a viable international business and in the absence of strong own IPs, Disney is pretty much the only action in town for Jakks.

Writer's Bio:
Lutz Muller is a Swiss who has lived on five continents. In the United States, he was the CEO for four manufacturing companies, including two in the toy industry. Since 2002, he has provided competitive intelligence on the toy and video game market to manufacturers and financial institutions coast-to-coast. He gets his information from his retailer panel, from big-box buyers and his many friends in the industry. If anything happens, he is usually the first to know. Read more on his website at www.klosterstrading.com.
Read more articles by this author
THIS BANNER IS AN AD:
---
---