---
Interview with Alexandre Pariente, CEO of Safari Ltd®
Alexandre Pariente recently took over as CEO of Safari Ltd®, a third-generation educational toy company. Safari Ltd®'s animal figures and hand-painted replicas are well loved not only by our specialty store retailer readers, but by children and families across the country. We were pleased when Alexandre agreed to answer some of our questions about his company and what he hopes to accomplish as CEO. You can read his story below.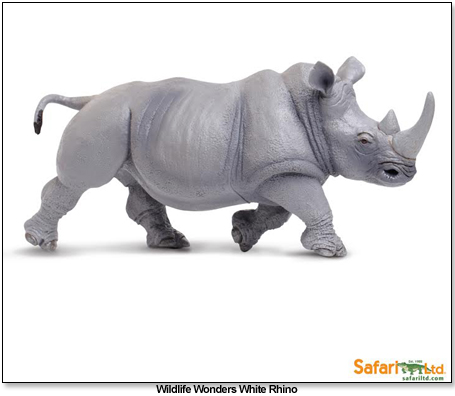 Q. Safari Ltd® is a family business. Did you always know that you would be part of the company? Or, as a child, did you want to do something else when you grew up?

A. Safari Ltd® was always a part of my life but as most young adults I did not know what "I wanted to do with my life." I always worked summers at Safari Ltd® in the warehouse and grew fond of the Safarians and environment. Everyone shared one central commonality, they all loved what they did, everyone. When that moment of clarity happened, I myself wanted to be a part of that Safarian spirit. It was then I said to myself I need to continue the legacy as it would be a tragedy to let that go to waste and not do something about it.

Q. What is your educational background?

A. A standard 4 years at Florida International University all while working full time at Safari Ltd®. My strongest educational trait is OJT (on the job training) from several different employers and vocations throughout my life.

Q. What is your favorite Safari Ltd® product? Why?

A. Wow this is ultimately impossible as there are so many fantastic products. If I had to choose only one it would be Wildlife Wonders™ Rhinoceros. First because it's an rhino which are ancient, massive creatures with sensitive characteristics. In addition to the actual animal, the model has stunning detail down to the wet markings on the nostrils plus is in a running stride pose that captures their awesome beauty.

Q. What educational benefits do Safari Ltd® figures provide?

A. They are Toys That Teach®, need I say more? They are authentic renditions of the natural world around us. The animals themselves are teaching tools to raise the awareness of our world and the amazing and endangered creatures that share this planet with us. Additionally our SafariPedia® section on our website is an extension of our products by providing more information of where, what and how these animals/creatures live and thrive.

Q. What sets your figures apart from similar items on the market?

A. Safari Ltd® is the only American family owned manufacturer and distributor of hand painted figurines. We offer the largest range of different products, collections and sizes ranging from a few centimeters to several feet. Our figures are ultra durable and made to last a lifetime. Safari Ltd® is the only figurine provider to offer over 70 items which are approved for 18 months and up. In addition to our figures we offer Safariology® outdoor play products like binoculars, telescopes, bug jars and more. Safari Ltd® also produces several collections which are unique to the world like Good Luck Minis®, Carnegie Dinosaur Collection and Incredible Creatures®, to name a few.

Q. Safari Ltd® has been in business for 30 years. What are the secrets to your success?

A. First I would like to thank everyone from fans, customers and Safarians for their continued support to make 30 years in business a reality. As all secrets you cannot give them a away; however, having passion, love and fun with what you do is a key to a successful business. .

Q. What are the biggest challenges that your company currently faces?

A. Finishing construction and settling in our new home for Safari Ltd®! Also there are many knockoffs being done from our products, especially dinosaurs.

Q. What are Safari's plans for the future?

A. To continue our path of enriching lives with traditional Toys That Teach®, having love for what we do and never forgetting what got us to where we are. Safari Ltd® toys are products that you and I all grew up on and with our dedication to staying true to our mission we never plan to let the Joy of play nor imagination lose its creative power.

Q. Is there anything else you want to tell our readers?

A. Thank You for listening and being a TDmonthly reader. Hope you enjoy their work much as we do.

Writer's Bio:
Justina Huddleston graduated Magna Cum Laude from Emerson College with a BA in Writing, Literature, and Publishing in 2009. After graduating she was the on-site director of the Boston Children's Museum gift store for a year, selling educational, developmental, and creative activity toys that tied in with the museum's exhibits. Justina also interned at children's book publisher Candlewick Press before moving from Boston to Los Angeles, where she is now Editorial Director of
TDmonthly Magazine
.
Read more articles by this author
THIS BANNER IS AN AD:
---
---