---
Toys to Talk About: General toys
These cool new toys may deserve a spot in your store - take a look.
Kinetic Sand Metallic by SPIN MASTER TOYS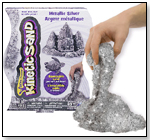 Discover the sand that shimmers in your hand! The all-new metallic Kinetic Sand assortment comes in shimmering Silver and Gold! And with 1lb of Metallic sand the creative possibilities are endless. This soft and stretchy sand easily cleans up while delivering non-stop fun! It's squeezable sand you can't put down. Feel the difference with Kinetic Sand! 7/29/2015 (Price: $17.00; Age: 3 and up) [Add to my Inquiry Basket][?]



Lay it or Break it by FOTORAMA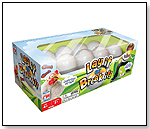 2 players compete in this game to help the chicken save her eggs! The farmer has collected the eggs and is ready to cook them. Players wear a plastic chicken beak, and attach a magnetic chicken clamp to their pants. Both players compete at the same time and, without using hands, remove the eggs one-by-one from the frying pan and transport them to the safety of the nest. If an egg falls and breaks, the player must start over. The player that collects the most 'unbroken' eggs in their nest the WINNER.

7/2/2015 (Price: $17.99; Age: 5 and up) [Add to my Inquiry Basket][?]



Bungee Blast JR by GEOSPACE INTERNATIONAL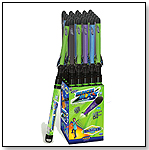 Standard Pump Rockets are a rollicking blast to fire. But our new Bungee Blast Jr ramps up the fun and excitement by an order of magnitude. We've engineered a patented elastic bungee cord inside the pump cylinder to turbo boost the launching power. Load a foam rocket into one end and pull back the cylinder, feeling the increasing tension of the cord inside. Then let go. Kids will be amazed as the stored energy of the cord pushes the piston of air very forceful, blasting the rocket out at hyper-speed. It's like putting a turbo-charger inside! Ages 3 & up.

2/19/2015 (Age: 3 and up) [Add to my Inquiry Basket][?]



Play and Trace Boogie Board by IMPROV ELECTRONICS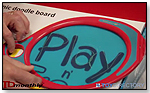 This brand new offering from Boogie Board re-envisions the board as a transparent screen that can be used for tracing anything. Practice letters, numbers, and shapes, then press a button to clear the design.

2/14/2015 [Add to my Inquiry Basket][?]



Spike by R&R GAMES INC.
It is the early 1900's and you are the owner of one of the fastest growing rail companies in the eastern USA. Expand your rail network as you connect cities in order to pick up and deliver more goods. Complete contracts and routes to bring in money to modernize your train. Upgrade your engines, tenders and railcars to transport the most freight. Build farther, transport more and amass wealth on your way to become 'King of the Rails'!
2–4 players • Ages 14 and up • Playing time: 60 min 11/10/2014 (Price: $49.95; Age: 14 and up) [Add to my Inquiry Basket][?]



Niya by BLUE ORANGE GAMES


Set in the Imperial Garden of Classical Japan, Niya centers on a dark political conspiracy among two influential clans. On every turn, players replace a garden tile with one of their clan tokens. The next player can only exchange a token for a garden tile that has an element in common with the previously chosen tile. The first to position their clan in a row, square, or blockade will win control of the garden...and power at court! A simple yet sophisticated strategy game, Niya captivates players young and old. 5/14/2014 (Age: 8 to Adult) [Add to my Inquiry Basket][?]



ZipStix by HOG WILD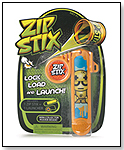 1 ZipStix and 1 Launcher. Starter Pack has everything you need to get zipping! High-octane graphics lay flat like a skateboard and then curl up like a runaway wheel when launched! 4/30/2014 [Add to my Inquiry Basket][?]



Weplay® Forever Up-Down by WEE BLOSSOM INC.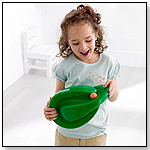 The Weplay Forever Up-Down Playset is designed for use with both hands. Simply grip the sides and practice turning it inward and outward repeatedly. Once you are familiar with its operation, place the ball of choice on the track. The object of the exercise is to control the ball without dropping it. This activity is suitable for everyone. It enhances one's reflexes and concentration as well as improves hand-eye coordination and hand muscle control. The balls are made of two different materials to provide different speeds and challenge levels. 4/28/2014 (Price: $42.99) [Add to my Inquiry Basket][?]



Marble Racer by GALT TOYS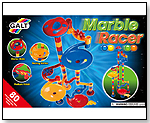 Build an exciting marble racing game for up to 4 players. Fully compatible with Galt Marble Run, this exciting construction set features 3 special racing pieces.A variety of chutes and wheels are also included for a really fascinating race. Starter top, starter base, finish, 3 racing vortex, wiggly bell chute, staircase, staircase support, curved chute with horizontal wheel, vertical wheel chute, paddle wheel, 'S' shaped chute, 4 straight chutes, 37 tubes, 4 bases and 20 marbles. Mention ToyDirectory for special considerations

2/24/2014 [Add to my Inquiry Basket][?]



FUNNYBONES™ by FUNNYBONE TOYS LLC


Funnybones is part skill, part tradition…and ALL fun! And, with 30 game challenges, the excitement never ends. Funnybones dates to the Greek and Roman periods & now this game is played in many places around the world. Funnybone Toys is thrilled to introduce its special version in the US, with game challenges ranging from easy to difficult! These include Overhand Ones, Twos, Threes and Fours; Clicks; Horses in the Stable; Eggs in the Basket - and more! Brief instructional videos of each challenge are posted on Funnybone Toys' YouTube channel. Players improve hand-eye coordination as they tackle the challenges. Funnybones is great to practice alone and play with others while taking turns.

1/17/2014 (Price: $9.99; Age: 6 and up) [Add to my Inquiry Basket][?]



Ziperoos by WIGGLES 3D


Get ready for Zipperoos! Now a child can enjoy both a portable game and the fun of a plush animal in the same toy. Children can collect more than one Zipperoos game: Monkey's Wild and Frantic Frog are available now. These simple and fun games each come with their own high-quality plush animal carrying case. Each Zipperoos plush has a zippered pouch in its back so children can store their new game inside their animal friend. Or, they can use the pouch as a hiding spot for anything they like! These fun games and furry friends are sure to find a home with any family!
Two fun versions
Frantic Frog: Fast reaction card game. Grab little hopper to claim the cards any time they match
Monkey's Wild: Help the animals find their friends in this set collecting tile game. Monkey's are wild! 1/13/2014 (Price: $16.99; Age: 4 and up) [Add to my Inquiry Basket][?]



Feather Pens by GEOCENTRAL


Beautiful feathers are turned into a fun pen. These feather pens can add a touch of whimsy and style to your writing. It's a great item to add when using a guestbook. 1/13/2014 [Add to my Inquiry Basket][?]



Scented Scoops by BEGINAGAIN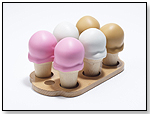 Scented Scoops is an ice cream party playset that smells good enough to eat. The 6"x9" beech wood serving tray holds six, three-inch White birch "cones". Each cone can be topped with one or more of the six, deliciously scented two-inch "scoops" made from 100% compostable corn starch bio-resin (two vanilla, two chocolate and two strawberry. Great for role-play, Scented Scoops is recommended for ages 4+

Where to buy:
NORTH EAST 12/4/2013 (Price: $29.99; Age: 4 and up) [Add to my Inquiry Basket][?]



THIS BANNER IS AN AD:
---
---