Children's Books
Manga Magic
By Karen Mendez Smith
July 2003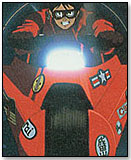 Tokyopop's Cinemanga's Akira

Manga Mainstream

Everyone, it seems, is waking up to the cross-merchandising potential of manga. With close ties to ever-popular anime, manga and its spin-off products such as DVDs, action figures, trading cards, model kits, jewelry and CD soundtracks are shaping up to be an exponentially lucrative market. At this year's BookExpo America, an entire day was devoted to educating booksellers about the potential of manga. Sales are estimated at $200-$300 million in the U.S. and over $5 billion annually in Japan.

These fast-paced, eccentric graphic novels have attracted fans, especially teens, ever since translations became available in the U.S. Now, a new manga category, Shojo, is aiming for a market of young girls, and Tokyopop's CINEMANGA books--pocket-sized paperbacks with full-color pictures from anime films--are hot items for both genders. Tokyopop has even published a manga version of "Monsters Inc.," which was originally serialized in Japan's "Comic Bon Bon" anthology.

Manga Mania

Why all the hoopla over comic books? The subversive reputation of manga dates back to the 6th century, when drawings on Buddhist scrolls criticizing Japan's feudal system were occasionally outlawed. But manga is more than social criticism or the sex-mech-violence stereotype that has been sensationalized by a few titles. More apparent are the themes of peace, friendship, compassion, integrity and complex character development marrying reality to fantasy in a human drama that crosses cultural boundaries. In her writings, Eri Izawa, Game Designer at Turbine Entertainment Software Inc. and creator of Microsoft's ASHERON'S CALL, speculates that the spiritual optimism of manga is what resonates with all ages. Of course, cliff-hanging plots and stunning cinematic illustrations don't hurt either.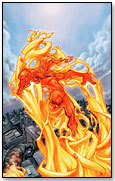 Marvel Comics' Human Torch
Multiplying Manga

Hayao Miyazaaki's "SPIRITED AWAY," which won the Oscar for "Best Animated Film," and Disney's "PRINCESS MONONOKE" are just two examples of how manga's influence has penetrated the mainstream market with great success (It was a manga-like storyboard that sold "The Matrix" to film industry execs.). Publishing companies are boosting production to meet a growing demand. Marvel Comics' new Tsunami line (including NAMON, VENOM, SENTINEL, HUMAN TORCH), and DC Comics' (BATMAN: CHILD OF DREAMS) are already in the manga mix. Central Park Media, one of the oldest U.S. distributors of anime and novels will release 40 multi-volume titles this year. DarkHorse (of ASTROBOY, AKIRA, GHOST IN THE SHELL AND LONE WOLF AND CUB fame),Viz Communications (teen-oriented SHONEN JUMP, EXCEL SAGA), and aforementioned L.A.-based Tokyopop are all ramping up. Central Park Media, one of the oldest U.S. distributors of anime and novels, will release multi-volume titles this year, as will DarkHorse, Comics One, Viz Communications, Raijin and ibooks.
Media Manga

Expect to see manga movie tie-ins such as SPY KIDS, LIZZIE MCGUIRE, SPONGEBOB SQUAREPANTS, JIMMY NEUTRON and X-MEN 2. Cartoon Network will be airing THE FANTASTIC ACTION WARRIOR SERIES, RECORD OF LODOSS WAR, PROJECT A-OK and ALIEN NINE, all with a manga spin. Wal-Mart and Target are experimenting with Tokyopop's kid-oriented Cinemanga titles. Borders, Virgin and Tower are already cross-merchandising video games, DVDs and graphic novels. Look for evermore integrated licensing programs as the viability of multiple sales channels becomes apparent. What's next? Collectibles featuring manga art, of course. Also check out manga at the Anime Festival from August 29-31 (Labor Day weekend) in Times Square in NYC.

Writer's Bio: Karen Mendez Smith has been involved in children's media for over twenty years as a literary agent, writer, and creator of animated television and film. Co-founder of Satori Organics and M/Path Press, she is a parent to eight children and five incredible grandchildren (and counting).

---
---