SphereXYZ
From: LA1PRODUCTS
Other products from LA1PRODUCTS
Shop for It!
TDmonthly rating:


(Read Review below)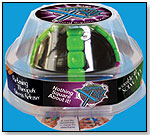 Designed to challenge the mind, this puzzle ball features two rotating hemispheres and two sets of colored tiles that move within canals on the sphere. Once the tiles are scrambled, the goal is to get them back into their original configuration, with one white tile at the north pole and the other at the south. There are several different strategies and approaches for one or more players.
TDmonthly Review:
What It Is:
SphereXyz features two hemispheres and two sets of colored tiles that can be moved within canals on the face of the puzzle. Once the tiles are mixed up well, the goal is to rotate the hemispheres and move the tiles along the two axes until the white tiles are at opposite poles and each hemisphere houses only one collection of colored tile — green or purple. 
What We Thought:
Similar to the method of mixing the puzzle, solving the puzzle requires one to continue rotating the tiles and hemispheres, but in a controlled, purposeful direction. Drawing from my experiences with the Rubik´s Cube, I understood that I might become distracted in trying to fill in one particular corner, just to end up realizing my other corner had been shifted to a point of no return. I might also become disoriented and lose track of what goes where. My strategy was to go at it in a structured, methodical way. I knew the beginning would be the easiest. The hard part is toward the end when you have a small collection of colored tiles remaining and you don´t want to risk gambling your set pieces in hopes of getting the miscellaneous floaters in their correct spots. Well, I gambled, and it paid off, as the pieces I had already stayed safe and the remaining pieces fell in correctly, solving the puzzle on the spot. Mixing the tiles around sometimes required precision by making sure all were aligned correctly; otherwise, you would run into a tile jam. The rotating hemispheres fell victim to the same situation, but overall, not something that was too cumbersome. I tried my best to purposely mix the two colors in certain arrangements that I felt would come back to haunt me when it was time to solve the puzzle. 
Why They´ll Want It:
It took roughly 20 minutes to solve the puzzle, which seems to lean on the easy side of things. Ask my coworker, though, and she´ll tell you she struggled with it to the point of giving up — so it can offer a significant challenge! Also, it may be tougher to the minds of children between 7 and 14, where it presents itself as a challenge requiring cognitive functions such as predicting outcomes, visualizing the actions of all the moving parts, and understanding how the puzzle interlocks together with all its components. I feel that with more time spent on this puzzle, it would reveal a more recognizable sequence of techniques, allowing the solver to continually change or improve upon his or her approach. This puzzle is a solid production that can serve as a good brain teaser. Its ever-changing configuration of piece layouts increases its shelf life, and it's nice to have around just to exercise the brain. — Allen Tran, 7/24/09
ToyDirectory Product ID#: 24496
(added 7/8/2009)
---