---
SphereXYZ Engages Hands and Minds
3-D Puzzle Provides Tactile, Brain-Teasing Fun
"... I was drawn to the SphereXYZ's uniqueness. ... It was quite a departure from other products I've seen." — Ellen Heaney Mizer, games buyer for Barnes & Noble

Combine two inventors with a passion for brainteasers, and what do you get? SphereXYZ, a uniquely challenging 3-D puzzle that successfully blends fun and mental skill.

A TACTILE TAKE ON LEARNING

It was a mutual interest in educational toys that led Lori Powers and Adam Giermek, founders of LA1 Products, to create SphereXYZ.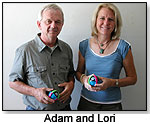 "We're interested in space, technology and tactile learning skills. Analyzing the market, we felt there wasn't a really good tactile product out there, and believed there was the opportunity to create a new, challenging toy, and do it in an exciting way," Lori told TDmonthly Magazine.

SphereXYZ went through nearly two years of development before it was released in early 2009.

"It was rigorously play-tested throughout the U.S. with the target audience," Lori explained. "Users love the challenge, competition and pursuit of success, as well as the puzzle's tactile feel and play."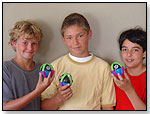 And it quickly caught the attention of Ellen Heaney Mizer, games buyer for Barnes & Noble, Inc., which has since taken on the product.

"With the success of the Brainteaser Puzzle category, I was drawn to the SphereXYZ's uniqueness. I kept the prototype on my desk for weeks as I myself tried to solve it. It was quite a departure from other products I've seen. I think our customers who enjoy other brainteaser puzzles will thoroughly enjoy this product," she said.

NOTHING SQUARE ABOUT IT

The name says it all. Since it's a sphere instead of a cube, SphereXYZ's possibilities are infinite as a player scrambles, then solves, the challenge. Lori explained to TDmonthly that the XYZ refers to the coordinates of planets, with X=horizontal, Y=vertical, and Z=the axis extending through an object.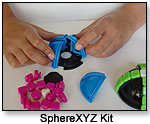 SphereXYZ features two rotating hemispheres and two distinct color tile sets that move inside grooved canals. The player scrambles the tiles and attempts to return them to their original positions, winning when one white square is at the north pole and south pole, and one set of colors is on each hemisphere. The trick is in twisting the hemispheres at the equator and sliding the tiles on the rings that orbit the puzzle.

Behind the product are two sets of distinct skills. Adam is a mechanical engineer, while Lori has experience in product design, sales and marketing. They've divided the duties to leverage their expertise, but work together as a team.

"We've never made a decision without the other knowing what it's going to be," Adam told TDmonthly. "We've worked really well together, and always agreed on every step of the process."

SCRAMBLING FUN FOR THE MASSES

Lori admitted that the biggest challenge has been being new to the toy industry, and developing product recognition. "Patience is not an obstacle," she noted, "and it is a mantra one must have in this industry."

Adam added that another obstacle, albeit self-imposed, was their unwillingness to compromise on quality and functionality. "We tested a lot of other puzzle toys, and saw ones made on the cheap. We decided we weren't going to do that at all."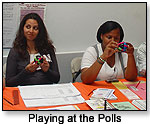 Powers is leveraging a viral marketing campaign to create awareness. "Even though the target is 8- to 12-year-olds, we know from testing and feedback that it also appeals to high school and college kids, as well as stressed out parents — it has a unique appeal that's not only fun, but therapeutic. Plus, it has an all-around gift quality that will give it a long stay in market."

Caryl Davis of Venice, Calif., originally purchased SphereXYZ at a museum gift shop with the intention of giving it as a gift. But her family promptly adopted it, and she says it's a hit not only with her husband but also with her son and his teenage friends. "It's great to hold, handle and touch. It's also addictive ... and stress relieving because you're focused on something tactile, physical and mental."

The team is already planning ahead for a more complex version, as well as a do-it-yourself kit that lets players actually build their own sphere.

Rubik's Cube, move over.
SphereXYZ
by
LA1PRODUCTS
Other products from LA1PRODUCTS
Shop for It!
TDmonthly rating: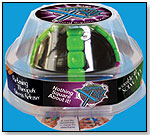 Designed to challenge the mind, this puzzle ball features two rotating hemispheres and two sets of colored tiles that move within canals on the sphere. Once the tiles are scrambled, the goal is to get them back into their original configuration, with one white tile at the north pole and the other at the south. There are several different strategies and approaches for one or more players.

ToyDirectory Product ID#: 24496

(added 7/8/2009)

.

AD
---






This kit is designed for children and adults who wish to build and solve the SphereXYZ. The pieces can be assembled in any way, and once snapped in, the puzzle is ready to be solved, which is done by rotating the hemispheres and moving the scrambled tiles along the canals until each hemisphere hosts the complete collection of one of the tile colors and the two white tiles are positioned at either pole. SphereXYZ takes about 10 minutes to snap together. "It's the first-ever 'build it, solve it' puzzle," Lori Powers, co-founder of LA1Products, told TDmonthly. Launch date: November 2009.

ToyDirectory Product ID#: 24813

(added 7/30/2009)

.

AD
---

Writer's Bio:
Claudia Newcorn has been a freelance writer and editor for over 10 years, after having spent more than a decade in marketing and product management. She writes for both businesses and individual clients, crafting copy, content and advertising. Her articles appear in newspapers, magazines and specialty publications nationwide (www.acornmarketing.com). She is also the author of an award-winning fantasy fiction book, "Crossover," and several published short stories (www.claudianewcorn.com).
Read more articles by this author
THIS BANNER IS AN AD:
---
---