Play Invasion: War Toys Take A Step Up
By Karen Mendez Smith
May 1, 2003

In view of the current political landscape, war toys may be an edgy topic. No matter what side of the line you stand on, history shows that from the time toy soldiers were first hand-cast from molten tin and lead, their appeal has intensified when conflict is on the horizon. Small wonder that action figures and other us-against-them toys have found an expanding niche this year.
HUMV Personnel Carrier
Bad Guys and Good Buys

Specializing in toy soldiers and playsets from Vikings to Zulu Warriors to Civil War figures, Classic Toy Soldiers has a 5 million-strong selection of toy soldiers. A practical addition to any contemporary collection is the HUMV Personnel Carrier (in a beguiling shade of military green) with Anti-Tank Launcher, only $6.95.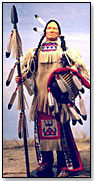 Northern Cheyenne Warrior
This Land is Your Land

The first to offer historically authentic 1:6 scale action figures of American Indian warriors, Dog Soldiers' Northern Cheyenne Warrior of the Tsististas People at $29.95, features intricate fringe and beadwork, a feather-covered shield and faux-fur-wrapped lance. Dog Soldiers' commitment to Native American history represents an evolution in the action figure market.

Playing Mantis' Military Muscle
Mighty Muscle

Playing Mantis, always a source of collector and nostalgia products, announces its new military muscle series via the Johnny Lightning line, with five land-based military vehicles, including a George S. Patton Military Command Car (June) and 4 WWII fighter aircraft due in August (all $6.99).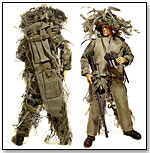 12" Modern Sniper Figures
What's SWAT?

Bringing us into the 21st century is InToyz 1:6 military action figures and weapon sets, featuring a poseable 12" US Sniper ($29.99) with gear such as see-thru binoculars, MSG-90 Sniper Rifle (with movable levers, clickable trigger and scope), and a carrying/drag bag. Also ready for action are the 4" figures ($5.99) with movable parts, featuring Armed Forces Jungle Ops, Urban Swat Team, Villains and Navy Seals.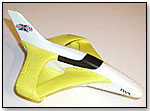 X-STREAM Future Gliders
Battle-actica

Get a glimpse of what the next generation might hold with IWA Toy Company's X-STREAM Future Gliders. A 15" glider ($29.95, with 9" and 5" sizes also available) made of Softek foam, with no assembly required, can glide by air or water. A revolutionary design featuring DNP (dynamic natural propulsion) makes these internal wing aircraft really soar. Just perfect for those backyard stealth missions, or just collecting.
Writer's Bio: Karen Mendez Smith has been involved in children's media for over twenty years as a literary agent, writer, and creator of animated television and film. Co-founder of Satori Organics and M/Path Press, she is a parent to eight children and five incredible grandchildren (and counting).