Iraqi War is in the Cards
By Jeremy Loudenback
May 1, 2003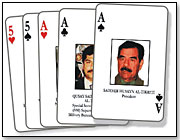 Iraqi War Cards
From Ernie Pyle's elegant accounts of the day-to-day life of the American G.I. in World War II to CNN's round-the-clock coverage, America continues to welcome the sounds and sights of war into their living rooms. Now, the conflict in Iraq has created a retail craze with the introduction of a 55-card deck featuring members of Saddam Hussein's regime. The Department of Defense first distributed 200 copies of the infamous deck last month to American soldiers in their hunt for Iraqi leadership, and the cards, now available for public purchase, are the hottest-selling novelty item on the market.
The U.S. Playing Card Co. has produced its own version of the cards featuring Iraq's 52 "Most Wanted," and the USPC company has the only deck officially licensed with the Hoyle® Joker cards. The casino-quality playing cards feature a rogue's gallery of Iraqi leadership, ranging from Saddam Hussein (ace of spades) to more osbscure members of his regime like scientist Huda Salih Mahdi Ammash (five of hearts).
Sports Line Distributors' Dennis Anderson, whose company has been distributing the Most Wanted cards, views them as a boon to collectors seeking a timely memento of American involvement in Iraq.
"Like any collectible, this is a way for a collector to have a special connection to our involvement with Iraq and sustaining freedom," says Anderson.
While the Internet has largely driven sales for Sports Line, Anderson expects to see the cards continue to sell well in collectible and hobby stores, as well as convenience markets and drug stores.
Mike Le, owner of Orderbulk.com, sees sales of the collectible prompted by media coverage of the American occupation of Iraq and resultant mention of the decks. Orderbulk.com, a wholesale distributor, has sold over 50,000 decks since April 20th and has even filled orders from U.S. embassies around the world.
For ordering information, visit Sports Line Distributors at sportslined.com or orderbulk.com.