Article Tools:








First Day of Toy Fair Draws Various Opinions
Retailers Share Initial Impressions of Javits Center Exhibition
"I've found more European lines — a lot of them."
— Valerie Toomey, Madeleine Boutique

Even after just a morning or so of browsing at Toy Fair, rows of booths not yet visited, retailers had at least a few opinions on what they'd seen so far. From eco-friendly materials to color-by-numbers galore, their reactions were far and wide.

Eco-Friendly Focus


Valerie Toomey, owner of Madeleine Boutique in Annapolis, Md., noticed a trend of eco-toys that were made of recyclable and earth-friendly materials, such as bamboo. HaPe and Plan Toys seemed to show ecological interest in their lines, she said.

"Overall, I've found more European lines, a lot of them," she said. "I tend to go for the specialty toys."

Bringing in the Acts

Paula Rancourt of K.I.D. Toy in Quebec City, Quebec, has come to Toy Fair for 23 years, and said she noticed that companies have put a lot of effort into demonstration and set-up to create an active environment.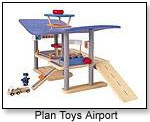 "It's the first year I've seen action like that," she noted.

Action easily extends into the arts and crafts realm, where Debbie Gropman of Educational Warehouse in Norwalk, Conn., said she noticed three or four booths — including Alex — with color-by-number activities.

"I haven't really noticed anything else that's just knocked me off my feet," she said.

A Little Religion…and More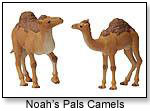 Derek Cabrera, president of ThinkWorks, commented on a religious theme at the Melissa & Doug and Caboodle! Toys (ToyShow) booths, as well as some figurines that place Jesus on a soccer field and atop a motorcycle.

"Lots of wooden toys [and] lots of different science kits," characterized the visit of Catherine Kelszczewski, who is the president of Music in the Parlour in New York City. "Not just plastic stuff," she said, "but the real deal."

Products for girls are "more and more glitzy" with rhinestones and flashy components, she added, "but it's been like that for many years now." She did, however, notice more costumes than in years past.

Here are some products that go along with what retailers mentioned on the first day of the Fair:





MSRP: $250.00

Age Range: 3 and upGender: Girls





The Chalet Dollhouse With Furniture offers kids the full package in dollhouse play. It comes in two units that can be manipulated to form numerous dollhouse layouts. It also comes with furniture, so that nothing's missing when dolls come to visit. The Chalet Dollhouse includes three stories, slanting chalet roof and creative stairs, as well as an innovative floor plan. It is 32" x 24" x 14", is made from recycled rubber wood, is coated with a non-toxic finish, and all colors are made from vegetable dye.
— When asked about best-selling play houses and furniture, Teri Soelter, owner of Teri's Toybox in Edmonds, Wash., said "Plan Toys. People will buy the furniture by itself and the dollhouses later."
— Four of 62 retailers TDmonthly spoke with in spring 2007 said Plan Toys makes some of the most popular furniture and play houses in their stores. They sell about three Plan Toys dollhouses per month. Seven percent of 56 retailers surveyed in January 2009 said doll houses and accessories are among their top sellers.
— "These products are so beautiful," Teneen Dobbs, owner of Kits & Kaboodle in Carmel, Ind. told TDmonthly. "They display well. People just love wooden items."

ToyDirectory Product ID#: 11464

(added 2/19/2007)

.

AD
---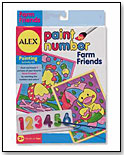 You simply add a few drops of water to the paints and the kids can paint-by-numbers four pictures related to the popular Farm Friends theme. It's easy to use, as are all paint-by-numbers made by Alex.
— "We sell quite a few Alex Paint by Number [kits]. These are popular for younger kids," was the response to this kit observed by Holly Reay, owner of Kid's Corner in Carmel, Ind.
— "Paint by Number from Alex is very popular," remarked Samuel Cox, owner of My Favorite Toys in Carbondale, Ill.
— The kit includes 2 color-coordinated picture frames in which to display finished "masterpieces."

ToyDirectory Product ID#: 9063

(added 8/21/2006)

.

AD
---




MSRP: $8.00

Age Range: 3 and upSKU or Item #: CTA-LINLaunch Date: January 2007Gender: Boys And Girls





Lions roam the African savannah in families called prides that are made up of related females, their children and a single male. When a male reaches adulthood he gets kicked out of the pride and has to go seek his own group. Female lions hunt as a team. Together they can overpower large prey like zebras, buffalo, giraffes, hippopotamuses and even young elephants, but they're not above scavenging other animals' leftovers. Lions sleep as much as 20 hours a day and both males and females defend their pride from any intruders. Lions' roars are really loud and can be heard up to five miles away. Lance is 2.6" tall x 1.2" wide x 4.0" long. Linda is 2.0" tall x 1.0" wide x 3.8" long. As "vulnerable" animals, the lions are limited to 20,000 editions. Noah's Pals are lovingly sculpted and beautifully handpainted animal figures. It's a fun and educational collection that's perfect for both children and adults. "Each male and female pair of animals includes an educational ID Card that allows collectors to register Noah's Pals on our interactive website where they can learn more about wildlife conservation," Co-founder Steve King of Caboodle! Toys told TDmonthly. This product received a Spring 2007 Seal of Approval from The National Parenting Center. Launch date: January 1, 2007.

ToyDirectory Product ID#: 10896

(added 1/4/2007)

.

AD
---
Catalog Request Form

Writer's Bio:
Julie L. Jones has written articles for both newspapers and magazines. Before joining the staff of TDmonthly Magazine, she worked as a communications writer and provided editorial support for a market research company.
Read more articles by this author
THIS BANNER IS AN AD:
---
---


Advertisement: