Article Tools:








Ttalf Yackles It Up
X-Shaped Ball Takes Second Go at Toy Fair
Even companies that have been around awhile hope to be part of
TD
monthly Magazine's Toy Frenzy! documentary. Though Ttalf is going to Toy Fair for the second time, the company still has a lot on the line. Read Founder Patricia Littwin's account of how she started her company and why she needs Toy Fair 2008 to bring her to the next level: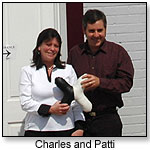 This is our second time at Toy Fair. We were brand new last year with only 39 small mom-and-pop specialty stores. We were very scared to take the risk of going to our first trade show but put the fees on a credit card and took the chance!

BOOTH AND BONDS PROVE DIFFICULT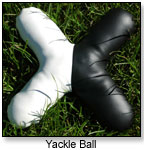 It was hard because we didn't have a clue how to set up a professional-looking booth to compete with the big guys. We didn't know how to drive traffic to our booth and when we did get someone, we didn't know how to talk to them.

It was a learning experience that taught us a lot, and this year we are better prepared! As a new exhibitor, I wished there had been more advice and help for new exhibitors. We are still new and feel there is a lot to know, but it helped to watch others and see what they were doing.

HANDLING INVESTMENT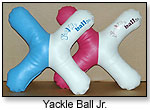 As for investment into my company, I started off with $33,000 that I made by hand-sewing my product and selling it at a Retail Christmas Show. I opened as many credit cards as I could to pay the expenses, including cash advances for the payroll. But I put a cap on myself and said that I would only go up to $100,000 and if I didn't make it by then I would have to quit.


After we decided to open our own manufacturing plant because I didn't want to go overseas, I was able to get a private investor (my father in-law) to invest $125,000, which allowed me to purchase some of the equipment.

LOOKING FOR THE BIG BOYS

This year, Toy Fair is extremely important for us! We need to go to the next level. We need to get a nationwide account (we would like Toys "R" Us) that will help us to pay off the debt and grow with our other products that we have in the works.

Small stores will open their doors and let you sell them, but Toy Fair is the only way to be able to talk with the large chains.

Read more about Ttalf in "Yackle Ball Gets Folks Moving Again."
Wholesale Price: (Log in to view)
MSRP: $19.95
Age Range: 5 and up
SKU or Item #: 689076173865
Launch Date: February 2007
Gender: Boys And Girls
America's new x-shaped ball is great for all athletic abilities. The ball has phenomenal aerodynamics that make it go super far when thrown. It is easy to catch, and its softness makes it safe. Yackle Ball games are fun for everyone and can help with hand-eye coordination and motor skills, as well as encouraging creativity and active play. The Yackle Ball is 100-percent made in the U.S. and is strictly sold in specialty stores. "It's a great way for children of all ages or whole families to have fun and be active together," General Manager Charles Littwin of Ttalf Corp. told TDmonthly. Launch date: February 2007.
— Ever seen a ball shaped like an "x"? The Yackle Ball worked its way up to a TDmonthly Innovations 2007 award based on sturdy construction, attractive design and color options as well as its potential to build coordination and shape active play in a whole new way.
ToyDirectory Product ID#: 15247
(added 9/19/2007)
.
Catalog Request Form
THIS BANNER IS AN AD:
---
---


Advertisement: