---
Yackle Ball Gets Folks Moving Again
Inventor Wants Families to Have Fun in the Field
"I kept at it until I came up with the Yackle Ball." — Patricia Littwin, Ttalf Corporation

Wanna Yackle? It's not quite a household name yet, but it will be soon if Patricia Littwin has anything to do with it.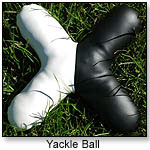 Littwin is the inventor of Yackle Ball, as well as founder and CEO of its manufacturer, Ttalf Toys. Littwin believes "Yackle is changing America because it's changing attitudes toward playing and moving."

When Is a Ball Not a Ball?

The Yackle Ball is a ball — sort of. Having a diagonal length of 13", it's an X-shaped object made of water-resistant vinyl stuffed with fiber filling that travels about twice the distance of a conventional ball.

What sets it apart from other balls is that you don't have to be an athlete to become good at using it. In fact, it's this aspect that motivated Littwin to invent Yackle in the first place.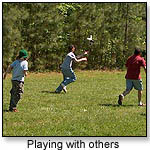 As Littwin explained to

TD

monthly Magazine, "I made it because my son has attention-deficit hyperactivity disorder (ADHD). He needed something easy that would help him develop his coordination and movement. I kept at it until I came up with the Yackle Ball."

Going the Distance

Yackle's aerodynamic design allows anyone to throw it for distance. Its vinyl material and fiber filling ensure that nothing gets broken. And the X-shape makes the ball easy to catch with a simple hug.

"Literally anyone can be a star using it," Littwin said.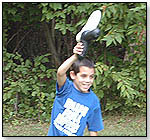 And that's why she believes Yackle Ball can only get bigger. It's already being sold in 40 stores and seven states. A distribution deal has been made with FAO Schwarz and a test market established with Walgreens. The national launch is set for the American International Toy Fair this month, where Littwin expects Yackle to continue getting an amazing response.

Littwin believes Yackle Ball is about getting America and even the world moving again.

As she told

TD

monthly, "It's about getting people away from electronics and closer to healthy play."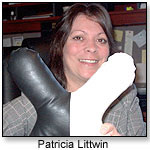 Total Commitment

Littwin guarantees competitiveness on the business end. She says her lead times and margins can beat anyone in the market, and she's willing to put herself "completely behind the Yackle product."

If you need her to show up at an event, she'll be there. If you need to talk to her about a problem, she'll solve it. If you want help selling Yackle, she'll provide it.

It's the way her role model Oprah Winfrey does it. It's the way Littwin said she does it, too.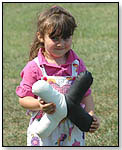 Despite "experts" telling her otherwise, Littwin insists that Yackle be manufactured 100 percent in America. She has come up with a manufacturing setup that guarantees cost parity with foreign-made goods, she said.

It's all part of a philosophy that Littwin believes will change the way America plays, as families Yackle their way to fun and health.

Writer's Bio:
Dennis Furlan is a freelance writer who lives just outside of Toronto, Canada. He works on a variety of writing and editorial jobs with clients and publications worldwide. Dennis is proud to be part of the
TDmonthly
team, serving as a regional correspondent for the northwestern U.S.
Read more articles by this author
THIS BANNER IS AN AD:
---
---