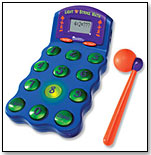 Step right up and try your hand at this! Light ´N´ Strike Math by Learning Resources® is a fun arcade-style electronic math game, with three levels of difficulty. Fast-paced games keep kids engaged while reinforcing basic math skills. Kids choose their level of difficulty, read the math equation, then ?strike it? to answer when the numbers flash and beep.
TDmonthly Review:
What is it?
Light ?N? Strike Math
is like an amusement park calculator: large and brightly colored with a soft mallet for striking big lit-up buttons in ?Whack-a-Mole? style. Each button lights up with the correct answers for basic multiplication, addition, subtraction and division problems.  Kids have to hit the button before the light goes out?a lot more fun than memorizing times tables.  (AA batteries not included.)
What we thought
Remember flash cards?  Light ?N? Strike Math takes that concept it into the 21st century by upping the action and interactivity?two features kids today are reared on.  It?s simple and fun; players wouldn?t be able to keep from learning math even if they tried.
Why they?ll want it
This is an out-of-the-box learning toy that requires no instruction or down time, only a familiarity with basic arithmetic.  It?s a great toy for reinforcing math skills through friendly competition between students or siblings.  Besides, what kid wouldn?t want to whack something with a mallet?
-- TDmonthly Staff, 9/26/2005