Tools:







Watch Toy Videos of the Day (1/23/2012-1/27/2012)
We want you to see the toys we see, so you can determine if they're right for your store! Check this space every weekday to see brief video clips of new and specialty products.

In the spotlight today? Customers will think you're a real doll when you carry great toys like Les Cheries Capucine from COROLLE DOLLS
Capucine is an Asian doll with all of the familiar elements of the Les Cheries Collection: long, lush hair, and contemporary fashion. Complete with a trendy outfit, Capucine especially appeals to children ages 4 and up. She makes an ideal playmate for sharing confidences, for hairstyling, and fashion play. Launch date: March 2011.
ToyDirectory Product ID#: 31892

(added 3/8/2011)

.

AD
---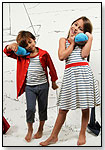 The Borris plush Toy is a chew-safe soft toy designed in a way that acknowledges the needs of children with Sensory Processing Disorder and Autism. Many children with unique sensory needs desire mouth and chew objects for oral motor input. Most plush toys are unsafe to chew on--and as a result, many parents are reluctant to give them to their sensory seeking children. Borris is made of chew safe, non-toxic materials, constructed with reinforced seaming, and a double layer of canvas and bonded plush. Having a favorite plush toy is an important part of childhood. Soft® is committed to a balance between a durable, chew safe toy, and a product that is still soft, endearing,and cuddly.

ToyDirectory Product ID#: 33496

(added 1/20/2012)

.

AD
---




MSRP: $19.99

Age Range: 6 to 12Specialty: NoGender: Girls





Take the Lego Friends fun to the tree tops with Olivia's Tree House. All of the friends love meeting in this treetop retreat to play games and camp out under the stars. Climb the folding ladders to watch the ladybirds, catch butterflies and feed the cat. Watch the ocean waves or wish on stars through the telescope. Stash secret treasures in the hidden compartment and decorate the whole fort with wildflowers. Includes Olivia mini-doll figure, and features the tree house pet cat Maxie, 4 ladybirds, a bird Goldie with birdhouse, 4 butterflies, hidden compartment and folding ladders.
— As of 02/28/2012 this product had 4.9 out of 5 stars from 19 reviews on Amazon.com.
Awards: 2012 Dr. Toy Best Classic Toys

ToyDirectory Product ID#: 33409

(added 1/3/2012)

.

AD
---






From the makers of UNO. Based on the on the best-selling phone app game, Angry Birds. The survival of the Angry Birds is at stake. Be the first person to strategically topple the structure cards by rolling the right bird on the die. Then knock out the pigs with the flick of a die to win in this quick-play game based on the popular phone app. Includes Angry Birds playing cards and Dice. For 2 to 5 players.
— As of 01/05/2012 this product had 4.4 out of 5 stars from 14 reviews on Amazon.com.

ToyDirectory Product ID#: 33451

(added 1/12/2012)

.

AD
---





MSRP: $29.99

Age Range: 8 and upSpecialty: Yes (as of 2012)SKU or Item #: BL300Gender: Boys And Girls





The third Perplexus family member is a hot favorite with all ages, including teens and adults. Epic's track is over 30 ft. long, and has 125 barriers. It is so challenging that it even has a mid-way restart point. Once kids pick it up, they won't want to put Epic down.

— As of 01/12/2012 this product had 4.2 out of 5 stars from 114 reviews on Amazon.com.

— In an April 2012 survey about best selling travel toys, Kai Rady, owner of

Shenanigans Inc

in Charlottesville, Va., told

TDmonthly

that her best seller is "Perplexus, especially the Epic version."

Awards:

2012 The National Parenting Centre - Seal of Approval, 2012 Learning Express Toys - Best Toy Award, Games Category, 2012 Canadian Toy Testing Council- Best Bet 2012, 2011 The National Parenting Centre - Gold Seal of Approval, 2011 Parent Tested Parent Approved - Seal of Approval, 2011 Neighbourhood Educational Toy Stores - Gold Star, 2011 Fat Brain Toy 'Award - Brainteasers, 2011 Family Fun - Toy of the Year, 2011 Disney Top 10 Family Fun - Toy of the Year, 2011 Creative Child Magazine - Game of the Year

ToyDirectory Product ID#: 33460

(added 1/12/2012)

.

AD
---
Catalog Request Form
THIS BANNER IS AN AD:
---
---