---
The Decline of the Video Game Market
Video Game Publishers Resisting the Downward Spiral of Video Game Retailers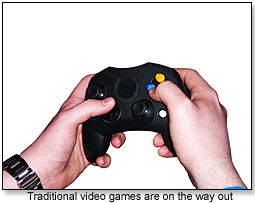 In March last year I made the following prediction in this space:

"The next decade promises to be interesting. In all probability, broadband improvements will lead to real and fundamental change in the way in which video game products are sold. The winners are likely to be the publishers of software and the providers of Internet based services such as OnLive, Gaikai and others. The losers are likely to be the brick-and-mortar retailers unless they manage to move their business online."

So, how does this prediction stack up to reality fifteen months later?





In the analysis below I have focused on North America only for two reasons – it is the largest market and hence a bellwether for the rest of the world and secondly, the market data provided by NPD is accurate only for the US:

This is what the NPD date tells us: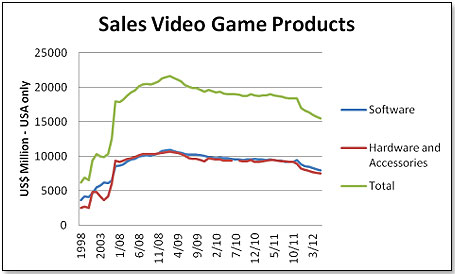 NPD measures sales at retail and does not include digital sales.

We now ask ourselves the question just how well Gamestop, the largest video game retailer in the United States, has weathered this downturn and whether their effort to go digital has succeeded. The graph below shows actuals to April 2012 and estimates to January 28, 2013:




It is striking just how close Gamestop's sales curve mirrors that of the retail market overall and it demonstrates that the retailer's efforts to move its business to the digital plane have not taken off.

The true significance of this statement is best demonstrated by looking at how the consumers have shifted their gaming access away from the traditional consoles (which are bought at retail) to tablets and smart phones (which access games digitally):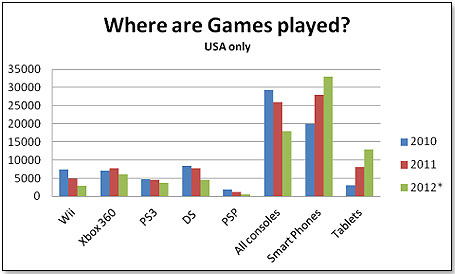 While the retailers – not only Gamestop but also others such as Wal-Mart, Target and ToysRUs – have essentially failed in transitioning their video game business to the digital plane, the video game publishers have been a little more successful. This is today's status of the digital strategy of each of the top five:

Activision: There does not appear a clear strategic effort to enter the digital space be that via mobile applications in the social space or digital distribution of their blockbuster games. What Activision has done instead, with great success, is create in the Skylanders a hybrid between software and toys. This has been a truly enormous initiative which promises to add $500 Million to Activision's top line worldwide this year and up to a Billion in a few years time.

Electronic Arts: The company has over the past few years embarked upon a very targeted campaign to enhance their position in the mobile, social and casual game spaces. They made a number of significant acquisitions – Playfish, PopCap and Chillingo – and they also launched Origin, a digital distribution portal. In addition they invested heavily in internal development and also reduced the number of new retail titles. This strategy clearly is working – they now have a quarter of their business in the digital space and this percentage is expected to rise to 50 in the next couple of years.

TakeTwo: The company unveiled a number of new mobile games based on Nickelodeon licenses at the recently concluded E3. However, their efforts to move business over to the digital sphere have sofar been somewhat modest. TakeTwo has today only 13% of its business in digital and the trajectory of the shift does not appear to be sufficiently strong to escape the ongoing decline in retail.

THQ: Interviews given by the new President Jason Rubin and by their CEO Brian Farrell at the occasion of the recently concluded E3 conference give the strong sense that the company is struggling to find a direction that will give it a chance to survive. Their efforts to move business over to digital have not met with any great success either – brick-and-mortar still represents about 90% of their total sales.

Ubisoft: The company appears to put its digital chips on retailers in the hope that they can ride their transition to digital. So far, that does not seem to have worked too well – the company has a mere 8% of its business in the digital space. Ubisoft's digital strategy was very clearly expressed in a recent statement made by Mr. Yves Guillemot, CEO:

I'm often asked: 'Are you killing the retail channel?' I don't think that at all. I see retailers figuring out how they're going to participate in the digital space. Some of them are opening web portals of their own where they're selling digital games, some are selling digital codes at retail, or cards for a particular game.

I think the distribution of digital at retail is probably going to be one of the stronger areas of digital growth in the next year or two. The fact is, most people still buy their games physically, and as a result that's a tremendous merchandising opportunity for all the content related to a particular game. Activision saw it recently with ELITE, where they saw more subscriptions to ELITE sold at retail - And all because some store personnel said 'Would you like fries with that?

From my distribution standpoint, that's awesome. From a player's standpoint, that retail channel provides things that they can't get sometimes at other places. You can't pay in cash online; it's tougher for grandma to give a gift card from a digital place, because grandma might not know how to get that digital gift card. So I think that there are payment methods available through retail that aren't available through other places, for a whole variety of gamers.


In summary, this is how the U.S. sales of these publishers have developed and are expected to develop until year end: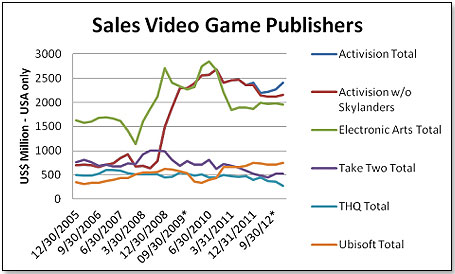 In other words, as a group, they have managed to resist the inexorable downward pull of the retail market, and this is mainly because they have moved into digital products so much earlier and so much more forcefully.

I have not in this article looked at the hardware manufacturers – Microsoft with the Xbox 360, Sony with PS3 and PSP, and Nintendo with the Wii and DS. The reason for this is that I think that none will survive as manufacturers of traditional video game hardware in this ongoing and accelerating surge to the digital space on one side and to tablets and smart phones on the other.

As the recent bankruptcy of the Game Group, UK's largest video game retailer, demonstrates, the massive shift in consumer behavior is not just a theoretical issue to be debated in the air-conditioned comfort of executive suites. It is an issue that goes to the core of the business of each of the players in this space, and their ability or inability to manage this transition will determine whether they will still be around in a few years' time.

Lutz Muller is an industry analyst who shares opinions and makes market projections based on public and confidential research, including interviews with contacts at major U.S. retailers.

Writer's Bio:
Lutz Muller is a Swiss who has lived on five continents. In the United States, he was the CEO for four manufacturing companies, including two in the toy industry. Since 2002, he has provided competitive intelligence on the toy and video game market to manufacturers and financial institutions coast-to-coast. He gets his information from his retailer panel, from big-box buyers and his many friends in the industry. If anything happens, he is usually the first to know. Read more on his website at www.klosterstrading.com.
Read more articles by this author
THIS BANNER IS AN AD:
---
---