---
Interview with Jennifer Telfer, Creator of Pillow Pets and CEO of CJ Products
TDmonthly Magazine recently interviewed Jennifer Telfer, creator of Pillow Pets and CEO of CJ Products. Below, Telfer discusses how learning from past mistakes, "going with the flow", and perseverance brought Pillow Pets from just a dream to one of the most popular plush toys on the market.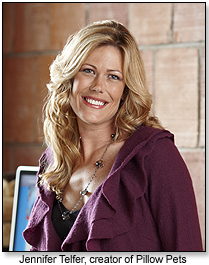 Getting Started

Q. What career path did you originally envision for yourself? Did you ever anticipate working with children's products?

A. I always knew I was going to be an entrepreneur. It runs in my family and I started selling products when I was 12. My children are a great source of inspiration for me, so I would say it was a natural fit to create a children's product.

Q. Where did you grow up?

A. Southern California.

Q. Where and what did you study?

A. I studied at a Junior College in San Diego. I studied Design.

Q. How did you come up with the idea for your first product?

A. The idea for Pillow Pets® was inspired by my oldest son. He had a particular stuffed animal that he took everywhere with him and he even slept on it until it began to flatten out. That was how I began to form the idea.

Q. What steps did you need to take to go from the original spark of an idea to actual production? How long did it take?

A. After I had the idea, my husband and I met with a manufacturer at a trade show in Las Vegas and got some samples made. Shortly after we put in our first order for a full container.

Q. How much money did you need to create the first prototype and come up with a business plan?

A. It's a funny story, actually. We used our credit cards! We honestly didn't have a concrete business plan when we first started. We ordered our first container and just went with the flow.

Obstacles, Surprises, and Success

Q. What were the top two or three most significant obstacles you had to overcome to achieve success, and how did you do it?

A. We learned from our mistakes. We had developed a product before Pillow Pets that we spent most of our savings on, which didn't do well at all. There are always setbacks when starting a new business, but staying true to your dream and working really hard to make it happen is the most important thing.

Q. What aspect of the toy industry most surprised you when you first started?

A. I was surprised at how small the toy industry really was. The industry at the time was a small community of very successful businesses.

Q. What hardships did you have to overcome during your formative years and how did they help you persevere as a business owner?

A. I sacrificed a lot of personal time as I was working hard to create a brand. There never seemed to be enough time! This hardship made me realize how precious time really is... how to better make use of my time as a mother, a wife, and a business owner. I believe balance in life brings happiness.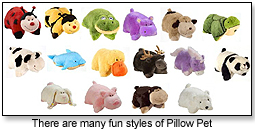 Q. What is the most disappointing thing that you have to live with as a business owner?

A. I decided early on not to look at anything in life as a disappointment. My belief is that every obstacle is an opportunity to learn. I don't have any regrets as to the decisions I have made, and I don't regret any part of my journey in developing Pillow Pets. Every decision I make is a decision I know I have to live with, so I don't make rapid decisions. I don't look backwards – I'm continuously looking forward with excitement!

Q. What do you consider to be your greatest accomplishment in the toy industry? Why?

A. I think we created a product that truly crosses all age groups. Designed for ages 3+ we have styles that appeal to everyone. Our traditional styles, our new licensed characters, the Neonz line with the tween and teen market, we really have created a toy company that allows retailers to find a variety of product that they can select based on their unique customer make-up. For example, our toy and gift shops in Florida love our sea creatures; the museum gift shops tend to lean towards the more real-life animals like the shark. I was very excited when we started working with Disney, DreamWorks, Nickelodeon and Warner Bros. too. Our licensed styles have been a great addition to our line and really make everyone's favorite characters come to life. There really is a Pillow Pet for everyone!

Q. What makes your products better than the competition?

A. We are the original Pillow Pets so when we started there was no one competing with us. We have always created our products with quality being our top consideration. Our products are made from top tier plush and are durable. In addition, our designs are about bringing character and personality to the Pillow Pets. These features translate from product-to-product. Many of our 18" folding plush are available in blankets, slippers, and hats, so it was important that the characters fun personalities and styles translated to the other products in the line.

Outlook and Advice

Q. Where do you think the industry is headed?

A. The Toy Industry has changed drastically. In my childhood, we grew up with board games, dolls, and meeting our friends outside in the cul-de-sac to play sports. Kids today join virtual worlds, play games on line, and are savvy to all sorts of applications and technology. The toy industry must expand into these worlds as children are spending more and more time behind a computer.

Q. What do you think are the 3 most essential steps one needs to take to launch a toy company?

A. There are so many answers to this question...here are three steps that come to mind quickly:

Make sure there is a market for your product.
Find a manufacturer that can produce your product at a low cost so that you are in the right price point. The retail price has to be what people will pay.
Make sure you have a great sales and marketing plan before you start.

Q. How do you hope your product/s will affect children's lives?

A. I hope that the Pillow Pets line continues to create a strong emotional bond with every child. I want children to know that with a Pillow Pet, they always have a friend and are never alone. There's a sense of peace and security that Pillow Pets give to children. I hope that when this generation of children is older and have their own children, they will remember the comfort that a Pillow Pet brings, and will want to give their children Pillow Pets too.





Wholesale Price: (Log in to view)





A super-soft chenille plush folding stuffed animal. Starts out as a plush pal, then un-velcro its belly, and it quickly becomes a pillow. The line includes a neon dog, neon monkey, and a neon hippo. 18" (mini 11 inch also available). Launch date: 2012.

ToyDirectory Product ID#: 33949

(added 3/19/2012)

.

AD
---






Pillow Pets Gives Back line was inspired by pediatric cancer patient Jacob McConahay. He received a plush Pillow Pet as a gift, and decided that he wanted to provide his friends undergoing cancer treatment at the center with him a pillow pet, too. This comforting and cozy St. Bernard preserves his memory, and comes along with a heartwarming story book. Launch date: 2012.

ToyDirectory Product ID#: 33652

(added 2/12/2012)

.

AD
---






Pillow Pets held a contest for kids to write about their Pillow Pets. They chose a winner, and this set includes her original, published story, along with a cozy elephant Pillow Pet. Launch date: 2012.

ToyDirectory Product ID#: 33657

(added 2/12/2012)

.

AD
---




MSRP: $24.99

Age Range: 3 and upSpecialty: NoGender: Girls





From the original My Pillow Pets, this Extra Cuddly, Friendly Butterfly is made of soft pink plush fabric. Open the Velcro closure and use as a pillow. Close the Velcro closure and to have a soft plush friend.
— As of 12/13/2011 this product had 4.9 out of 5 stars from 7 reviews on Amazon.com

ToyDirectory Product ID#: 33356

(added 12/16/2011)

.

AD
---

Writer's Bio:
Justina Huddleston graduated Magna Cum Laude from Emerson College with a BA in Writing, Literature, and Publishing in 2009. After graduating she was the on-site director of the Boston Children's Museum gift store for a year, selling educational, developmental, and creative activity toys that tied in with the museum's exhibits. Justina also interned at children's book publisher Candlewick Press before moving from Boston to Los Angeles, where she is now Editorial Director of
TDmonthly Magazine
.
Read more articles by this author
THIS BANNER IS AN AD:
---
---