---
Woodstock Music Collection® Teams with St. John's University
Children at Briarwood Family Residence Given Gift of Music
During the 2011-2012 academic year The Woodstock Chimes Fund, the charitable arm of Woodstock Percussion, Inc., makers of Woodstock Chimes® and the Woodstock Music Collection®, teamed with St. John's University's "Discover New York" freshman transition course to bring music to homeless children and their families at Briarwood Family Residence in Jamaica, Queens. The project was led by musician and St. John's Assistant Professor Dr. Heidi Upton. The project, supported by the university's Office of Academic Service Learning, engaged students and residential clients ages five to 14 in musical activities and creative work, while fostering relationships to build student understanding of issues surrounding homelessness in the city.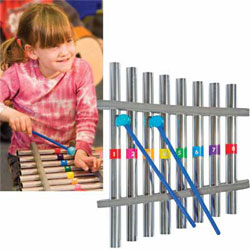 Upton said "The instruments acquired from The Woodstock Chimes Fund are beautiful and it was an enormous act of benevolence on their part. These instruments were essential to the project." Woodstock donated several kazoos and harmonicas along with some literature and also extended St. John's a discount to purchase additional instruments, such as the award-winning Chimalong®, a Woodstock Music Collection® exclusive product. Upton continued "St. John's students and Briarwood kids enjoyed musical explorations using a variety of Woodstock instruments, from drums of all sizes to Chimalong's. A report of the project was presented by Upton and Briarwood's Director of Children's Services, Diane Colon, at the 2012 Beyond Housing conference, sponsored by the Institute for Children, Poverty and Homelessness (ICPH) in New York City.

Woodstock Percussion, Inc. Founder and Owner Garry Kvistad said "Homelessness is a serious issue and an area The Woodstock Chimes Fund proudly focuses on. We were glad to join such a tremendous program in our regional community that needed assistance in doing what we know best – helping to make music. This project combined several of my interests." Before starting Woodstock Percussion over 30 years ago, Kvistad was on the faculty of Northern Illinois University and the University of Cincinnati College Conservatory of Music. Today, Kvistad remains in higher education as an advisor to the Bard College Conservatory of Music Percussion Program.

About Woodstock Percussion, Inc.

Woodstock Percussion, Inc., makers of Woodstock Chimes® and the Woodstock Music Collection®, is a leading manufacturer of musically-tuned windchimes, award-winning musical instruments and soothing home and garden décor. GRAMMY® recipient Garry Kvistad and his wife, Diane, created their first product over 30 years ago in New York's Hudson Valley, where the company continues to design gifts and accessories using superior materials found around the world. The result is a unique collection of over 400 different products that bring joyful sounds to people of all ages. Popular collections include: Inspirational Chimes, Precious Stones, Woodstock Gongs, Temple Bells, Woodstock Rainbow MakersTM, Asli Arts®, and, of course, its Classic Chimes. For more information on Woodstock Chimes, visit www.WoodstockChimes.com or call (800) 422-4463.
THIS BANNER IS AN AD:
---
---